Follow simple tips on the roads make the region safer for freight movement
August 25, 2021 (Arlington, Texas) – With a population of nearly 8 million in North Texas and no access to a seaport, the surface transportation system is a crucial link to deliver goods to market.
The importance of commercial motor vehicles was magnified during the early days of the pandemic as essential to a logistics chain that kept goods moving while people were mostly at home. Moving freight over the roads will remain essential in Dallas-Fort Worth long after COVID-19 has been overcome.
And safe delivery of goods is a top priority, whether during a pandemic or in ordinary times.
In the past five years, there have been an average of nearly 300 truck-involved crashes per month in North Texas, with the number increasing each year. The North Central Texas Council of Governments has launched the Safe Driving Campaign to reduce freight-related accidents and inform the public about safe driving practices near large trucks and freight trains.
The Dallas-Fort Worth area is one of the fastest growing regions in the nation, and freight traffic will continue to increase to supply the rising demand for consumer product deliveries. This underscores the importance of passenger vehicles and commercial motor vehicles sharing the roads and watching out for one another.
Heavy-duty vehicles can be difficult to maneuver, and they need about 40% more time than passenger cars to stop. The following habits can help keep North Texans safe.
• To promote safe delivery of goods, remain 30 feet behind trucks.
• Freight deliveries never stop, not even in a pandemic. Use caution when changing lanes near them.
• Large trucks and buses have large blind spots on either side and up to 200 feet behind a vehicle. Do not linger in a blind spot. Do not tailgate large trucks and buses.
• Give trucks extra space on the road to do their jobs. Road safety is a shared responsibility.
Truck drivers can do their part by following truck lane restrictions, which prohibit them from using the inside lane on more than 500 miles of highways in Dallas-Fort Worth – except when passing.
Recently, increasing volumes of freight moved on all modes have heightened concerns about freight and passenger vehicles competing for use of the transportation system. Freight rail is also a crucial mode by which goods are delivered to Dallas-Fort Worth and beyond. In recent years, the number of incidents at railroad crossings have steadily declined. The following tips could help this trend continue:
• Freight trains do not travel at fixed times. Always expect a train at each highway-rail intersection at any time.
• Modern trains are quieter than ever. Any approaching train is likely closer and moving faster than you think.
• Pass through a highway-rail grade crossing only if you are sure you can completely clear the crossing without stopping.
• Wait to cross until you can see clearly in both directions. Multiple tracks may mean multiple trains.
Whether freight is moved by trucks or trains, simple choices can make the roads safer for all users every day. To learn more visit, www.FreightNTX.org.
About the North Central Texas Council of Governments:
NCTCOG is a voluntary association of local governments established in 1966 to assist local governments in planning for common needs, cooperating for mutual benefit, and coordinating for sound regional development. NCTCOG's purpose is to strengthen both the individual and collective power of local governments and to help them recognize regional opportunities, eliminate unnecessary duplication and make joint decisions.
NCTCOG serves a 16-county region of North Central Texas, which is centered on the two urban centers of Dallas and Fort Worth. Currently, NCTCOG has 238 member governments including 16 counties, 169 cities, 22 school districts, and 31 special districts. For more information on the NCTCOG Transportation Department, visit www.nctcog.org/trans.
Submitted press release, edited for publication in Blue Ribbon News. 
---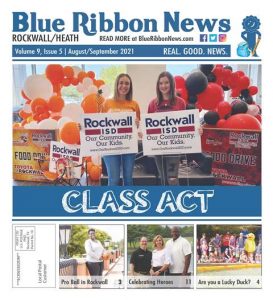 Our

print edition

delivers free to ~15,500 homes and businesses throughout Rockwall County, TX. Click image to view.
To share your good news and events, email editor@BlueRibbonNews.com.
Subscribe to our email newsletter here.
Advertising: 214-342-8000 or advertising@BlueRibbonNews.com.
---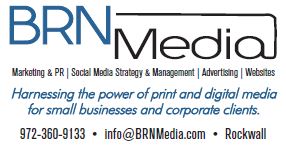 BRN Media is a multi-platform, full-service creative agency offering advertising and marketing services, social media management, and website development throughout Rockwall County and the Dallas area.