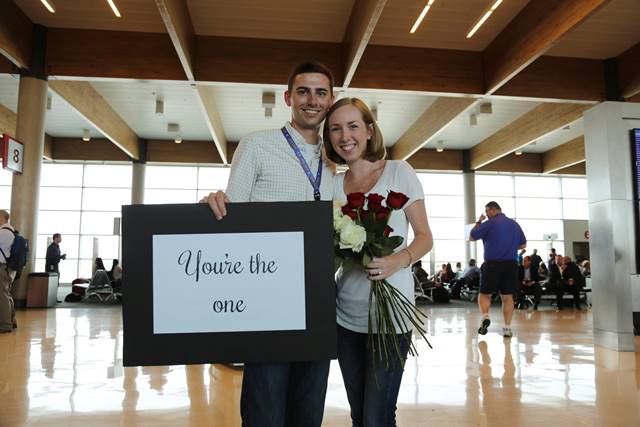 ROCKWALL, TX (Jan. 31, 2022) Each year for Valentine's Day, Blue Ribbon News asks local couples to share stories of how they met. Their tales of true love are often sweet, funny, and sometimes quirky – but always a big hit among readers. This year we received a record number of submissions. Although we could only feature a few of them in our February print edition hitting mailboxes this week, you can read all of them below and follow us on Facebook to see our participating couples spotlighted throughout February.
Also on Facebook, stay tuned for the names of several of these lucky participating couples who will be randomly selected to win gifts from our local prize sponsors: Hyatt Place, overnight stay with complimentary bottle of Champagne; Samee's Pizza Getti, two $25 gift certificates; Rockwall Body & Soul Massage, couples massage; Dodie's Cajun Diner Rockwall, $50 gift certificate; and Lakeside Florist, a bouquet of a a dozen red roses.
If you missed the opportunity to submit, please email your story, in 250 words or less, to editor@blueribbonnews.com and we will do our best to share them here and/or our on our Facebook page at www.facebook.com/blueribbonnews, throughout February.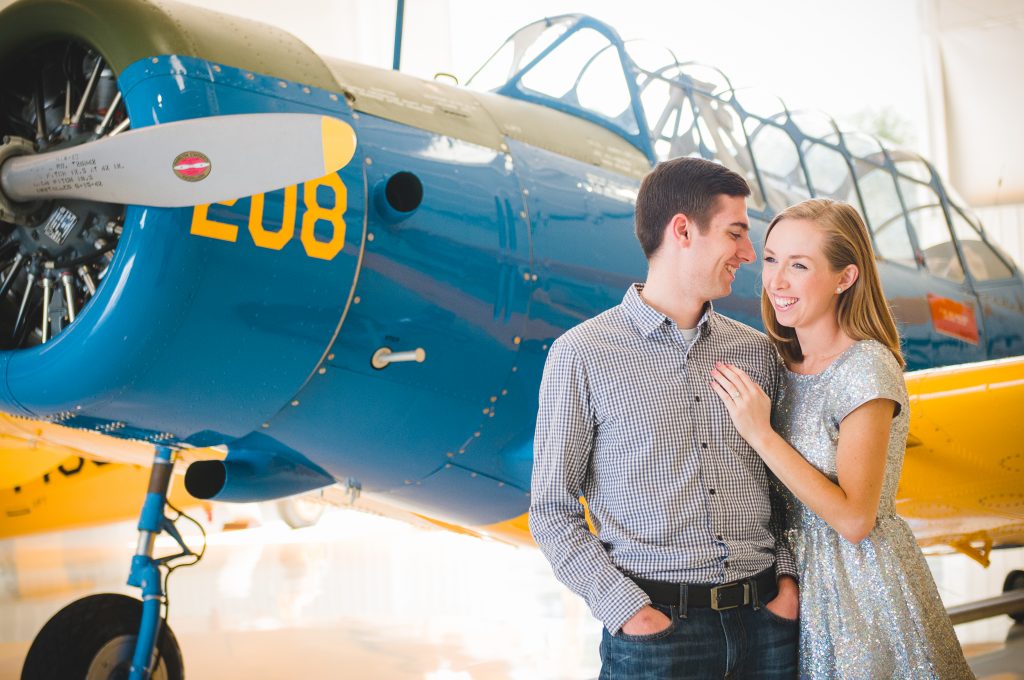 Kyle and Rikki Uhlmansiek
Tale Spin
"How I Met My Mate" may not have started out as Hallmark movie material, but the love story that unfolded since that introduction has been Divine Intervention.
In October 2008, my best (guy) friend was returning home from college on Fall Break. I gave instructions to bring along a "good-looking, single guy." Good news – he did it! I met Kyle that weekend and we exchanged phone numbers to keep in touch; little did we know, we would keep our conversation going every day since then.
We started dating a month later. Being in a long-distance relationship for years served as a challenge, but strengthened our communication, love, and trust.
On July 25, 2014, I flew into Dallas Love Field to visit Kyle. I should have been suspicious when my grandmother inquired if "that" (my typical attire of jeans and a t-shirt) was what I would be wearing.
Upon landing, a police officer boarded the plane and asked for me over the loud-speaker. Every passenger stared as if I was wanted dead-or-alive. Knowing I had done no wrong, I calmly exited the plane with the officer. Strangers greeted me at the gate with roses, as well as signs that told of our love story. Kyle was at the end waiting to ask me to marry him. I couldn't speak the words, but my head excitedly nodded "yes." By the next day, we had been featured on the local evening news.
We were married in April 2015 and I moved to Texas – finally free from long-distance. We built a house in Heath and rescued a dog (great story for another time). On July 25, 2019, the fifth anniversary of our engagement, our baby girl was born. Her name, Riley, was chosen during our dating years and is the combination of both of our names.
The major moments highlighted are some of the large bricks that make our love story unique, but the mortar is in slow dances in the kitchen, the phrase "saved the last bite for you" and daily pursuits of one another.
Submitted by Rikki Uhlmansiek
---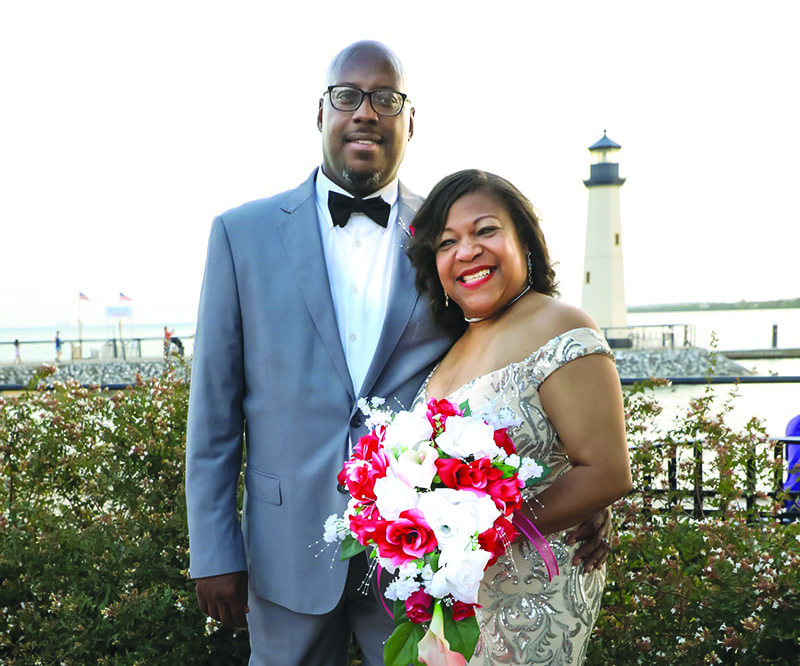 Harold and Tiye Young
Long Distance Love
Our love affair began in the fall of 1989 on the campus of Jarvis Christian College in the piney woods of East Texas in the town of Hawkins, Texas. I was a freshman Education major from Plano and Harold was a Junior Business major from Chicago, IL. We were hanging around campus with friends but definitely noticed each other. We both knew we were interested in getting to know one another and spending as much time together as we could. During long breaks away from school and each other, we would spend countless hours on the phone – talking and laughing, waiting for those long breaks to be over. After Harold's graduation in 1991, despite our long distance apart, awe knew we still wanted to be together. And with my graduation in 1993 our relationship continued. After a year and a half separation, Harold relocated to Texas in April of 1995 are we were married on July 5, 1995. We are the proud parents of three children: Lauren, Taylor and Harold III "Trey".
Submitted by Tiye Young. Harold is the Executive Director at the JER Chilton YMCA at Rockwall.
---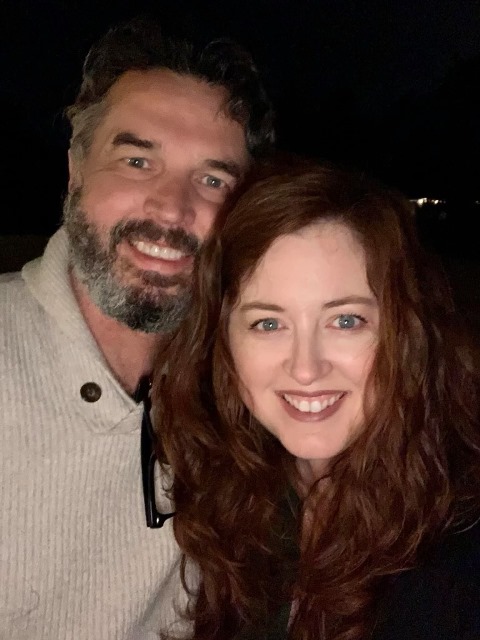 Frank and Kerri New
Fishing in the Dark
The first time I met my wife, Kerri, she was with her boyfriend. I could tell immediately that he was no match for her. She had this wild curly red hair and a sparkle in her eyes, and he seemed to shrink behind her as she introduced herself to me. I worked for her mother at the time, and she was just passing through that day, but after she graduated from college (and left that guy behind) she came to work there for the summer. In the first few weeks of June 1996, we passed the time at work by shamelessly flirting, but when I overheard Kerri on the phone trying to convince her best friend to go fishing that Saturday, I made my move and invited myself. She was 22 then, and I was almost 30, and even though I had enjoyed a great relationship with her mom and dad up to that point, it became clear that dating their daughter changed things when they drove out to the lake to crash our fishing date around 10 p.m. because "you can't fish in the dark!"
Kerri moved to Waco for law school in the fall and I drove from Muskogee, Oklahoma to Waco and back every weekend for months before quitting my job and following her in January of 1997. Twenty-five years and three kids later, her eyes still sparkle, the song "Fishing in the Dark" still makes us laugh, and I am still amazed that she's mine.
Submitted by Frank New, Heath resident.
---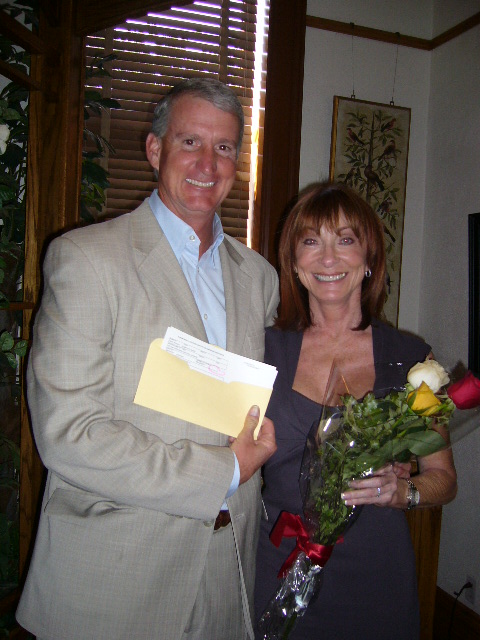 Rick and Dianna Johnson
Things have a way of 'working out' 
I was swimming at the Newport Beach Tennis Club Pool, in Newport Beach CA while training for Triathlons. I would swim in between working as a garage door salesman and real estate agent.
Dianna used to walk by the pool on her way to the workout room everyday at the same time I was swimming. After about 2 weeks I decided to cut my swim in half and go to the workout room. Eventually I got the courage up and I asked her for her phone number. That was in 2003 and we have been together ever since.
Dianna grew up in Rockwall and we ended up moving here in 2011. We have our own Real Estate Group and I serve on the Rockwall EDC Board and The Architectural Review Board.
Submitted by Rick Johnson. 
---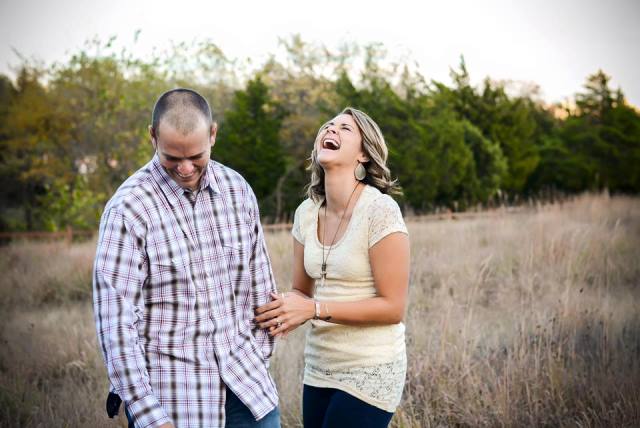 Paul and Courtney Sturgeon
Divine Connection
My forever Valentine, Paul, and I met 22 years ago, when I was just 17 years old.  We were at a party in Rockwall, something uncharacteristic for either of us to attend. I feel like God places you where you're meant to be. Our eyes locked immediately when he walked through the door. We were introduced and had our first date at On The Border in Rockwall and have been 'one' ever since. I truly believe God made someone for each of us, and how blessed we were to find one another so early in life. We have made a beautiful life together, and now enjoy it with two beautiful daughters.
Submitted by Courtney Sturgeon.
---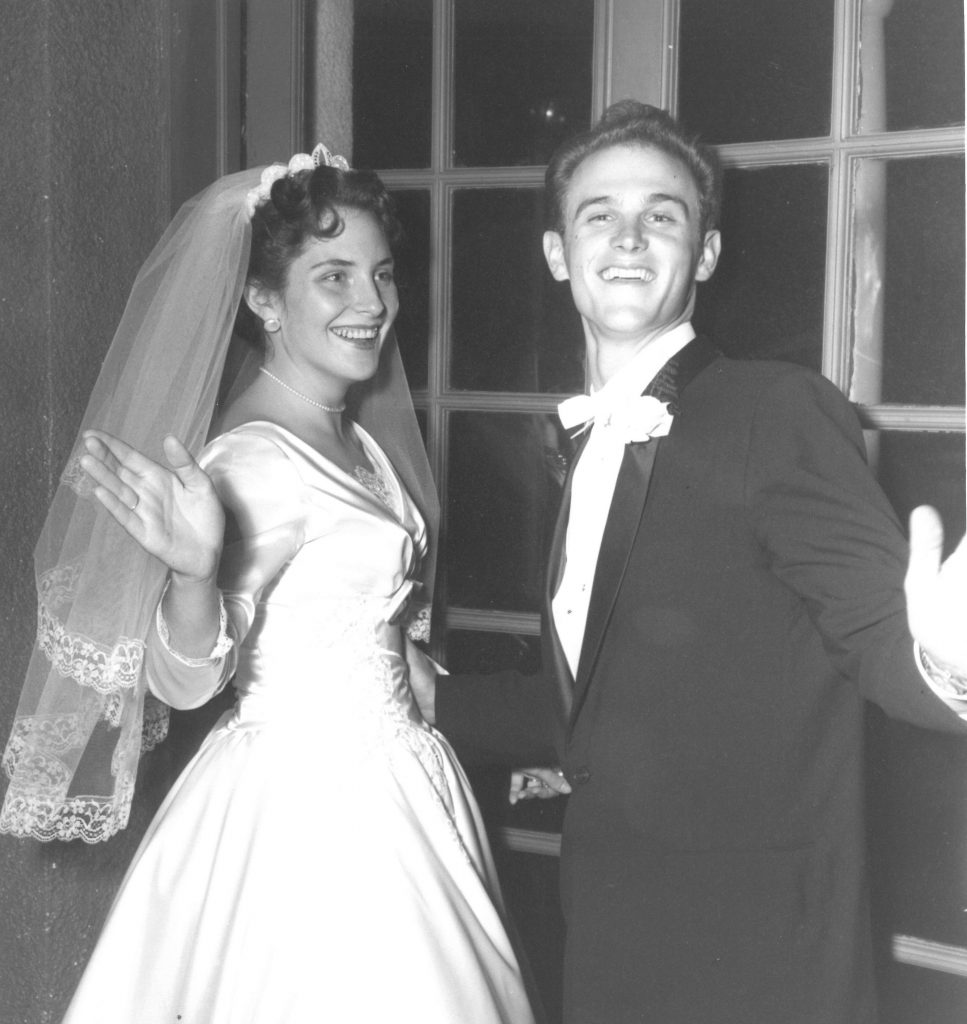 Walter and Joyce Behrens
Soda Fountain of Youth
At ages 85 and 83, Walter and Joyce Behrens are still best friends, after having met a local soda shop in Atlantic Highland, New Jersey as high schoolers. Walt was a great dancer and asked Joyce to her senior prom. They married in 1957 – 64 years ago – when Walt was 21 and Joyce was 19. They honeymooned in Miami.
Walt and Joyce made a life in Atlantic Highlands and raised four children – Laurie, Tim, Maureen, and John. Walt worked for UPS and transferred to Texas in 1972 where they began a new life with their family. He worked with UPS for 31 years, retiring in 1991. The couple retired to Lake Kiowa and eventually to Sarasota, Florida where they lived for 20 years playing golf, enjoying the beaches and the Florida sunshine.
Still young at heart, they care for one another as they always have, living in Rowlett and enjoying each other's company, as well as the company of family and friends. They have nine grandchildren and eight great grandchildren.
Submitted by Maureen Cook, Walter and Joyce's daughter.
---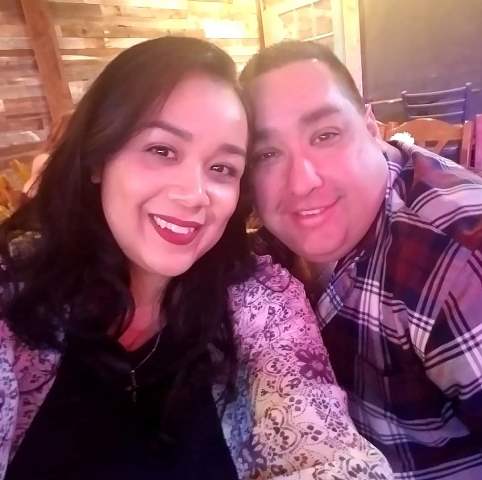 Robert and Maritssa Luna  
He's My Rock
Robert and I met in early 2007. We went on a few dates and talked for a month or so but I told him I wasn't ready to date. I had been in an awful relationship and I didn't want to risk being hurt again. We went our separate ways.
That September, my mom passed away. I was 26 at the time and struggling to deal with losing her, holding down a full-time job and caring for my then seven-year-old daughter. I wasn't really close to anyone nor open to talking about my struggles so I was sleeping two or three hours a night.
I don't remember how Robert found out about my mom but he called right away, offered his condolences and asked if there was anything he could do. When I told him I was having a hard time processing everything and it was affecting my sleep, he offered to come over and just talk. He would drive in the middle of the night to pick us up several times a week and we would go to dinner, watch a movie, talk – whatever I needed to take my mind off things. No questions, no expectations. He was just genuinely being a friend. He would even give us his master bedroom so my daughter would feel comfortable sleeping with me while he slept in one of the guest bedrooms.
Our friendship slowly grew and in 2008, he asked my daughter for permission to ask me to marry him. Almost 14 years later, we have three beautiful daughters, and he is still my rock. He has proven his unconditional love to me and always goes out of his way to make sure the girls and I are taken care of. I am a better person because of him and I thank God for bringing us together even when I thought I knew what was best for me!
Submitted by Maritssa Luna.
---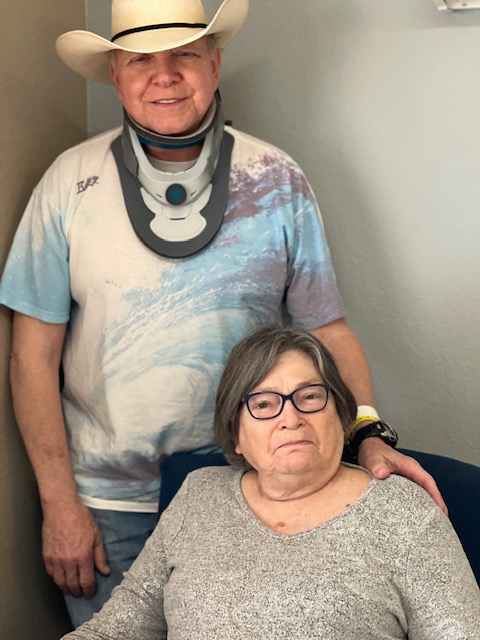 Robert and Joanne Treece
On the Move
At the time of this writing, Rockwall residents Robert and Joanne Treece were both undergoing physical therapy at Highland Meadows Health & Rehab in Rockwall. The couple originally met in Colorado Springs in 1988 when they happened to work for the same company. Joanne trained Robert for the position at Delta Airlines. While the training was happening, Joanne pursued Robert and asked him for a date. They started to date, but then Robert moved away to Oklahoma. They kept in touch and later on Joanne decided to move to Oklahoma to be with her man. Robert and Joanne eventually married in 1992. They will celebrate 30 years of marriage this April.
Submitted by LaTanya Blanks, Highland Meadows Health & Rehab, Rockwall. 
---

Michael and Jill Gallops
 'IT' Must Be Love
My wife and I graduated from high school together. Ironically, while I had a crush on her in high school, she had no idea who I was! I even had pictures of her that my best friend and I had taken for the yearbook! Twenty years later we both ended up on our high school reunion planning committee. When I came into the school library the night of the meeting, I hugged a few necks and then approached Jill. She stuck her hand out to shake mine and said, "Hi, I'm Jill Rudd." I replied, "I know," shook her hand and went to sit down. As we both had IT backgrounds, we were assigned to build the reunion website. We were in similar life situations at the time and coming together to work on the website created the perfect environment for us to fall in love! It's been over 18 years now and we couldn't be happier!
Submitted by Michael Gallops, president of the Rowlett Chamber of Commerce.
---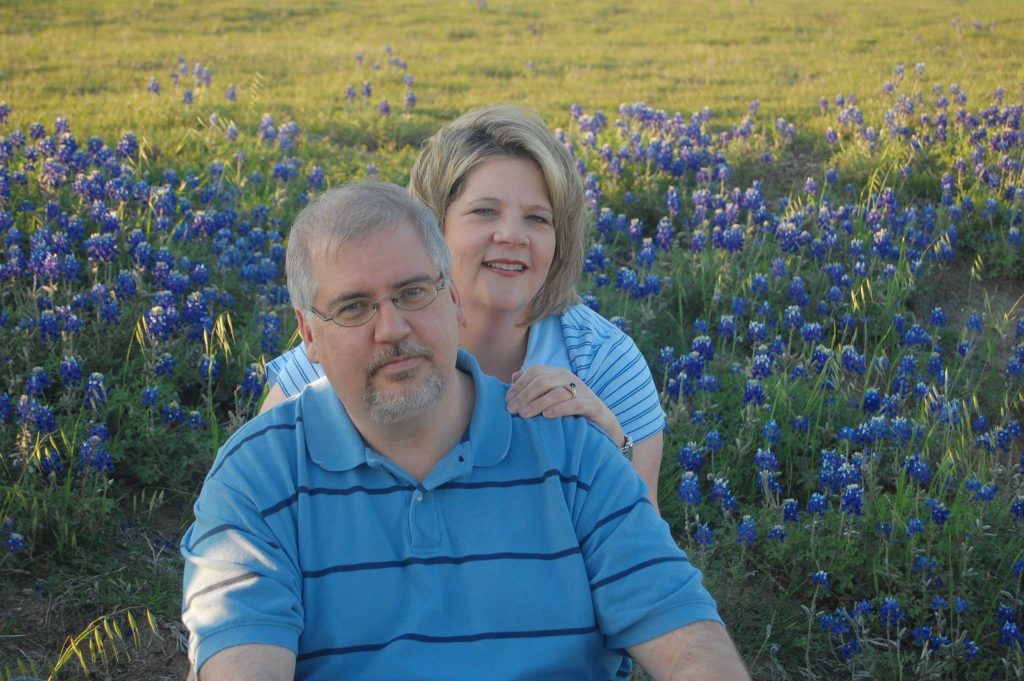 James and Tracy Blakely
Musical Chairs
As all good fairy tales begin, once upon a time I took a new job with a beeper company. Shoved into a tiny room with four older women, I was miserable. However, within a few days, one woman took quite an interest in me and strongly insisted that I meet her daughter. She was quick to produce a picture of Tracy. I told the unrelenting woman that I was not interested. Before I knew what was going on, I found myself at a company picnic where I was to meet this young lady who also was pressured by her mother to meet me.
We hated each other—end of story. But, her mother persisted. I gave in and asked her to see a musical in Fort Worth. She told her friends that she agreed to go only because she had never been to a musical. Halfway into the show, I slipped my arm around her. She told me later that her heart was beating and she became so nervous. She wanted to pull away but was afraid that I would be offended. Since that night, we have never been separated.
Six months later, we were to be married. I prayed the night before that if she called me, I would know she was not the one for me. My phone did not ring. She told me later that she almost called but at the last second, something stopped her. Thank God!
Thirty-five years later, we are living happily ever after.
Submitted by James Blakely. 
---
---
Paul and Heather Roland
Head Over Heels
I was born and raised in Shreveport, LA, never did I imagine myself living in DFW, but I was given the opportunity and took a chance. I only knew my Aunt and her family, which is why I moved here, to help her with her twins that were just a few months old. Not long after moving here in early 2006, I got a part time job at Bank of America in North Rockwall. My coworkers decided to start a co-ed softball team and I was hesitant, but I committed. We needed more guys for our team so my coworker asked her cousin, Paul, if he wanted to join and this is where it all started.
Meeting up for our first practice at Tuttle Field, my first impression of Paul was that he was kind of stand offish, funny, and super cute. We were a little flirty, but I am pretty shy until you get to know me, and I could tell I was into him more than he was into me, so I didn't force things. He lived in Uptown at the time and my coworker (his cousin), and her fiancé were going to go to Lower Greenville with friends to celebrate their birthdays and asked if I wanted to join, so I did. We all met at Paul's apartment where we started talking and come to find out, even though Paul is a Navy brat who moved here from Henderson, NV, he had family in Shreveport, and we have mutual family friends. After that we talked off and on, but it wasn't until after a few dates and he moved to the Rockwall area that things really took off.
Not long after we started officially dating, I was forced with making the decision to stay here, move back home, or move with my Aunt to Chicago. I knew in that moment, I didn't want to leave, I couldn't leave really, I was head over heels for this man!
We did things backwards in some people's eyes, but it worked for us. Paul and I got an apartment together and not even a year later started building our first house. We got engaged in 2010 and will celebrate our 10th wedding anniversary this year. We have two daughters, Sydney Claire, and Savannah. We are currently in the process of opening up Smallcakes here in Rockwall and look forward to serving the community where it all started!
Submitted by Heather Roland.
---
Dr. Matt and Sarah-Ann Claggett
Positive Altitude
The story of how Sarah and I met sounds like something out of a Hallmark movie. We both lived in Omaha, Nebraska at the time; although she originally from California and I from Rockwall. It was late night on April 5th, 2018 when we both happened to board the same airplane to take us home to our respective hometowns with her flight layover to Dallas. Despite our plans to sleep on the flight, we managed to sit right next to each other. Being a late night flight, neither of us was necessarily dressed to meet a future spouse yet with heart pounding I introduced myself. There was a relaxed ease in our conversation as if we knew each other for ages. I distinctly remember her beautiful eyes and bright smile. As fate would have it, we were delayed for four hours before taking off and got to know each other quite well. We exchanged phone numbers, went on our first date when we both got back from our trips and the rest is history.
We have both since moved from Omaha back to Rockwall and have been enjoying our adventure together. We thank God every day for aligning our paths as it would not have been possible any other way.
We got married October of 2021 and are loving it in the Rockwall area. Sarah works as a mortgage loan processor for Advantial and I work as a Gonstead Chiropractor at Waller Family Gonstead Chiropractic in Rockwall.
Submitted by Dr. Matt Claggett
---
Mark and Shannon Olgin
'Reel' Catch
I met my best friend and wife 29 years ago at Howard Payne University. She interviewed me and several others for the school newspaper. A few months later we saw each other again and a short conversation led to a spontaneous first date and we went fishing. Needless to say, I was hooked that day, and January 1 marked 28 years of marriage. She was the catch of a lifetime. She is my best friend and a passionate follower of Christ. She has been by my side as I've served in the ministry during our entire marriage. I'm blessed beyond measure with an amazing family as we have three kids and a great church family/Ridgeview Church where I serve as the Middle School Pastor.
Submitted by Mark Olgin, Rockwall resident.
---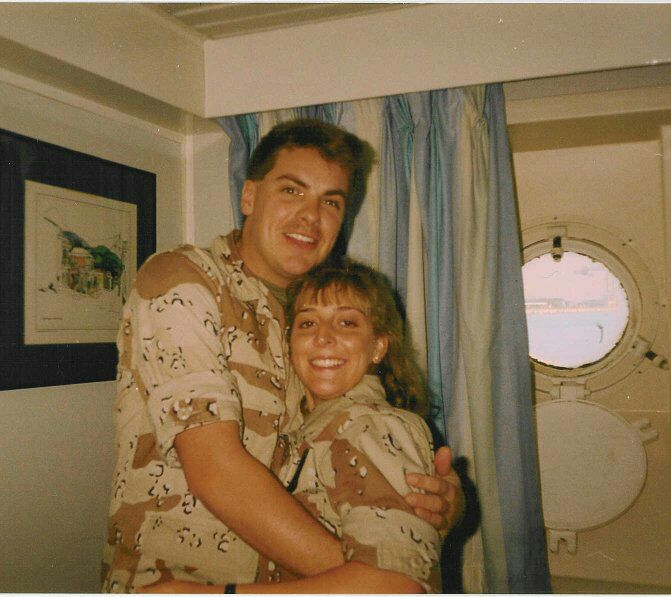 Travis and Adina Duke
A Desert Love Story
It is 2-28-91 and Desert Storm is over. The Armed Forces dock the Cunard Princess cruise ship in Bahrain as R&R for the troops who served in theater. Two airmen, 23-year-old Travis in Saudi Arabia and 19-year-old Adina in the U.A.E., enter their names to go. It's March and there are thousands of soldiers onboard the boat. In line to go to the dinner the first night, Adina spots friends from Tinker AFB, OK. With them is a cute guy she hasn't met before, also from Tinker. Travis claims "love at first sight" and vows that she will marry him! She thinks he is crazy. The weekend is over, and they say goodbye. He persists in pursuing her by writing her letters daily. Now April, they both return to Tinker AFB and ironically, they live on the third floor of the same dorm. Some people called it fate, but we call it God's plan.
In secret on 7-19-91, we were married at the courthouse in OKC. The next day Travis deployed to Saudi Arabia for six months. The first year of marriage we were together only one month. We never had a wedding but celebrated our 30th anniversary this year. It wasn't easy to get married so young and without really knowing each other, but we were determined to work out any issues and never give up on each other. Now we would both say that we are each other's best friends!
Submitted by Adina Duke.
---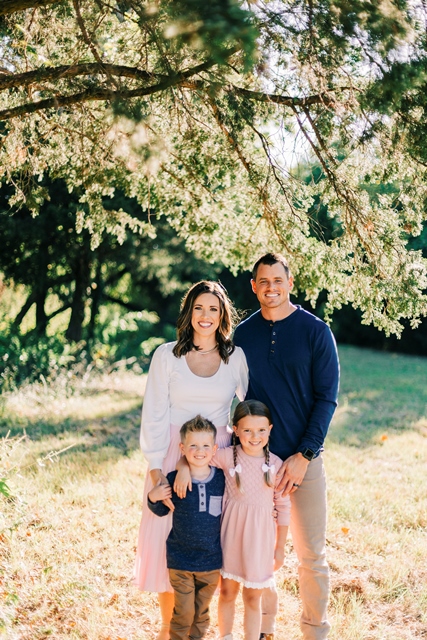 Katy and Charles Smith
Dance Number
My friends planned a big birthday dinner and evening of dancing in Ft. Worth for my 21st birthday. I was riding with a friend to my birthday dinner when a co-worker (who hadn't been invited) called and asked if she could bring her boyfriend to my birthday dinner. A little perturbed, I agreed. Charles showed up as the date and I believe our only interaction that evening was him wishing me a happy birthday.
Fast forward a few months, I was at my restaurant job waiting tables. A super cute new guy was waiting to meet with a manager. I walked past him several times trying to get a better look. When one of my co-workers informed me that he was Krystle's boyfriend that came to my birthday party, I was instantly uninterested. He got the job and started working at the same restaurant. Soon after, he and Krystle broke up. He started hanging out with my group of friends. The first night he went out dancing with us, I asked him if he was going to ask for my phone number or what.
Fourteen years later, we have two beautiful children and are about to celebrate our 10th wedding anniversary. I am so grateful he was a tagalong date to an uninvited birthday party guest.
Submitted by Katy Smith.
---

Jerry and Diane Gardner
Shipmates
Jerry and I were neighbors in Lakeside Village since 2006. Jerry and his wife often dined and cruised with my husband and me. As couples, we were great friends. When Jerry's wife of 49 years died in 2014, and my husband passed away eight months later, Jerry and I continued the friendship, easing the pain of our losses. We helped each other in business, playing golf in our backyard and becoming international cruise buddies for five years.
We engaged at the Lebkowitz Palace in Prague on Dec. 20, 2017 and married April 7, 2019. We spent our honeymoon in Israel. Together we have several children and grandchildren.
Submitted by Diane Gardner.
---
Tom and Robin Kula
Second Chance Romance
Tom and I went to prom together in our hometown near Chicago, IL. We never really dated back then (although he was my secret crush in high school). Just after prom, Tom graduated, went to the US Military Academy at West Point, NY, and we lost touch.
Tom wished we had dated, but he knew we did not have time. He wrote me one letter while I was attending the University of Michigan, but he simply wrote, "Maybe I'll see you this summer." He knew he had a long military career ahead of him, and knew it wouldn't be fair to date as he left for the Army. I rarely went home from college for the summers, so we never connected.
Tom eventually married, had three children and served in the military for 32 years, retiring as a one-star general in 2014. He was assigned to Dallas in 2010 so he lived here. I lived in Michigan raising my three sons. Thirty-eight years after high school we reconnected. He was divorced, I was widowed; he found me on Facebook and here we are – MARRIED! We were married in 2019 after three years of dating long distance – I in Michigan and he in Rockwall. I sold my house up in Michigan and now we live here in Rockwall. My sons remain in college in the Mid-West.
So many people say we were meant to be. We wonder how this happened – how and why we reconnected – our second chance. I wake up thankful every day.
Submitted by Robin Kula.
---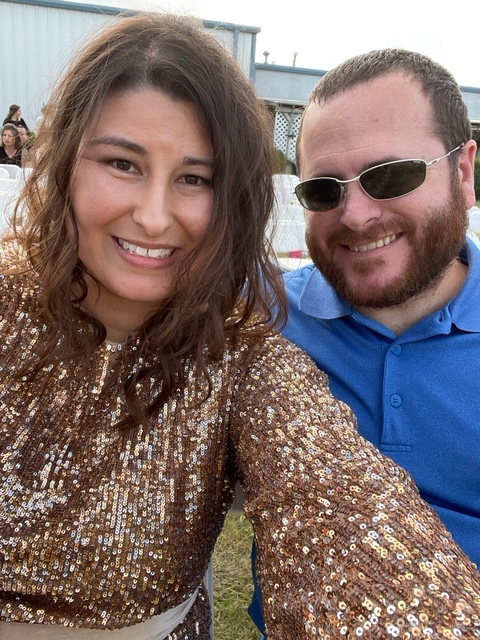 Samantha and Jon Epperson
Peanuts Over You
In October of 2016, I was invited to be a part of the West Texas A&M Veterans Network float for the WT Homecoming parade. I remember I saw a good looking guy (my husband Jon) but thought "he looks like a jerk."  My husband also saw me and looked at my hand to see if I had a ring on.
The week of Thanksgiving, Jon and I watched a Texas Tech Football game together on TV and then started to hang out.  On November 30, 2016 I wanted to be in a relationship with Jon but I was too nervous to ask him in person so I texted him. Jon wanted to ask me too but I asked first and he said yes.
On Christmas Eve in 2018, at Jon's parent's church and with my Mom, sisters, father-in-law and mother-in-law, with Jon's side of the family present, Jon proposed to me. Jon gave me a present to open in front of everybody and when I opened it, there was a Snoopy (I love the dog from "Peanuts") holding a heart and Jon put on it "Will You Marry Me?"  Jon and I talked about marriage but I was shocked that he proposed to me when he did – and I said yes!
Jon and I got married on July 19, 2019 in Amarillo. We lived in Allen for a couple of years.  We moved to our house in Rowlett in August of 2021.
Submitted by Samantha Epperson.
---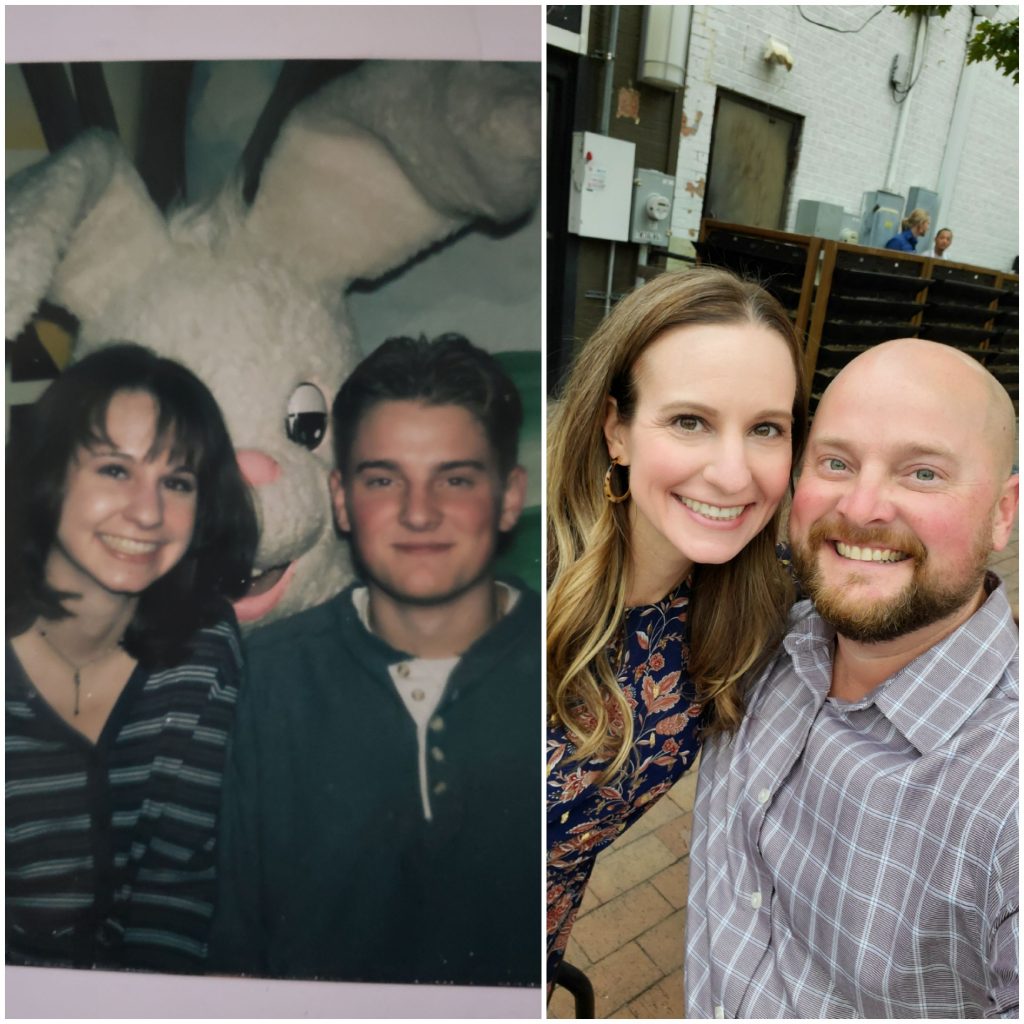 Lynn and Nick Zigon
Hall Pass
We met in the hallway at our high school. I was a sophomore and Nick was a junior. His friend grabbed my arm to stop me on my way to class. Apparently Nick had been working up the courage to ask me out each day that he saw me walk down that hallway, and his friend was tired of hearing it! My future husband asked me if I would go to dinner with him that weekend. He even posed with me for a picture with the Easter bunny after that dinner date. That was 16 years ago!
We dated for two years, stayed in touch while he went in the military (overseas for four years!) and we got back together seven years after we dated in high school. We were married in October 2005 and we now have two boys (13 and 10). We love to keep each other laughing each day and are more in love than ever, despite the daily everyday challenges of the world.
Submitted by Lynn Zigon. The photo on the left is from their first date in 1995; on the right, their 15th anniversary outside Zanata in Downtown Rockwall.
---
FROM LAST YEAR: 
'How I Met My Mate' 2021: Local couples share their love stories
---
---
Our

print edition

delivers free to ~15,500 homes and businesses throughout Rockwall County, TX. Click image to view our latest issue.To share your good news and events, email editor@BlueRibbonNews.com.
Subscribe to our email newsletter here.
---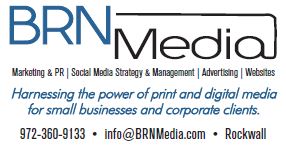 BRN Media is a multi-platform, full-service creative agency offering advertising and marketing services, social media management, and website development throughout Rockwall County and the Dallas area.