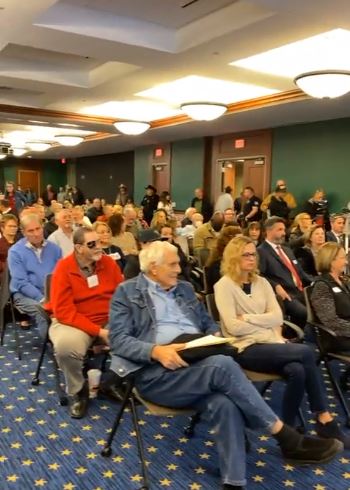 ROCKWALL, TX (Jan. 27, 2022) The following was submitted by Rockwall/Heath resident Sherrill Lester after last night's CANDIDATE FORUM at Liberty Hall, Rockwall County Courthouse. The forum was the first in a series of three Rockwall County Candidate Forums hosted by the Rockwall County Republican Party for the March 2022 Primary Election.
The following candidates participated:
US Congressional District 4 Candidates: Pat Fallon (incumbent), John Harper, Dan Thomas
TX House District 33 Candidates: Justin Holland (incumbent), Dennis London, Scott Lamarca
County Judge Candidates: David Sweet (incumbent), John Beaman, Frank New
---
Are you awake yet? I certainly wasn't…until I was.  
So, I thought I might go to a city council meeting. Well to be clear, I decided to speak. Go big or go home, right?  
So, why not try going to a forum where candidates answer important questions: border security, mandates and Putin? I didn't see that coming. However, I do think it is relevant for this moment in time. 
I was pleasantly surprised. There were some standout messages that are important to our community. Specifically, our safety due to drug trafficking, issues with our children (too many to list here), and the exponential growth of our county.  
Did you know we are going from 107,000 to 270,000 happy Rockwall County residents? Are you on the road at 3:30pm? Forget locking us down, we won't leave the house because it will take as long to get to Costco as it does now to get to downtown Dallas. 
I am a native Texan and I have lived in and around North Texas my entire life. I do business across this great State of Texas and I am a TXDOT contractor. The number of people in Texas has grown exponentially since 2015. At a meeting in Austin, TXDOT said that 10 people a minute were migrating to North East Texas – not Texas, but North East Texas. 
I get it. We are really nice. Our state is business friendly. We don't tax the rain water that lands in your water hole naturally created by the livestock on your land. Not that our state is perfect. That is for my next disortation. 
Lets go back to 107,000 to 270,000 in population.  If you can control roof tops, you can better manage crime, traffic and education. T-shirt opp: "Density Matters". 
The tax collectors and retailers say "rooftops are revenue".  Spoiler alert, I have been promised my entire adult life that someone was going to reduce my property tax. I am still waiting on that one. I do not want a state Income tax. So, what is the alternative? I think tonight I heard of an idea, but I need to get more detail.  
I've got an idea! Let's demand that our candidates lay out the plan for a balanced budget by not increasing our property tax, communicating (real time) with us on something other than Facebook, securing our freedoms and liberties such as mandates, understanding and defending our local constitutional rights and how they intend to mitigate crime. It was said tonight that MS13 is local and that someone in Singapore owns property in our county. Wake up, Rockwall! 
NTYC – I am done with the second entrance of Tom Thumb in Heath being closed. It's cold. My neighbor is elderly and she needs to park close to the door. The only crime happening from that entrance will come from a kid sliding a travel toothpaste in their coat. *Please use it if you take it. Take me to your leader. It is time to open the door. 
Lets get back to the event.  
A good point was made. As a business owner, if I am making a decision that will get me through today, I am destined to fail. I must make my decisions based on where we are going – not where we are. I learned that "you can't postpone Christmas". It is coming. You can shop the day before, or you can start asking in October what the latest gadget is and who wants it. (My favorite new app is Yuka.)  
What is the plan to mitigate crime, keep our costs to live in this amazing county reasonable, and engage with the citizens of our republic to be the shining city on our hill? 
If your next County Judge, State Legislator or US Congressman doesn't know what is going on WITH YOU, it is your fault. He will build his campaign, his tenure as a representative and will spend your tax dollars based on what is important to him if you don't get involved.  
I do get an electronic poll from my current legislator.   Tonight I heard that he has answered many requests from his constituents. That's a good start. The last thing I want to hear about is what matters to him. That is not a representative. That is a politician. 
Are you engaging with your representatives?  
If not now, then when?  
Written and submitted by Sherrill Lester, Rockwall/Heath resident. Blue Ribbon News welcomes your letters to the editor, calendar events and story submissions by emailing editor@blueribbonnews.com.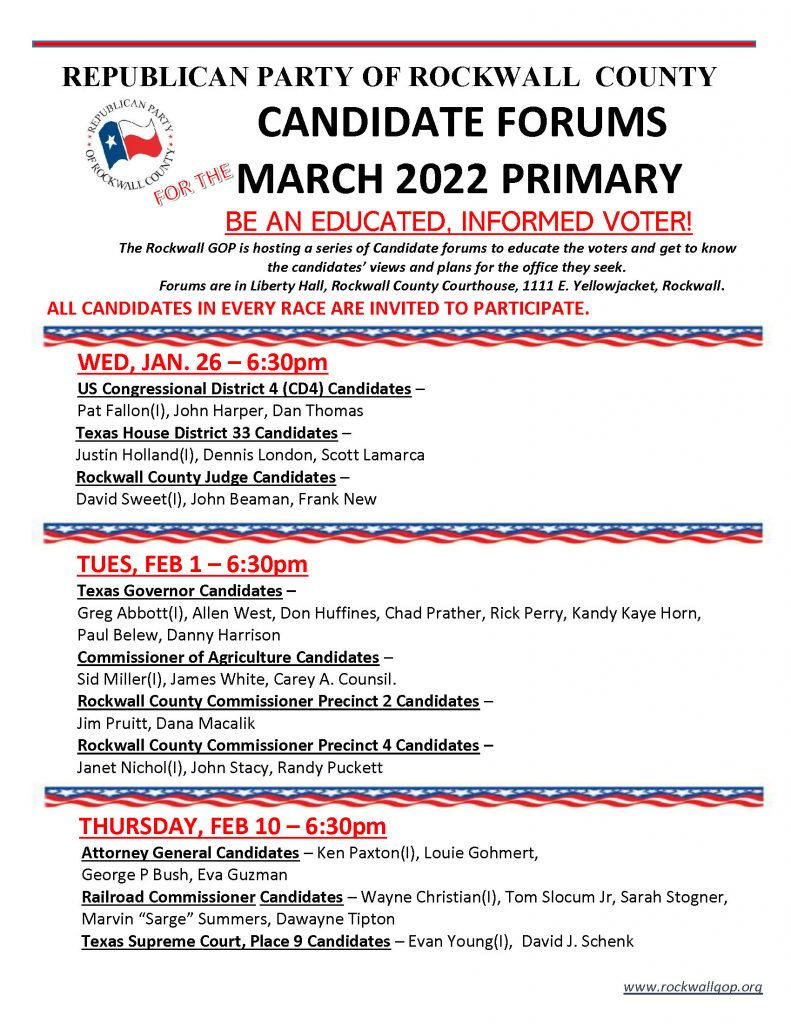 ---
---
RELATED NEWS
Candidate Forums set for March 2022 Primary, hosted by Republican Party of Rockwall County
Rockwall Area Chamber of Commerce to host Candidate Forum for March 1 Primary Election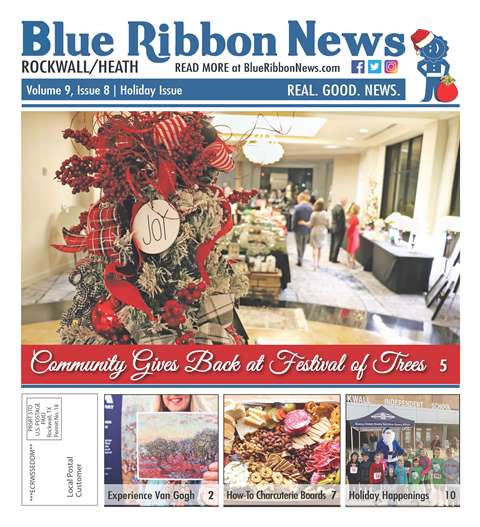 Our

print edition

delivers free to ~15,500 homes and businesses throughout Rockwall County, TX. Click image to view.
To share your good news and events, email editor@BlueRibbonNews.com.
Subscribe to our email newsletter here.
Advertising: 214-342-8000 or advertising@BlueRibbonNews.com.
---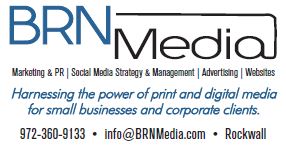 BRN Media is a multi-platform, full-service creative agency offering advertising and marketing services, social media management, and website development throughout Rockwall County and the Dallas area.