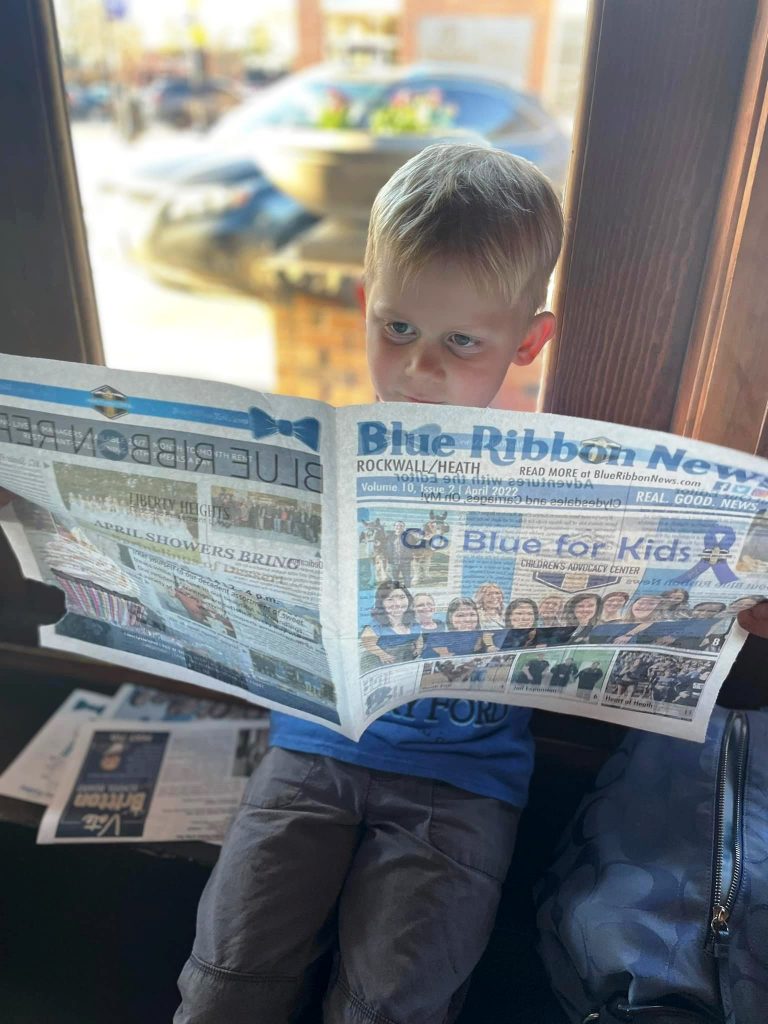 ROCKWALL, TX (April 25, 2022) Meet 7th generation Rockwall resident Robert Lance Miller – called Lance, after his great uncle, Lance Holland. He captured the attention of Blue Ribbon News when his mom, Katy Miller, shared the photo above on Facebook after he announced, "Guys, I'm going to do a little light reading before dinner."
The Dobbs Elementary kindergartner plays soccer at the J.E.R Chilton YMCA and ball with the City of Rockwall Baseball and Softball League. He loves cheering on the Jackets on Friday nights and he's quick to say 'Stingers Up' and raise his pinky.
"Lance is smart, witty, and has the best one-liners," his mom said. "He is certainly 'goofy funny' but he is also what I like to call 'organically funny'. He just says funny things."
---
---
Katy often shares his 'Lance-isms' on social media, and we thought we'd share some of his quips and quotes here.
Lance, where is your most favorite place to get breakfast?
Oh, that's easy.  Book Club.  Every Saturday.
Book Club is delicious.  What do you like to get there?
Eggs.  Panpakes. And Bacon.
(Mom adds: "He still says 'panpakes' instead of pancakes and I refuse to correct him. We've been taking him to Book Club Café for breakfast nearly every Saturday since they opened.  A typical Saturday starts with breakfast at Book Club, the Farmers' Market where he always picks out a bouquet from Paper Bird Flower Farms for his mom, and then we typically head to the YMCA for soccer.  He's been playing soccer with the Y for three years and loves it. He does want people to know that when they are adults and want to play soccer that adults don't get snacks after the game.")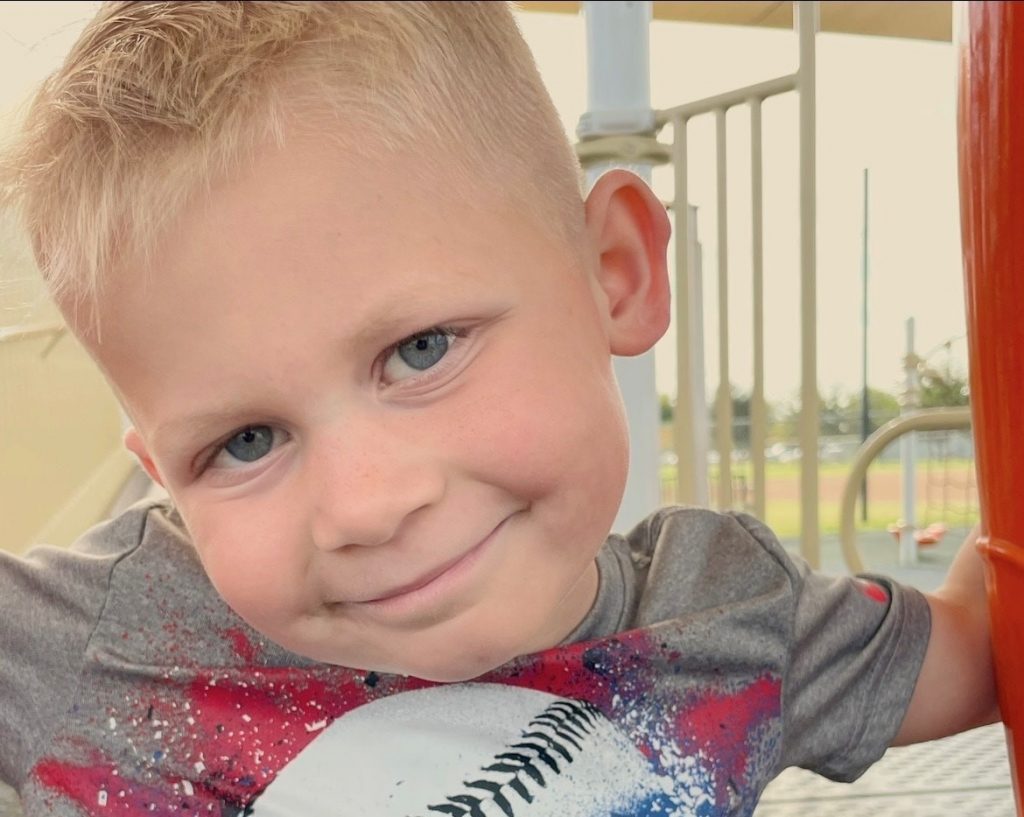 What is your favorite restaurant in Rockwall?
Zanata, hands down. Try the cheese pizza with no sauce. It's the best pizza you'll ever have…seriously. I'm not even kidding. 
(Mom says Zanata is another staple for their family. "We've been taking Lance there since shortly after he was born and they treat us like family. It's our go-to for a quick pizza, family gatherings, date nights, celebrations and any and everything between. In fact, Lance has celebrated MOST of his birthdays with a family dinner at Zanata.")
What do you like to do in Rockwall for fun?
Starts with Sha. Ends with Naniganz….get it?  Shenaniganz.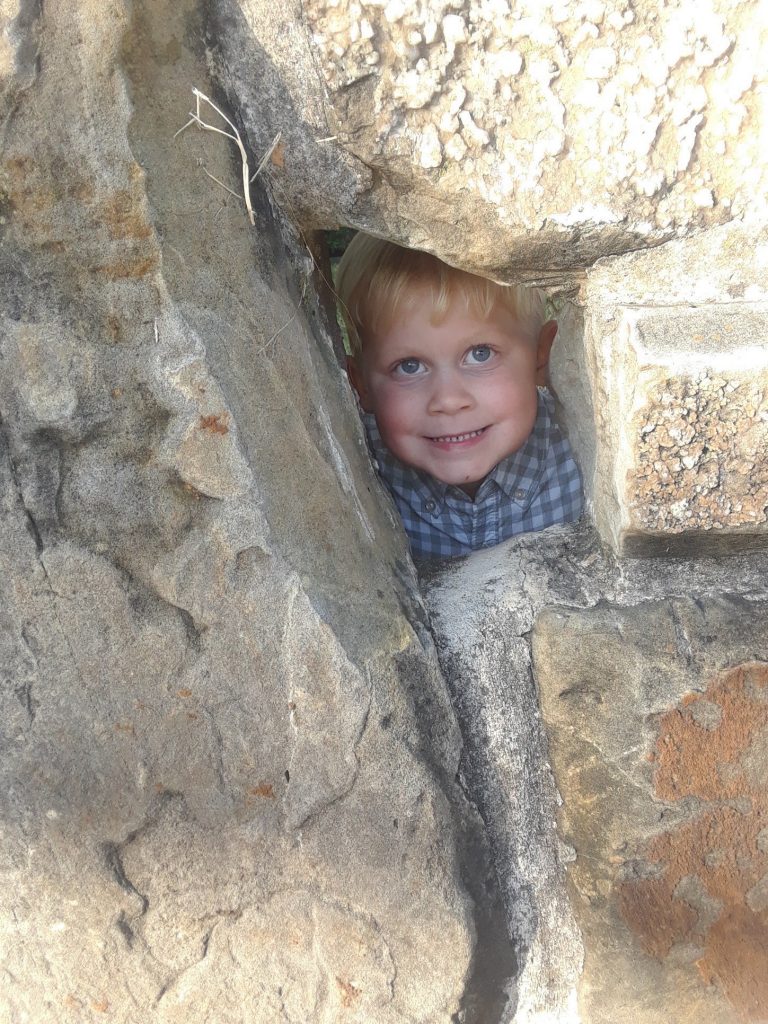 What else do you like to do?
Harry Myers is my favorite park. Well maybe Yellow Jacket. I don't know. They are both fun. The difference is you can go fishing at Harry Myers and Yellow Jacket is a playground, but no fishing.
Have you caught a fish at Harry Myers?
Of course.
How big was it?
Bigger than the one you caught.
What are your favorite summer places?
The beach by the lake, The Ice Train sno cones, Farmers' Market, music on the square, Fourth of July at Harry Myers, Shenaniganz…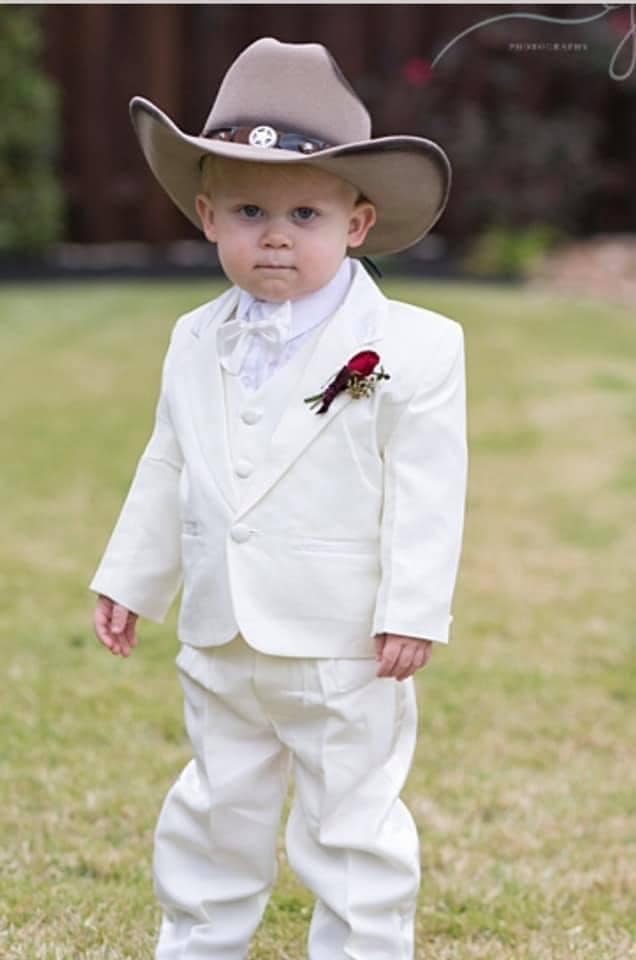 What do you want to be when you grow up?
A fireman. I got to see the firetrucks and all of the equipment one day at the fire station. The ladder is I think about 100 feet. The fireman let me get in the firetruck. I think I want to try to drive it. They wouldn't let me use the chainsaw though. Obviously. Because I'm a kid and that would be under the law.
(Mom explains that instead of saying 'illegal' he says 'under the law'.  "It's kind of like 'panpakes'; I refuse to correct him.")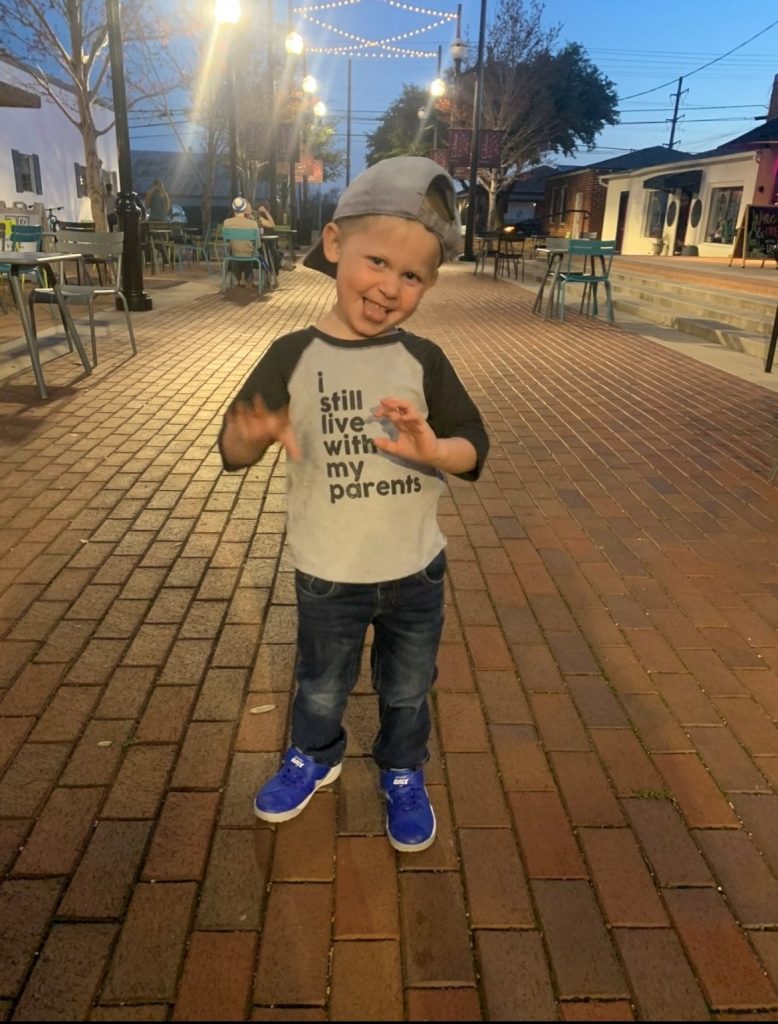 What is your favorite thing about living in Rockwall?
I like that there is a lot of stuff to do that's fun. Like go to the park and go to places with my friends. It's fun when we go to the square and there is music and kids running around.  And all of the people are nice. Just the nicest. They are probably the nicest people in the whole world.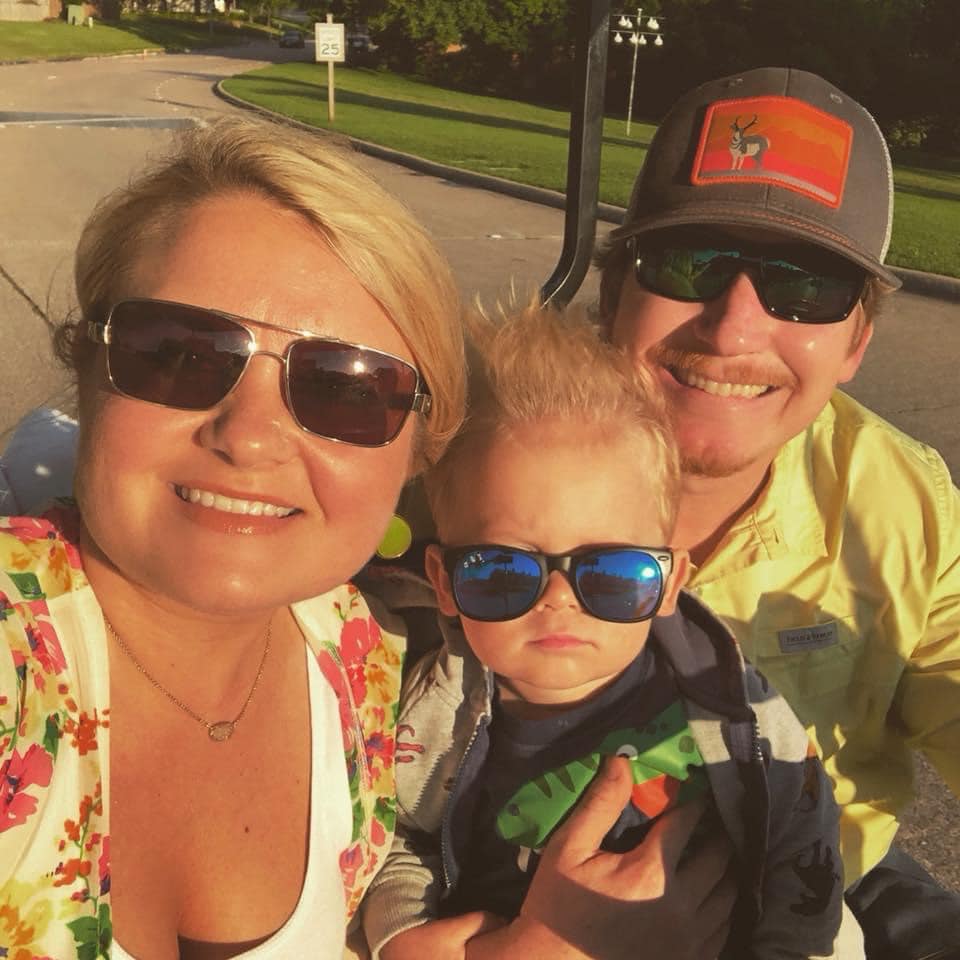 By Dawn Redig, shared with permission by Katy Miller, who works as the Manager of Patient Experience and Volunteer Services at Baylor Scott & White Medical Center. Lance's dad, Robert Miller, works at BDO, providing tax and financial advisory services.
If you know someone who should be featured in one of our Good Neighbor/Good People/Good Kid spotlights, email editor@blueribbonnews.com. 
---
Our

print edition

delivers free to ~15,500 homes and businesses throughout Rockwall County, TX. Click image to view our latest issue.

Subscribe to our email newsletter here.
---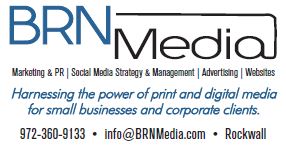 BRN Media is a multi-platform, full-service creative agency offering advertising and marketing services, social media management, and website development throughout Rockwall County and the Dallas area.