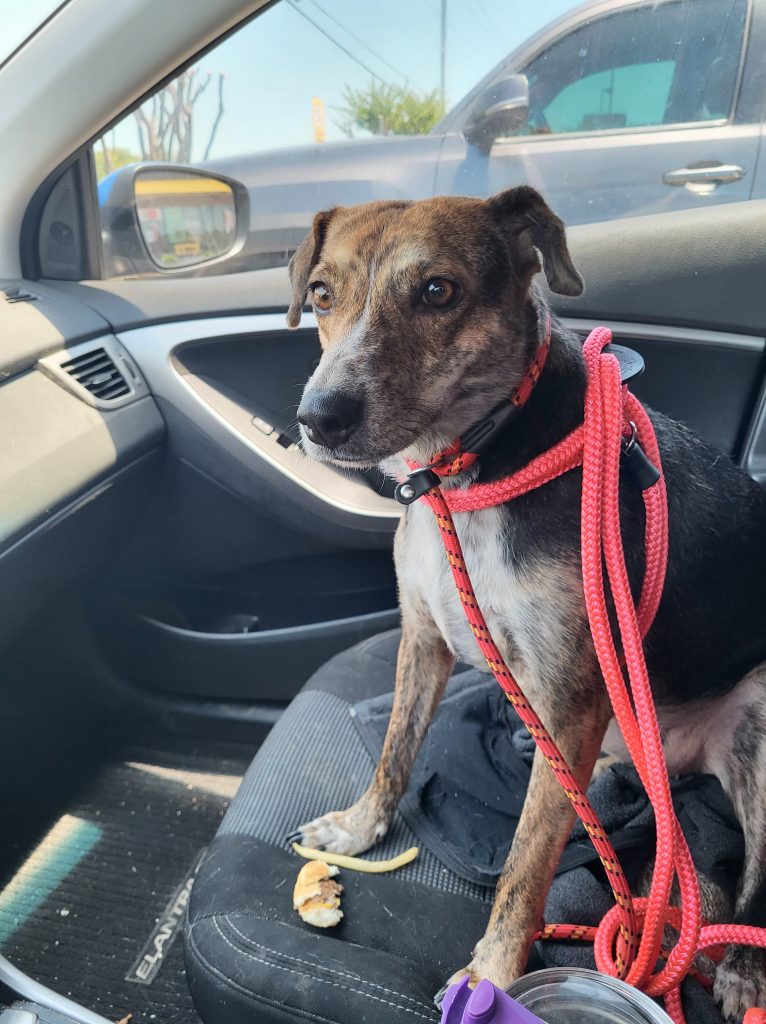 ROCKWALL COUNTY/COLLIN COUNTY, TX (May 30, 2022) Gwen had a big adventure Saturday. The street-wise stray we told you about back in February – the one who eluded capture for months before being rescued by Duck Team 6 – braved the outside world once again to make it to a very important appointment.
"The day started like any other, but this time Gwen went in the car," said Gwen's foster mom, Cora Moon. "We drove past her old stomping grounds and went to the vet!"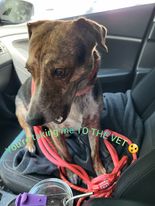 Many may recall Blue Ribbon News' coverage of the cantering canine who roamed the roads this past winter, surviving brutally cold temperatures and the onslaught of traffic on North Highway 205. 'Momlady' Moon has been caring for the black-and-brown Beagle mix ever since she helped a team of volunteers catch her on Feb. 25. Gwen's rescue and rehabilitation journey is documented on her Facebook fan page, Unicorn 205 – Street Dog to Couch Log.
"Gwen did such a good job going to the vet for a heartworm checkup and to get her nails trimmed. She kept climbing in my lap in the waiting room. I held her and gave her 'scritches' and talked to her. As long as I was holding her, she was great," Cora said. "We learned that she still has heartworms, but we are treating them and she will have another test in three months.
With a bit of grin Cora added, "We also had to discuss her weight."
Gwen tipped the scales at 39 pounds, up from 26 when she first saw the vet at Kingsbridge Animal Clinic in Garland. Considering Gwen formally dined on road kill (and dog food strategically placed in traps by rescue workers), it's only fair the former street dog enjoy a few peanut butter-filled Kongs and training treats! Cora has been working patiently with Gwen for weeks, helping her adjust to a "normal" life inside a loving home with other pets.
"She has been on a diet since she's been inside, but we'll need to get stricter about that! Fattest street dog ever!" Cora said.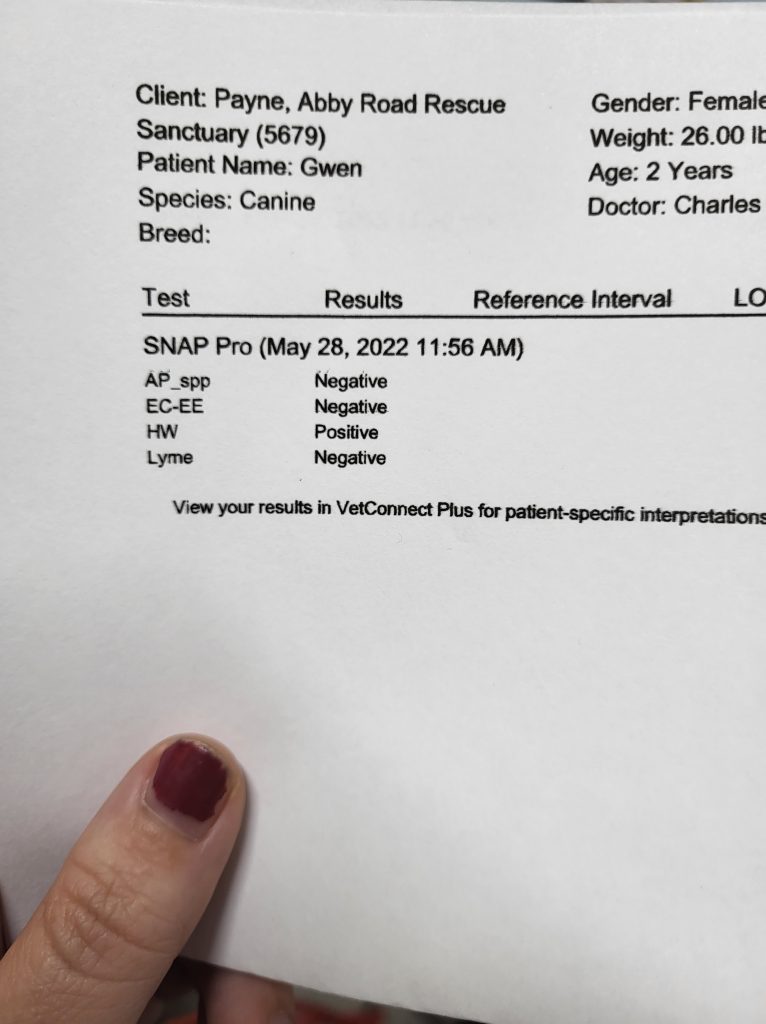 The day of the vet appointment, Cora posted on Gwen's behalf: "Momlady says she will take me to a drive thru on our way home if I behave. IDK what that means, but it reminds me of being in the middle of the road and nice people throwing food out for me; I don't think I want to do that again, so hopefully it will be something more fun."
The pair did stop at the McDonald's drive-thru on the way home, but Gwen refused to eat her cheeseburger and fries.
"She was very excited to get home and inside; she doesn't miss anything about street life."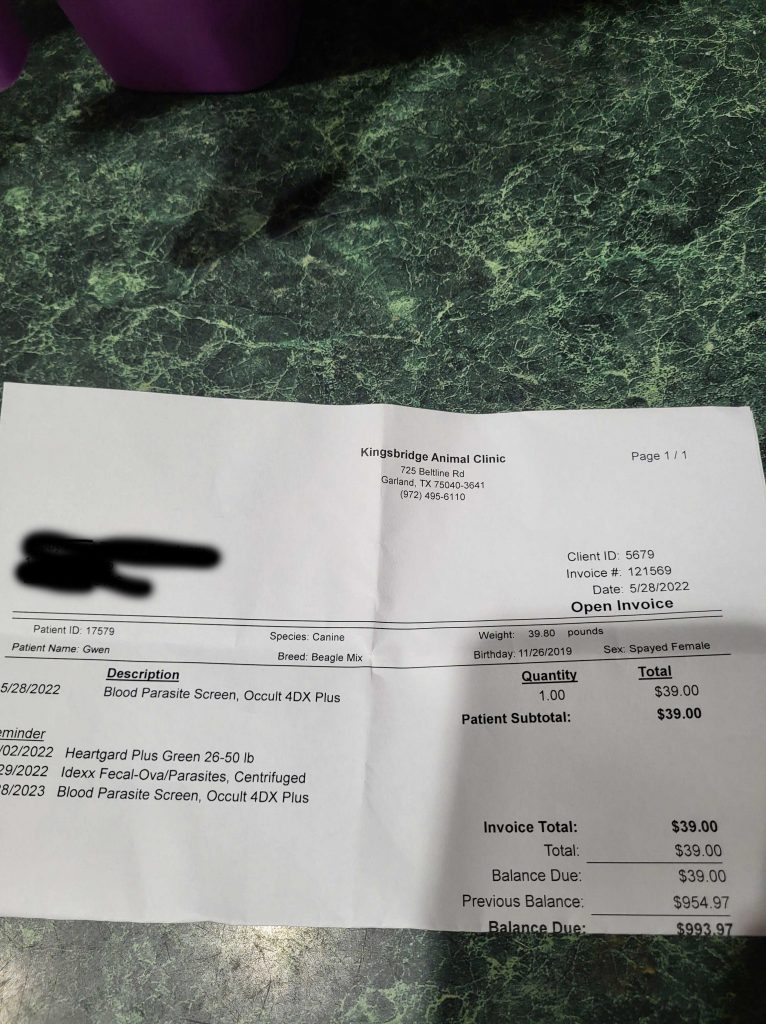 Those wishing to donate to Gwen's medical expenses may do so by calling payment into the vet at 972-495-6110 under the 'Abby Road Rescue Sanctuary' account. There is also an Amazon wish list folks may contribute to.
By Dawn Redig, Blue Ribbon News. Photos courtesy of Cora Moon and Gwen. 
RELATED STORY
Ode to Gwen, the stray who ran away with our hearts…and a tribute to the team who helped her
---
---
Our

print edition

delivers free to ~15,500 homes and businesses throughout Rockwall County, TX. Click image to view our latest issue.

Subscribe to our email newsletter here.
---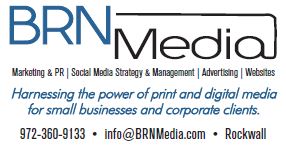 BRN Media is a multi-platform, full-service creative agency offering advertising and marketing services, social media management, and website development throughout Rockwall County and the Dallas area.