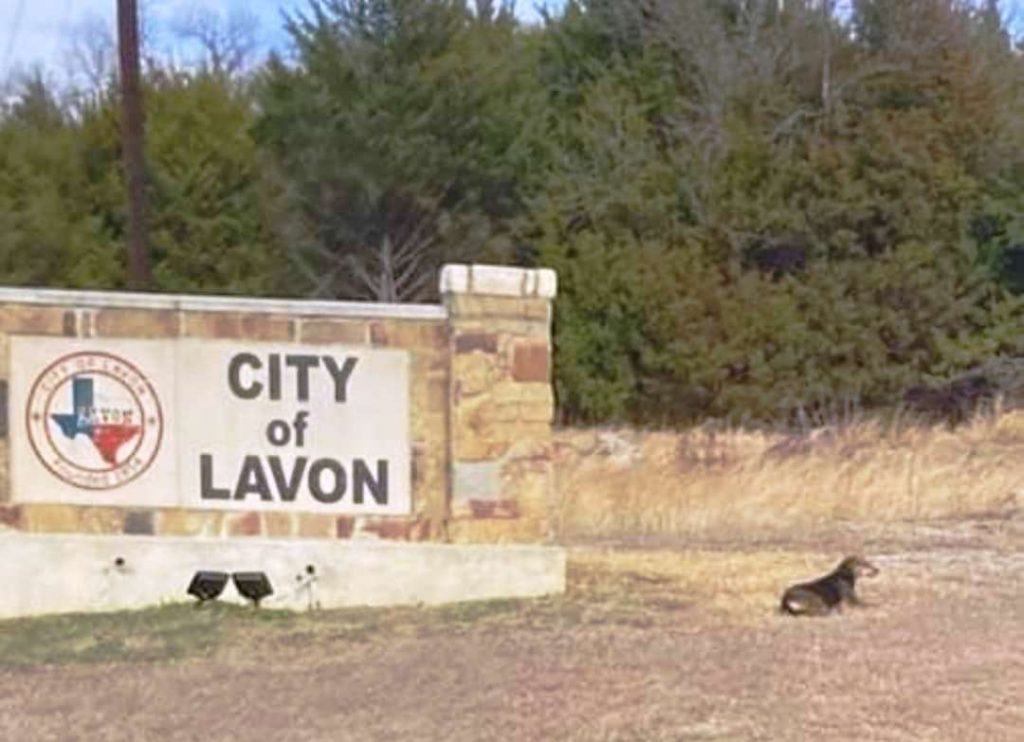 COLLIN COUNTY/ROCKWALL COUNTY, TX (Feb. 28, 2022)  – If you travel a lot on North Highway 205, you may be familiar with Gwen – a street-wise stray who's logged more miles in the past three months than I have with my step-counter and a gym membership over the last year.
Since early December, the black-and-brown Beagle mix has worn a path from the Rockwall County line to County Road 483, walking mostly on the shoulder when there is one, while at the same time looking over own shoulder for the threat of cars, or people. Gwen prefers to have nothing to do with either.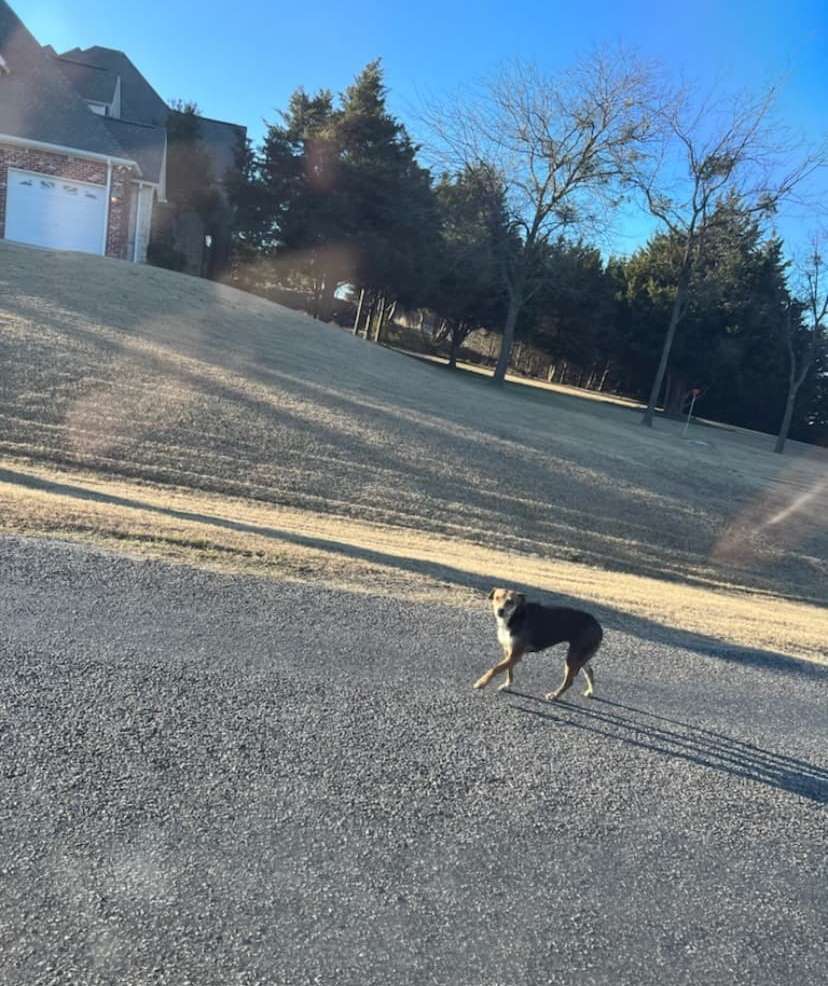 Countless attempts have been made by good Samaritans to "save" Gwen. For months the cantering canine has eluded capture. Instead, Gwen has managed to capture the attention of pet rescue volunteers, passersby, and residents along her route who've tried everything to retrieve her.
From my office window, I've watched Gwen stride by sometimes six times a day. In the sleet and rain, blustery north winds and freezing temperatures, Gwen is on a mission – seeking food and shelter. She's certainly not looking for love, because I doubt she even knows it exists. I've left food and water bowls by the road (which I later learned was not helping; more on that to come). I've jumped from my office chair and darted to the front door upon seeing her, just to run outside and call her name as she sprints away. I've watched as car after car slows to avoid hitting her, often pulling to the side of the road and opening their door to invite her in. Trails of treats have been dropped out automobile windows, and my own daughter came within three feet of her before Gwen warned her to back away with a show of teeth and a fearful bark.
"Gwen originally hails from Houston, where she was picked up by a shelter," an officer told me when I called Animal Services to report a stray. "She's semi-feral, probably dumped on the streets or running from abuse.  Abby Road Rescue in Lavon took her in, saving her from code red status, but then she escaped."
The officer explained that to aid in catching her, Duck Team 6 had been called in – a Dallas-based, all volunteer nonprofit organization that specializes in the capture of street dogs. She emphasized the importance of not approaching or feeding the dog – an appeal that Duck Team 6 posted on a yard sign at the intersection of Highway 205 and CR483: "Dog rescue in progress. Please do not disturb dog. Do not feed dog. Do not pursue dog."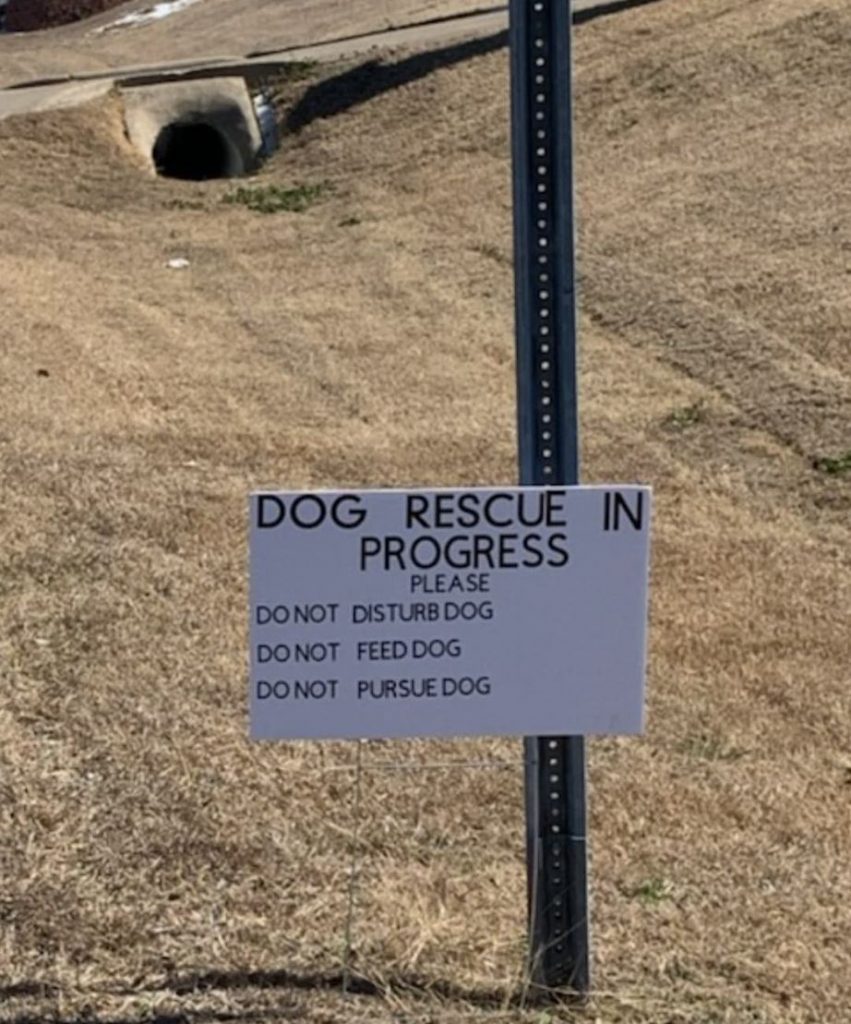 This is contrary to everything dog lovers everywhere want to do. After all, how can we leave Gwen outside to starve and freeze to death?
Then I received a call from Barbara Sternberg-Garmon of Duck Team 6. She had gotten my number from the Animal Services officer. In her short time volunteering with Duck Team 6, she's helped capture many homeless dogs, "but none have been as difficult to catch as Gwen. We've caught feral, skiddish, scared, wily street dogs, but Gwen is a whole other level of smart," Barbara said.
"Can't you use a tranquilizer gun or something?" I asked, thinking that's far better than leaving Gwen to suffer in the winter storm.
Tranquilizer guns are used very rarely due to the potential danger, she explained, and may cause Gwen to react negatively causing her to run into the woods, or worse, run onto the highway as it takes effect. Unfortunately, they aren't like we see on TV where they take immediate effect and cause the animal to drop in place.
I learned that Duck Team 6 had hay stations strategically placed with nutritious food, medication, and heat lamps, and Gwen's movements were being tracked with trail cams. The idea was to get Gwen on a routine, making capture more likely. Gwen was proving too smart for the traps they set up, which could even be operated by remote control.
Every now and then Barbara would text me a photo of Gwen eating dinner, just to assure rescue efforts were continuing and Gwen was not starving. Barbara shared that a nearby homeowner, John Wilkins, had spent several weeks conditioning Gwen to eat inside a coral he made for her on his property, and the team knew that the opportunity for a successful capture was near.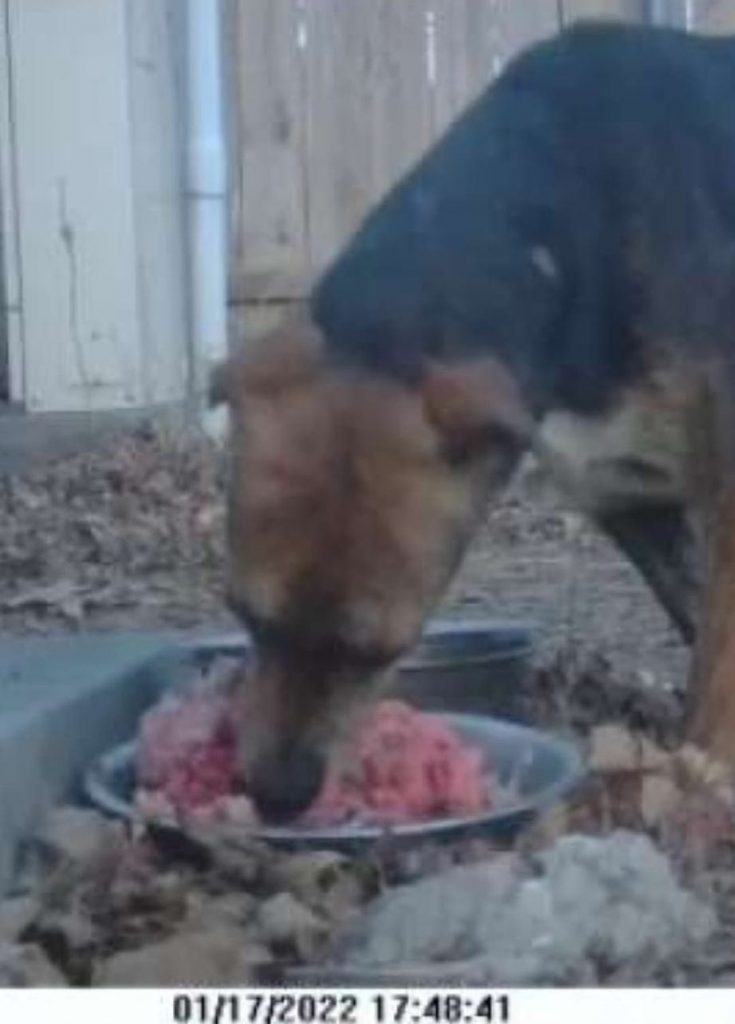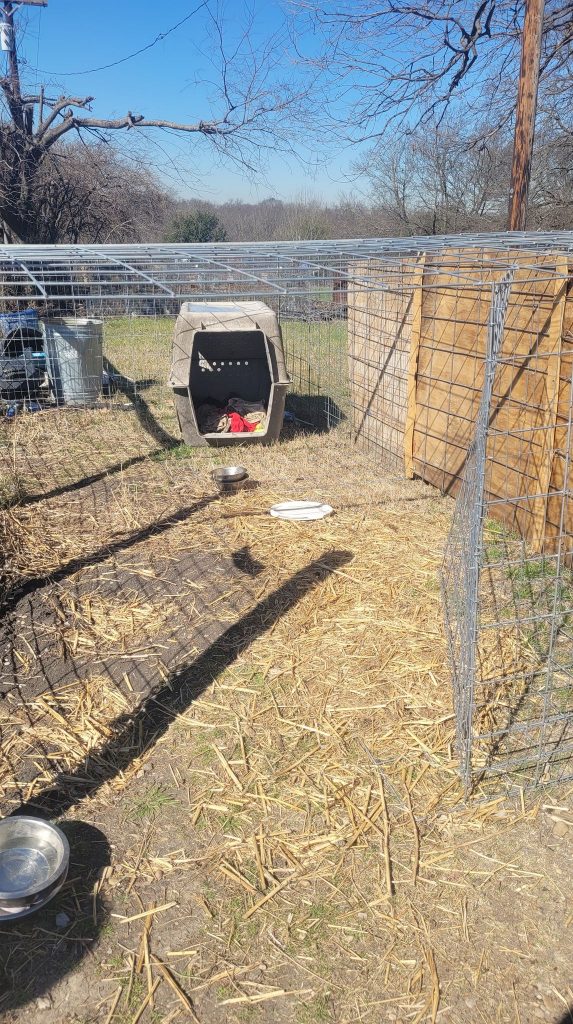 On February 23, I received another text update: "We're closing in our day! The weather is slowing us down. Miss Gwen has taken to lying by the sign again today. Trying to soak up semblance of sun. We know she's there, but if you happen to see anyone messing with her, please let me know?"
The next day, another text: "We were concerned someone would mess with her today due to the cold. She moved a lot today and she let us see her on camera so we knew she was okay. Thank you for watching out for her."
On February 25, the day we'd all been praying for finally came.  Barbara texted a close-up of Gwen curled up on blanket with a simple message that said: "GOT HER!"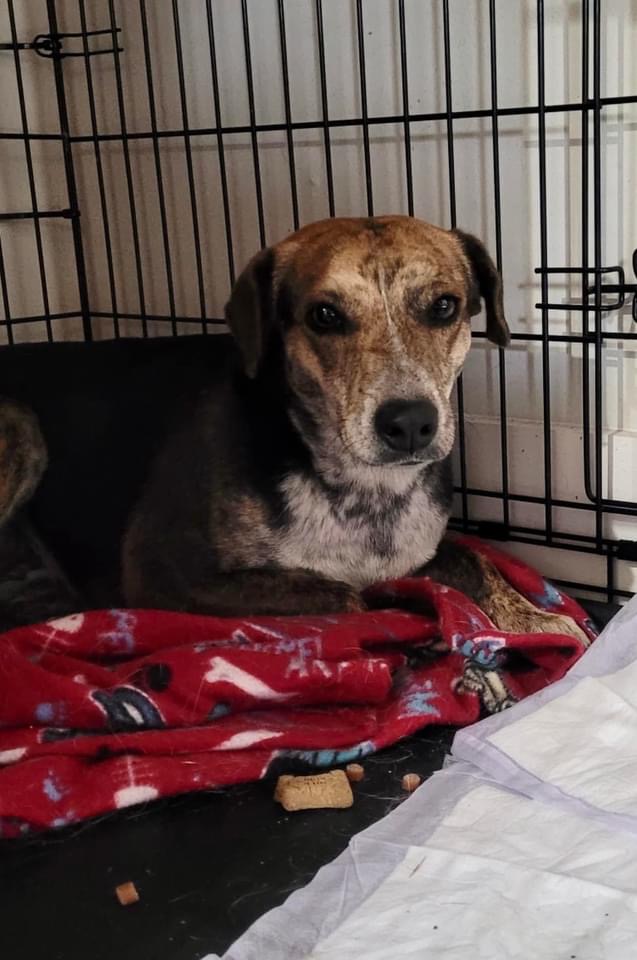 Barbara later explained that the team had a plan to trap her that weekend, so they went out Friday morning to get everything ready. Just as the team was about to leave, with no plan in place to capture her at that exact moment, Gwen came trotting down the street. The team knew that was it. It was their "God shot," as Barbara called it. John grabbed the rope and when Gwen was safely inside his corral, he pulled the door closed!
10 weeks!

70 days!

1,680 hours!

100,800 minutes!

6,048,000 seconds! (yes, we googled!)

~ Barbara Sternberg-Garmon, Duck Team 6, posted on Facebook upon Gwen's capture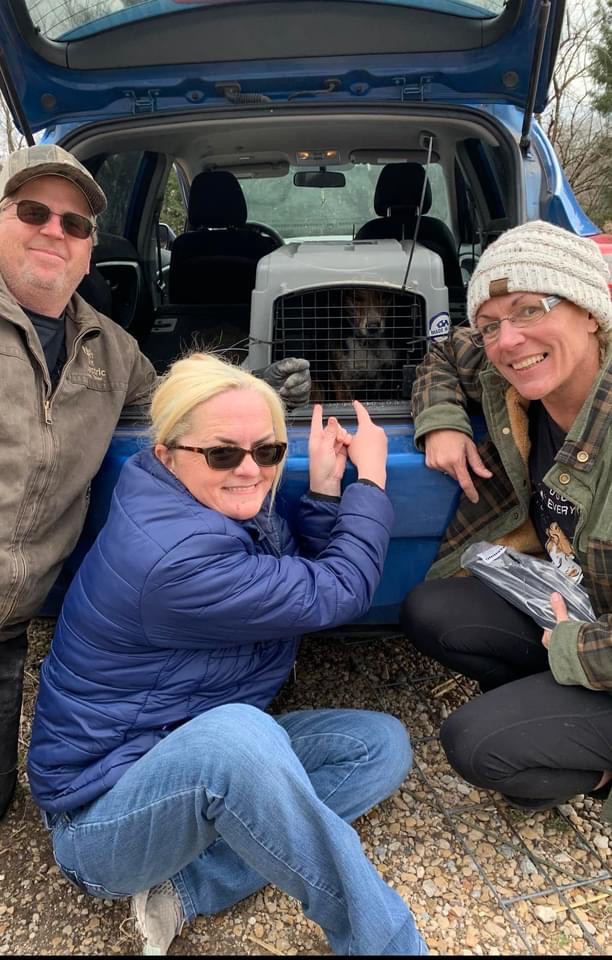 A part of me naturally wanted to take Gwen into my home, but the rehabilitation process will be extensive, and better left to those more experienced in such matters.
"What kind of mix do you think she is?" I asked Barbara.
"She was labeled at Beagle at the shelter. She runs like one. Definitely part Beagle. Maybe part unicorn," she joked.
"My heart feels good," I wrote.
"Mine too," Barbara wrote. "I can finally get some sleep again."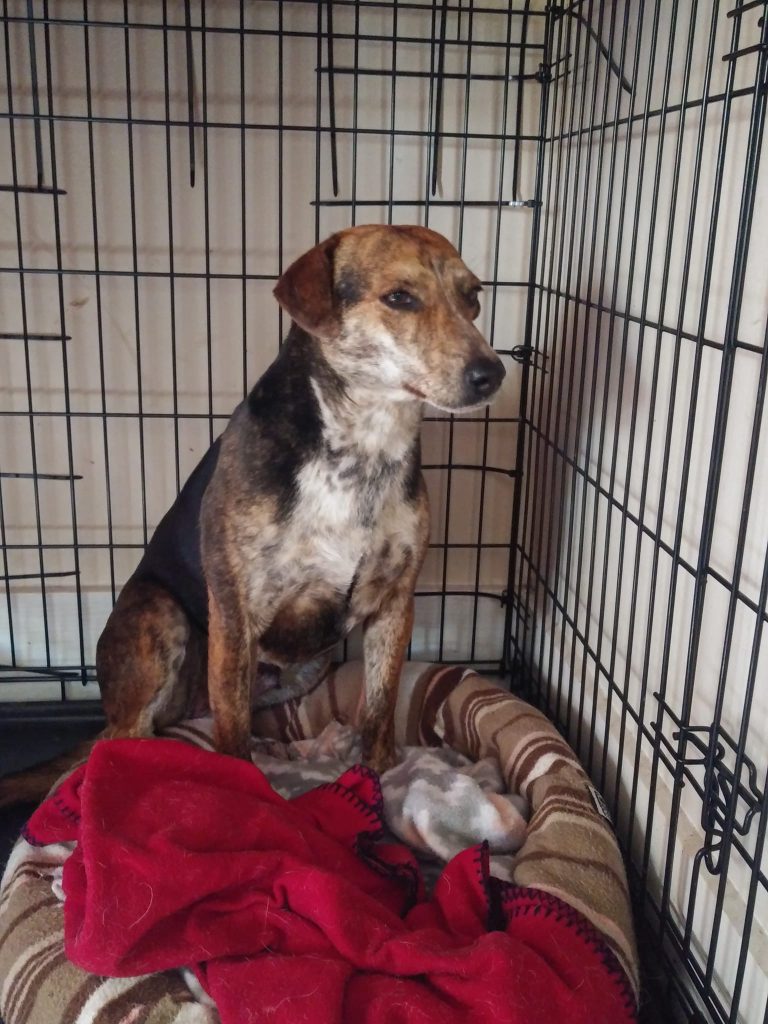 Gwen is now secure and resting comfortably in a foster's home. Barbara reported on her Facebook page that Cora Moon, Gwen's foster mom, "is extremely knowledgeable and is dedicated to rehabilitating her. Someday Gwen will know that not all humans suck."
Barbara added that Gwen's capture would NEVER have been possible without the dedication and grit of Cora, John, and his wife Gina, who were instrumental in aiding Duck Team 6.
An Amazon Wish List has been set for Gwen, and items will go directly to the foster mom. Those interested in contributing to Gwen's journey and rehab, may do so here >> https://www.amazon.com/hz/wishlist/ls/VUSUM5MWIJV9
Those wishing to learn more or donate to Duck Team 6 may visit their website at https://duckteam6.org/ or follow them on Facebook.
"Welcome home Gwen!" Barbara concluded her post on Facebook. "Time to learn to be a couch dog!" 
By Dawn Redig, Blue Ribbon News. Courtesy photos. 
---
---
Our

print edition

delivers free to ~15,500 homes and businesses throughout Rockwall County, TX. Click image to view our latest issue.To share your good news and events, email editor@BlueRibbonNews.com.
Subscribe to our email newsletter here.
---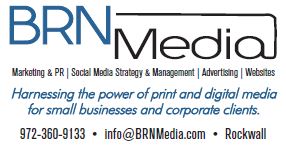 BRN Media is a multi-platform, full-service creative agency offering advertising and marketing services, social media management, and website development throughout Rockwall County and the Dallas area.