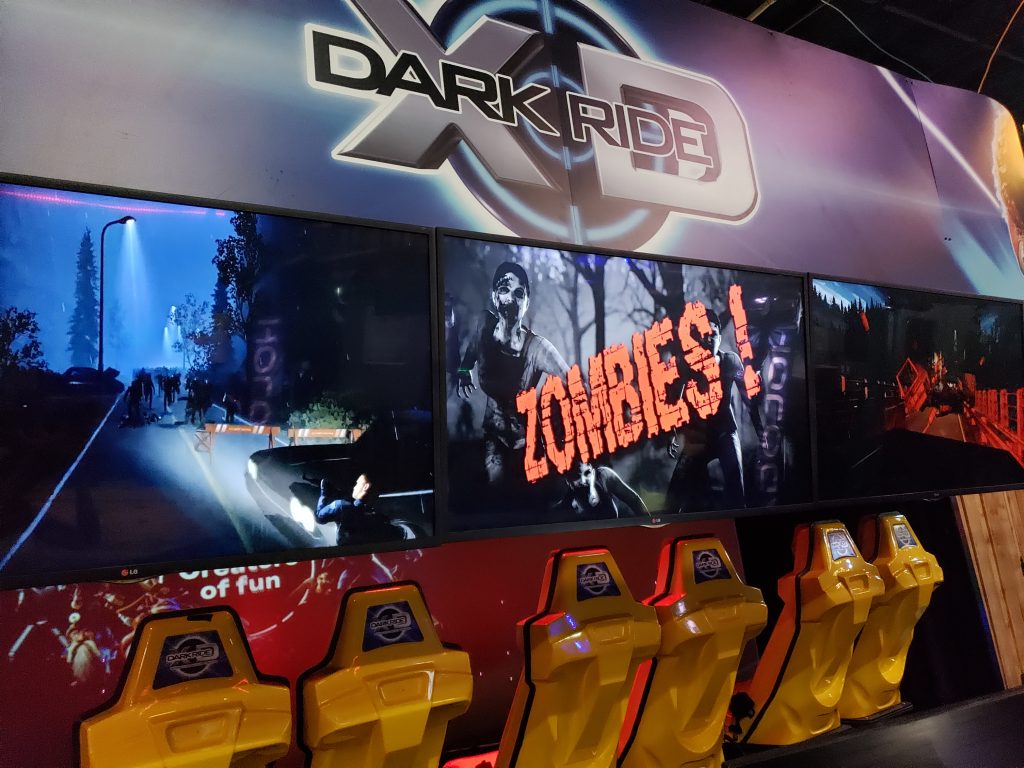 ROCKWALL, TX (July 19, 2022) Shenaniganz in Rockwall captures the hearts of local families with everything from arcade games and bowling to lazer tag and axe throwing – but its latest addition has dropped a fully immersive, state-of the-art virtual rollercoaster right in our backyard.
Our Blue Ribbon News team was invited to experience XD Dark Ride first hand. The 8-seat, interactive roller coaster has a massive movie screen and the latest 3D technology – allowing you to ride, blast, and compete your way into other dimensions.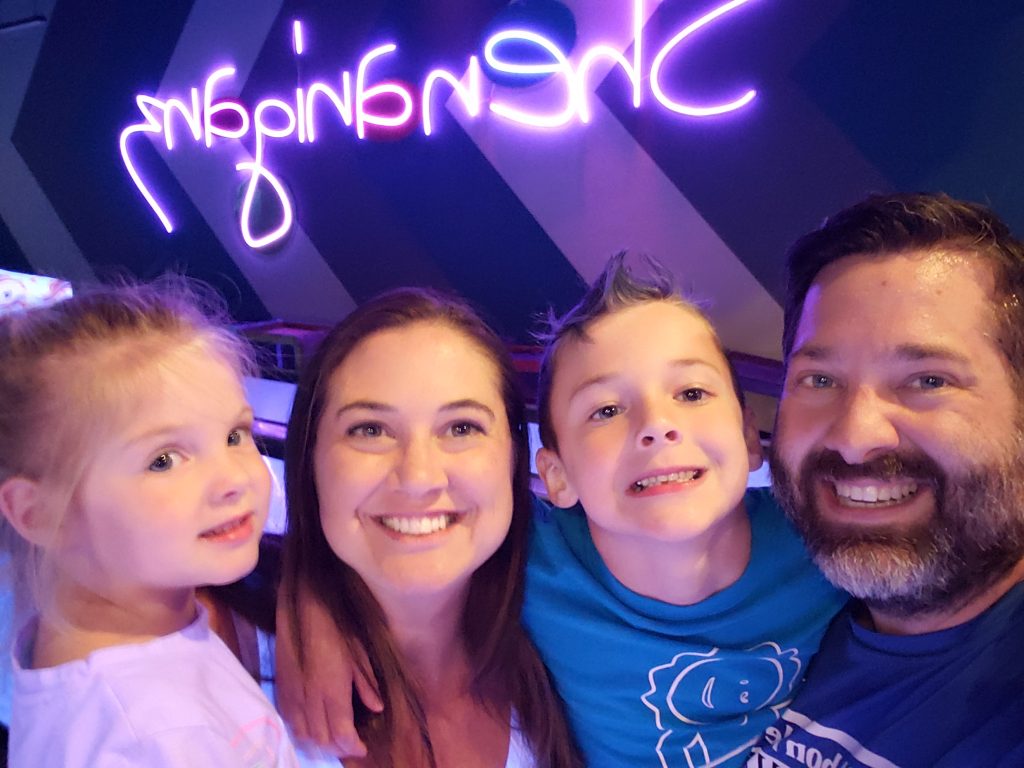 My family and I enjoyed a fun-filled day trying out XD Dark Ride. At first it appears like a flashback to the old Six Flags Over Texas 'Right Stuff' with modern improvements.  It is a cinema-style room with an attendant in front of you looking at a few monitors, and more monitors mounted overhead with video of what you're about to play.
You head up a small ramp and immediately notice the chairs are plastic but still more than comfortable for the 5-minute ride. There's a lap belt to secure yourself in place, a blaster in the holster at your side, and a curved screen in front of you. Once strapped in, the attendant hands you 3-D glasses and asks which adventure you'd like to go on. You can choose from evil Western era robots made by a mad scientist (think Wild Wild West featuring Will Smith), a werewolf outbreak based in the late 1800's, your normal present day zombie outbreak, and (my personal favorite) an alien invasion.
You sit back not really knowing what to expect while the attendant leaves the area and closes the large curtain behind. A loading screen pops up allowing you to test your skills in a shooting range.  After about 30 seconds, the shooting gallery comes to an end and shows how well you did with a score for each of the blasters (each one is color-coded so you know who is who).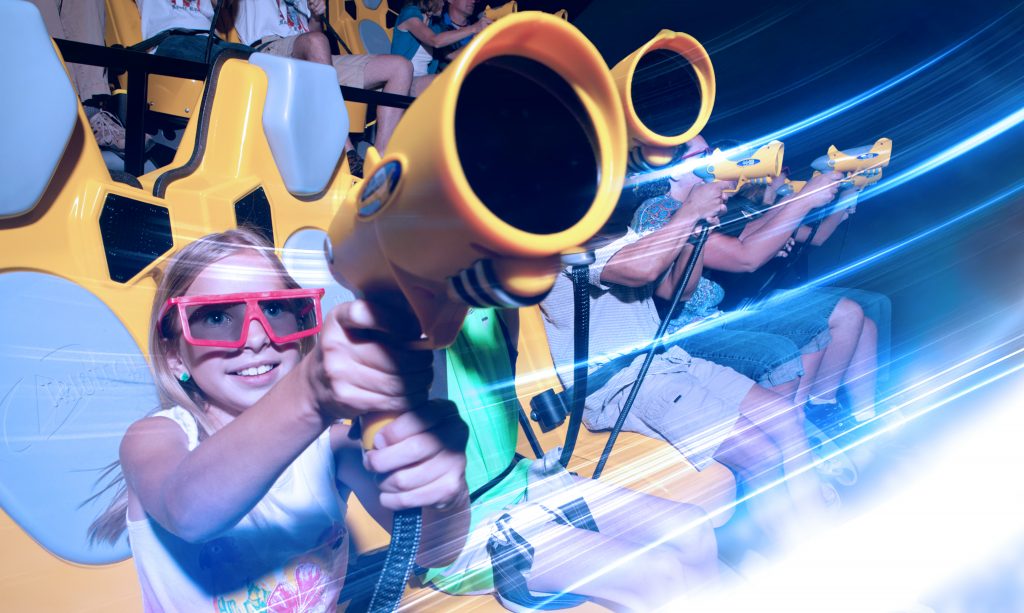 Then the real fun begins.  There's someone moderating in the speakers behind your head, giving you the overview of where you are and why you're there as your seats begin to move.  The scene begins, and you start blasting your way out of the situation you find yourself in the middle of.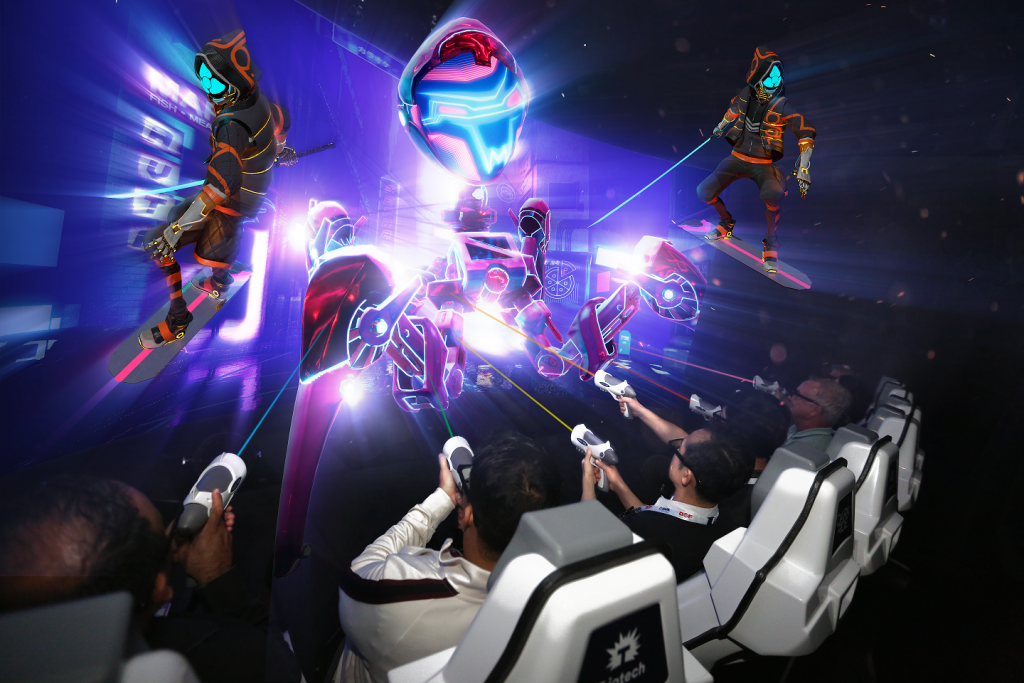 As you start moving faster, the fans in front of you turn on (like driving in the back of a vehicle, on top of a locomotive, or in a helicopter) and the seats begin to vibrate/shake to help simulate moving.  Each one of the scenarios is fun, but some are definitely scarier than others.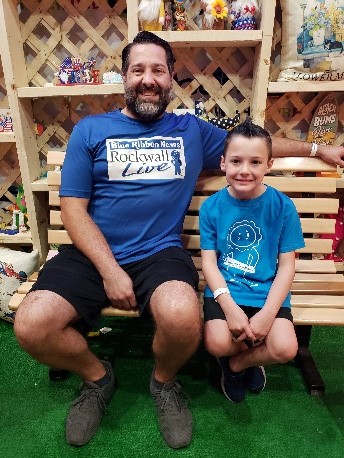 If you have small children, I'd recommend sticking with robots or aliens; my six-year-old didn't care for the zombies or werewolf simulations, but they didn't cause him to cover his eyes.
Once done, you're able to see how you did compared to the other players – but when you walk outside, the main screen shows how well you performed against everyone that has played that machine before. Good luck trying to beat my high score! On the alien adventure, I am currently beating second place by over 20,000 points!
Story by Blue Ribbon News Man About Town "JR", Lead Designer and Layout Editor, shown here enjoying time at Shenaniganz with his son, a Blue Ribbon News Junior Ambassador. 
FOLLOW our Blue Ribbon News Facebook page & COMMENT on our Dark Ride FB post & tell us why you should WIN one of our FREE❤️4-PACK of UNLIMITED PLAY PASSES (good for the ride, bowling, lazer tag, axe throwing, virtual reality & more at Shenaniganz Rockwall.
) #realgoodnews
---
---
Our

print edition

delivers free to ~17,500 homes and businesses throughout Rockwall County, TX. Click image to view our latest issue.To share your good news and events, email editor@BlueRibbonNews.com.
Subscribe to our email newsletter here.
---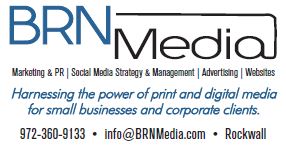 BRN Media is a multi-platform, full-service creative agency offering advertising and marketing services, social media management, and website development throughout Rockwall County and the Dallas area.