ROCKWALL, TX (Aug. 1, 2022) Last weeks article about the electrical power grid in Texas caused some interesting comments from some of the readers:
"Texas is running a huge surplus in sales tax and taxes on oil income. The State can d___ well afford to fix the grid. The current plan is to pass the cost to the consumers."
Another: "Where did the $16.5 billion in overcharges go one might ask. Not to the consumer but back to the provider. Wind energy was only 8% of the grid. I had no power for four days. Why didn't they winterize as they were told to do? Told eleven years ago."
And some levity: "I am buying some scented candles. If I am going to be miserable, I want to smell pretty."
Finally; "The Green energy /climate change movement is (a) unrealistic (b) will drive prices of energy and all products made with petroleum to significantly increase in cost (c) try to implement time frames that will significantly weigh on our economy. It makes no difference to those who push these policies…all politics. They do not care about a, b ,and c. Just watch what those who know all this are doing across the globe…building record number of coal fired plants, building nuclear plants, tying up all the oil contracts and resources they can."
So why the independent Grid in Texas and what needs to be done to fix the supply to match the increasing demand that is being placed on the Grid?
Simply stated, the independent Texas electrical power Grid avoids all interstate and federal regulations as the Grid does not cross any state lines. This allows the Grid to provide more economical pricing for the consumers where in some nearby states a KW hour is more than double to what we pay here in Texas.
The "Grid" itself is made of over 46,500 miles of transmission lines and over 700 producers of electricity that is fed to the Grid.
Of these producers, 20% are coal, 47% are gas, 11% are nuclear, 1% is solar, and 20% are wind. Gas alone provides about 52% of the electricity on the Grid.
So, what happened a year ago February when we went days without power?
The Gas producers of electricity had maintenance issues and could not provide their usual output to the Grid. The Wind producers also failed in their required maintenance and Texas lost their output to the Grid. And those two combined accounted for 67% of the electrical producers for the Grid.
So, what is the future going forward?
Just this last week an agreement was reached in Washington to pass a $739 Billion agreement for health and climate change. Included in this package are tax breaks for buying electric vehicles: $4000 for a used vehicle and $7000 for a new vehicle. Also included is a 10-year consumer tax credit for renewable energy investments in wind and solar .
Today if you want to buy solar for your house, regardless of all the hype you might read about "free solar", it is going to cost you, the consumer, to install the system. You will get a tax credit at year end, but initial cost will belong to you. Expect to pay anywhere between $25 to $50 thousand, depending upon the size of your home. To add a battery system so there is a small amount of reserve power that will last for a relatively short time, will additionally cost about half the price of the solar installation.
Another alternative is to purchase a standby generator that will provide power to your home if the Grid power is lost. Here costs vary between about $8 to $30 thousand.
Clearly there is no program in place or proposed that will reduce the demand on the electrical Grid in Texas. At the same time, there are numerous actions to increase energy users, like electrical vehicles and population additions.
There is no realistic incentive program in place to cause consumers to buy more green energy sources to reduce the demand on the Grid. This only leaves one logical choice.
The Grid must be increased. More production facilities and more transmission lines must be provided.
This is an issue that our representatives in Austin must quickly address and put actions in place before we have another February of 2020.
Tell Justin Holland at 972-722-7521 or Bob Hall at 972-722-3131 your thoughts on this issue.
And remember, the reason we have our own independent electrical grid is that we are big enough in both population and land area to support such a grid. Keep the faith.
Submitted Letter to the Editor/Guest Column contributed by Jerry Hogan, a former Rockwall County Judge. He can be reached at jerryhogan@sbcglobal.net or 214-394-4033.
Views expressed in Letters to the Editor are the opinion of sourced authors.
---
---
Our

print edition

delivers free to ~17,500 homes and businesses throughout Rockwall County, TX. Click image to view our latest issue.To share your good news and events, email editor@BlueRibbonNews.com.
Subscribe to our email newsletter here.
---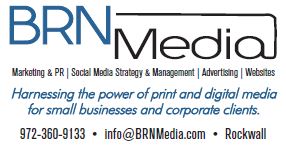 BRN Media is a multi-platform, full-service creative agency offering advertising and marketing services, social media management, and website development throughout Rockwall County and the Dallas area.