ROCKWALL, TX (Sept. 20, 2022) The following is a Rockwall ISD press release summarizing Monday night's (9/19/2022) RISD Board of Trustees Meeting. NOTE: Board meeting summaries highlight different agenda items. Board meeting videos are available for viewing within 24-hours of the meeting at www.rockwallisd.com.
Recognitions
The Board of Trustees recognized outstanding students and student groups for the following accomplishments:
National Merit Semifinalists
More than 1.5 million high school juniors nationwide entered the 2023 National Merit Scholarship Program by taking the Preliminary Scholastic Aptitude Test/National Merit Scholarship Qualifying Test (PSAT/NMSQT) in October of 2021. Of these students, 16,000, or less than one percent, qualified as semifinalists by being among the highest scoring entrants in each state.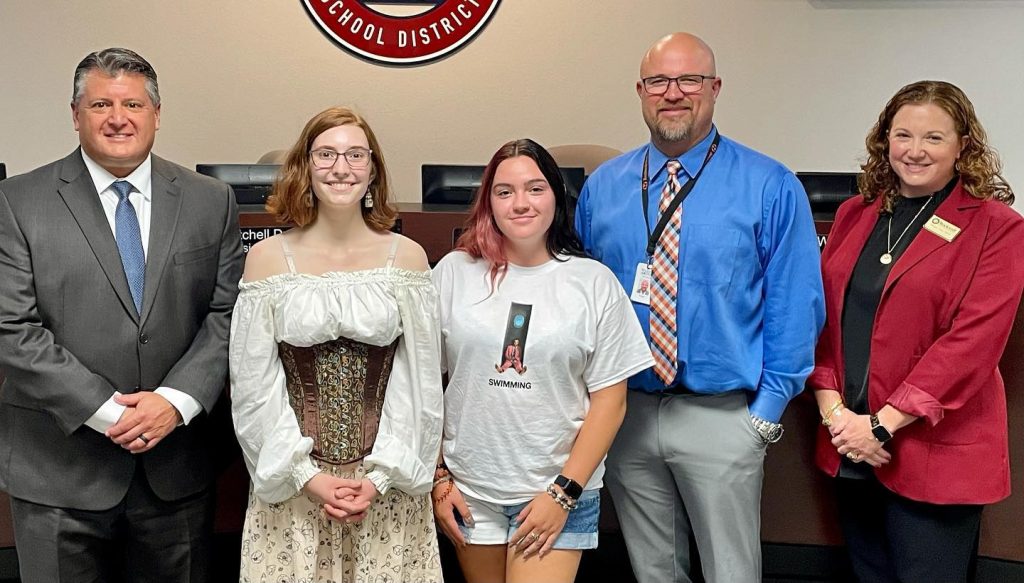 Two Rockwall High School students were named National Merit Semifinalists:
Madison Angelo (also attended Herman E. Utley Middle School, Celia Hays Elementary
School and Billie Stevenson Elementary School), and
Leah Shrage (also attended Herman E. Utley Middle School, Celia Hays Elementary School and
Billie Stevenson Elementary School).
FCCLA Fashion Design Competition Team 
Seven state winners and five national qualifiers represent the Dr. Gene Burton College and Career Academy. These talented students all placed in the top 15 in the nation in two categories for Fashion Design and Fashion Construction. This is the 2nd consecutive year that Rockwall ISD had five national qualifiers.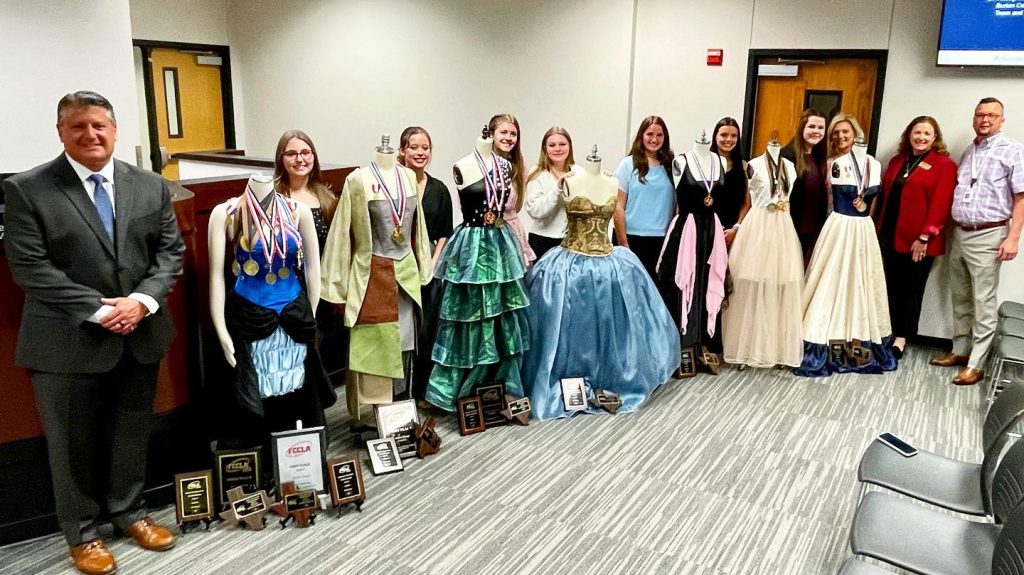 Students include:
o Madison Glenn, RHHS Fashion Design #3 at nationals
o Gracie Zellerhoff, RHS Fashion Design #1 at nationals
o Kaitylyn Fowler, RHS Fashion Construction #2 at nationals
o Mallory Kehm, RHS Fashion Construction #15 at nationals
o Payton Frisby, RHS Fashion Construction #3 at state
o Makayla Ortega, RHHS Fashion Design #5 at state
o Sadie Lankford, RHS Fashion Design #3 at state
State FFA Lone Star Degree Recipients from the Dr. Gene Burton College & Career Academy
The Lone Star Degree is the highest degree of membership the State Future Farmers Association (FFA) Association can award. Students must demonstrate leadership ability by performing ten hours of parliamentary procedure, giving a six-minute speech on a topic relating to agriculture or the FFA, and serving as a FFA officer, committee chairperson or committee member. Students must have participated in planning and implementing the chapter's Program of Activities, completed at least ten activities above the chapter level in at least three of six different categories, and completed at least 25 hours of community service in a minimum of two other activities.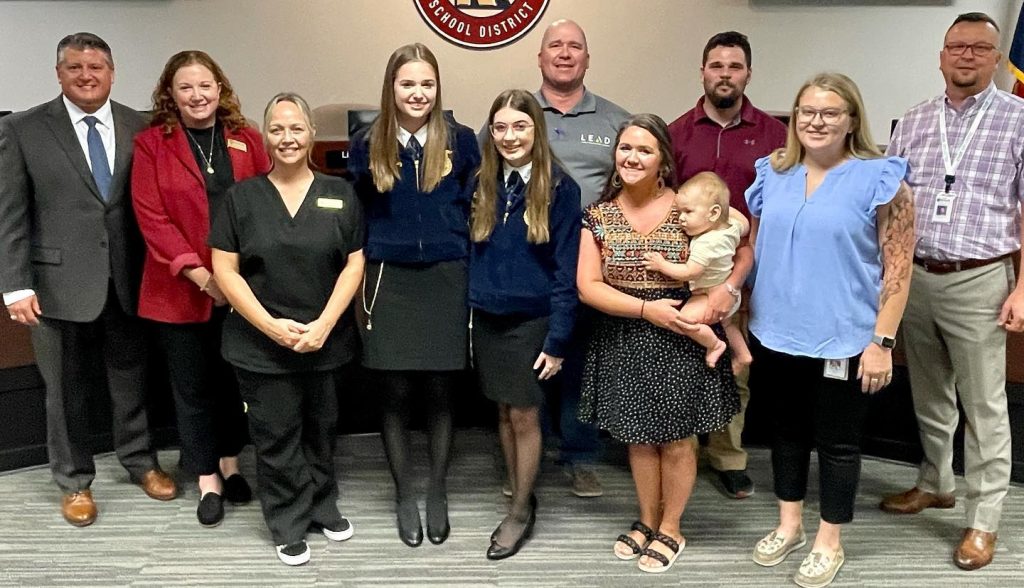 The following students earned the 2022 Lone Star Degree Award:
o Jacque Ghormley, RHS
o Ellee Spearman, RHS
o Addie Stevens, RHS
o Olivia Horvath, RHHS
Board of Trustees Operating Procedures Reviewed
The Board of Trustees reviewed the Board of Trustees' Operating Procedures.
Board of Trustee Representatives on Board Land Sub-Committee
Rockwall ISD continues to realize significant enrollment growth due to the continued economic trends in the local area. Proactively procuring future school sites via land acquisitions is vital to meet the needs of a fast growth school district like Rockwall ISD. To help provide advisory direction and transparency, the Board created the District Land Committee as a board sub-committee. The Board approved Trustees Stephanie Adams and Stan Britton to serve on the District Land committee. Typically, the District Land committee meets on an as-needed basis with members of the Administrative team to review and hear information regarding potential land acquisitions, dispositions, evaluating site selection for future facilities, etc.
Bilingual/English as a Second Language Program Annual Update
District administration presented the annual English as a Second Language (ESL)/Bilingual program presentation as required by the state. The presentation provided the following information: criteria for entrance into the program, the extent to which students are becoming proficient in English, state assessment data and information on the reclassification history of the students. It also included information on teacher professional learning to support Emergent Bilingual students and a description of parental involvement activities.
Rockwall ISD currently serves 1,660 students in the English as a Second Language (ESL)/Bilingual programs. The majority of the students served are at the elementary level. The Emergent Bilingual students speak 49 different languages.
Board Approves Project Completion for Wilkerson-Sanders Stadium Turf Replacement Project
The Board of Trustees approved the project completion for the Wilkerson-Sander Stadium Turf Replacement, which was funded by the 2015 bond program.
Board Approves Competitive Sealed Proposal for Rockwall-Heath Multi-Purpose Practice Field
The Board of Trustees approved a contract award to Paragon Construction of $1,773,124.00 for the Rockwall-Heath High School Multi-Purpose Practice Field funded by the 2021 bond program.
Cooperative Purchasing Program for School Buses
In accordance with District policy, District administration presented information to the Board of Trustees regarding purchasing ten 77-passenger buses through the state cooperative BuyBoard contract and funded by the 2021 bond program. The total purchase price for ten buses was $1,279,280.00.
Board Approves Texas Education Agency Waiver
The Board of Trustees approved a class size waiver to the Texas Education Agency for 28 elementary classrooms across the District.
Safety and Security Update
District administration presented a safety and security update. Rockwall ISD has implemented multiple measures to ensure students, teachers, and staff safety and security. Those measures include the Standard Response Protocol training, weekly exterior door audits, locked classroom doors, and Raptor Emergency Management System implementation. Additionally, an official request was made for an extra School Resource Officer (SRO) from the City of Heath and two SRO's from the City of Rockwall to support the elementary schools. The District has also asked Rockwall County to provide an SRO to service Doris Cullins Lake-Pointe Elementary School to replace the Rowlett SRO limited availability. For the 2022-2023 school year, Rockwall ISD's expenditures for safety and security are
approximately $3,000,000.00. The state's allotment to Rockwall ISD for safety and security is $180,000 or approximately $10 per student.

---
---
Our

print edition

delivers free to ~17,500 homes and businesses throughout Rockwall County, TX. Click image to view. To share your good news and events, email editor@BlueRibbonNews.com.
Subscribe to our email newsletter here.
---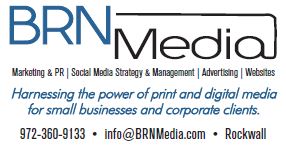 BRN Media is a multi-platform, full-service creative agency offering advertising and marketing services, social media management, and website development throughout Rockwall County and the Dallas area.