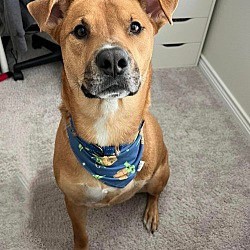 ROCKWALL, TX (May 20, 2023) Are you looking for a super special, always happy boy with a big, amazing personality? Look no further!
Hi, I'm Junior. I am a two-year-old, 70-lb chunky man (or potato, as my foster Mom calls me) with three legs. Yes, three legs! It makes me extra special, kinda like Nemo and his special fin. I had to have a leg amputated when I was a pup, but I have adapted easily to life with three legs and have no problems with it.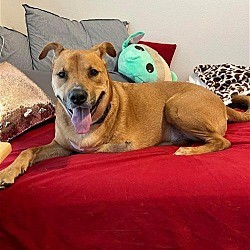 Don't worry, I can keep up with those four-legged dogs any day- ask my foster dog brother! I love to play, run, and hop my way around the house. Nothing stops me from being an amazing pup.
I get along great with my foster dog-brother and love to play tug a war with him. My two favorite pastimes are people-watching and squeaking my toys. I adore hanging out with my foster parents, giving them lots of kisses, and making sure they are safe when they are home. I give a little bark to anyone that tries to come in my house, just to let them know I'm here.
I love getting pets, belly rubs, and sleeping with my humans. My foster parents say I am their best foster ever and a super special boy! I am potty-trained, crate-trained, and I haven't made a mess in the house.
My foster parents do say that I need to lose a few pounds to help with my mobility a little, but with a little exercise and smaller food portions, I should be good to go! I am current on my vaccines, microchipped, and neutered. Contact info@rockwallpets.com for more info or to arrange a meeting.
Submitted by Shari Thompson.

Our Blue Ribbon News Pet of the Week is proudly sponsored by Erin Neill, Agent, Hanby Insurance. Connect with her at 972-771-4110 or email erin@hanbyinsurance.com.
---
---