ROCKWALL/HEATH, TX (Feb. 15, 2023) Every morning and afternoon, Charlotte Fieldsmith, a fourth grader at Dorothy Smith Pullen Elementary at the time, would see her sweet 90-year-old school crossing guard keep students safe as they crossed the street.
Mrs. Elaine Watson was known as a charismatic and caring crossing guard who loved greeting the students each day. When Charlotte was tasked with a project in her SAGE class that would positively impact the community around her, she knew just who her project would be about.
"I was fascinated by Mrs. Elaine who commanded the carpool lane with a smile and her stop sign," Charlotte said. "I believed she deserved some recognition."
Her project evolved into a Crossing Guard Appreciation Day at Pullen Elementary. It was then that Charlotte realized her voice could make a real difference. So, in sixth grade she worked with the Rockwall ISD Chief of Student Services to make the recognition day district wide.
Charlotte began her research and discovered other states had a Crossing Guard Appreciation Day but not Texas. It was just last year in eighth grade when she picked up the phone to call Representative Justin Holland to pitch her idea with the support of Chief of Student Services Dr. Kelvin Stroy, Elementary Coordinator of Gifted and Talented Jennifer Leal and Charlotte's mom Tammy Fieldsmith who was her SAGE teacher at Pullen Elementary. As nervous as Charlotte was to speak with a Texas House Member, she had peace of mind knowing she had a great support system.
"It felt really good to know that people believed in my idea and supported it," she said. "It made me a lot more confident [to speak with Rep. Holland]."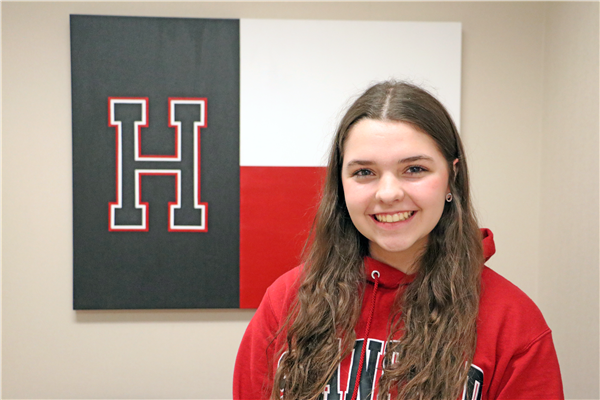 To Charlotte's delight, Rep. Holland agreed that this initiative would bring joy to other people and has filed a bill, which he will present during the next Texas legislative session.
"I'm really proud of it," Charlotte said. "I have the power to do things in my life. I can do something to help other people."
Sadly, Mrs. Elaine passed away at the age of 92. Charlotte is dedicating the bill to Mrs. Elaine and sees it as a way of honoring her.
"I just wanted to give Mrs. Elaine some recognition and show her how appreciative we are of her," Charlotte said. "I never thought it would get this big but it's exciting to see how it's grown."
Story and photos courtesy of Rockwall ISD website. 
---
---
appreciation, bill, charlotte, crossing guard, feature, Heath, rep. holland, Rockwall
Rockwall-Heath freshman creates bill inspired by elementary crossing guard added by Editor on
View all posts by Editor →