ROCKWALL, TX (Feb. 15, 2023) NOTE: Board meeting summaries highlight different agenda items due to limited audience opportunities at Board meetings as a result of the COVID-19 pandemic. Board meeting videos are available for viewing within 24-hours of the meeting at www.rockwallisd.com. 
Board of Trustees Recognitions
The Board of Trustees recognized outstanding individuals and groups for the following accomplishments: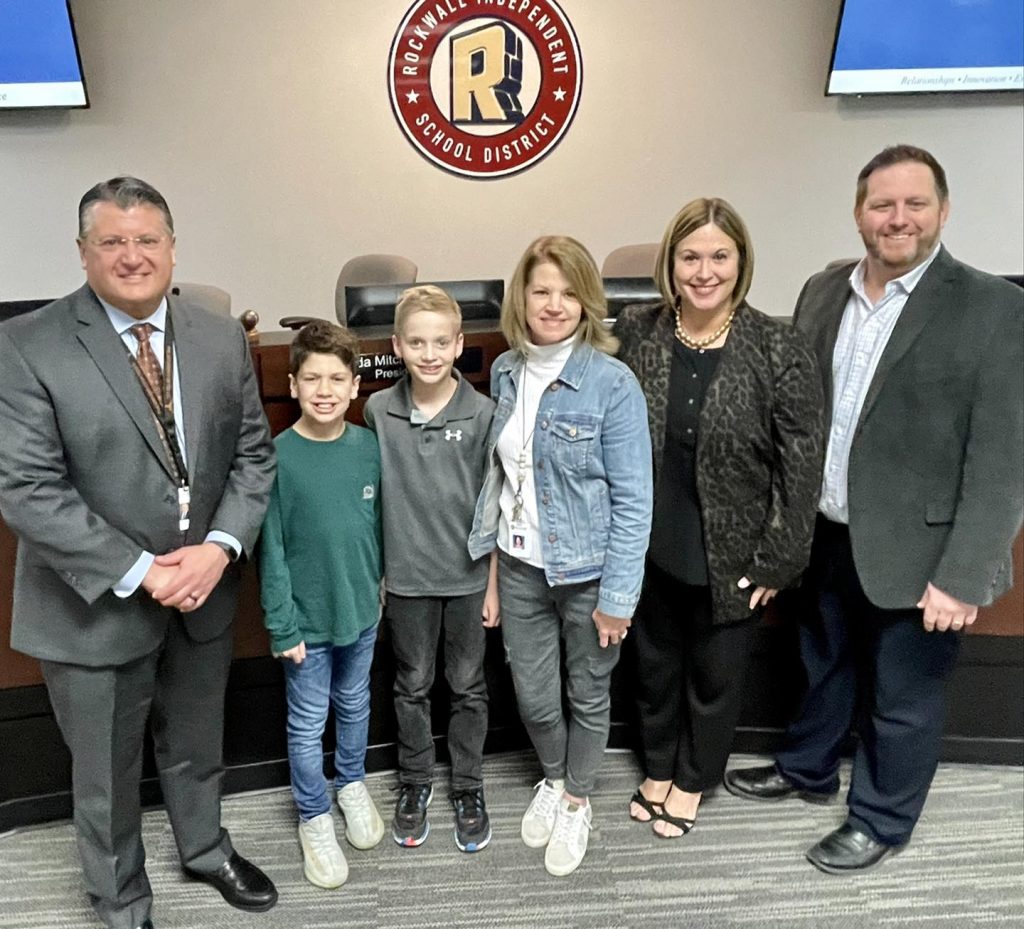 Rockwall ISD Stock Market Students – Congratulations to the team of 5th-grade SAGE students from Dorothy Smith and Pullen Elementary School, who won second place in the 4th/5th grade Fall 2022 stock market competition. The team used a simulation with an imaginary investment of $100,000 in trade stocks, bonds, mutual funds and exchangetraded funds on the New York Stock Exchange and NASDAQ. After researching and studying the impact of financial markets, they placed trades in real-time, competing with peers in their classroom and with teams across the state to increase their portfolio value.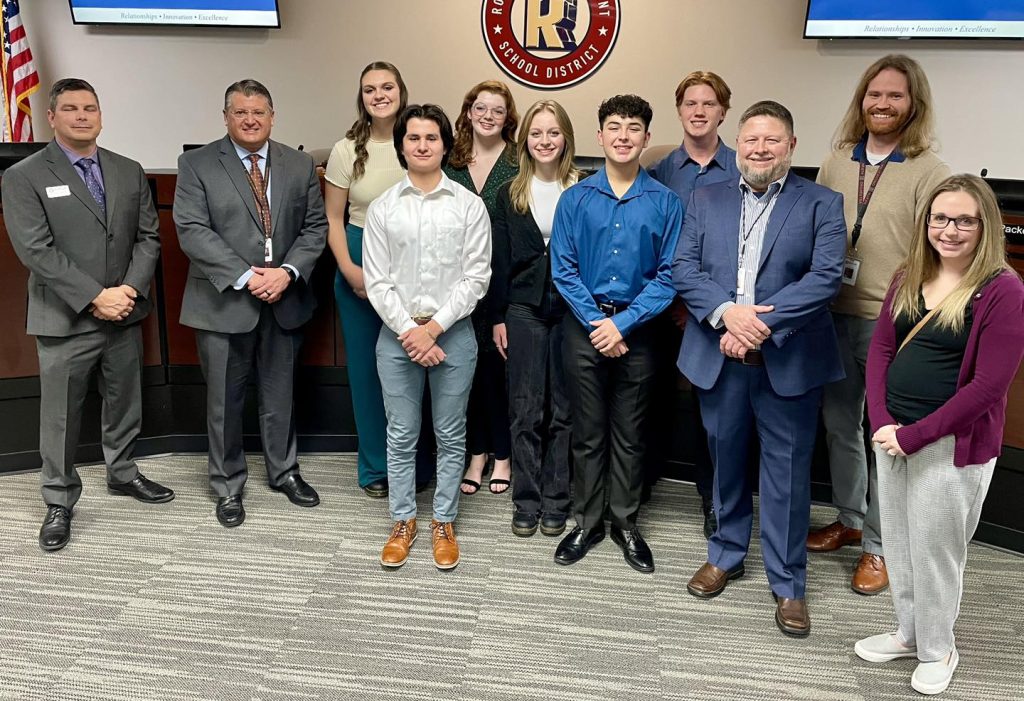 All-State Texas Education Music Educators Association Musicians – Outstanding performances recently earned six Rockwall ISD students positions in the TMEA all-state band, choir or orchestra. These young musicians represent the top 1% of all students who competed for the prestigious recognition.
Band: Rockwall High School Burke Felfe and Alejandro Martinez
Choir: Rockwall High School Brynna Carpenter and Amanda Massey
Rockwall-Heath High School Kathryn Jordan
Orchestra: Rockwall-Heath High School Marco Longoria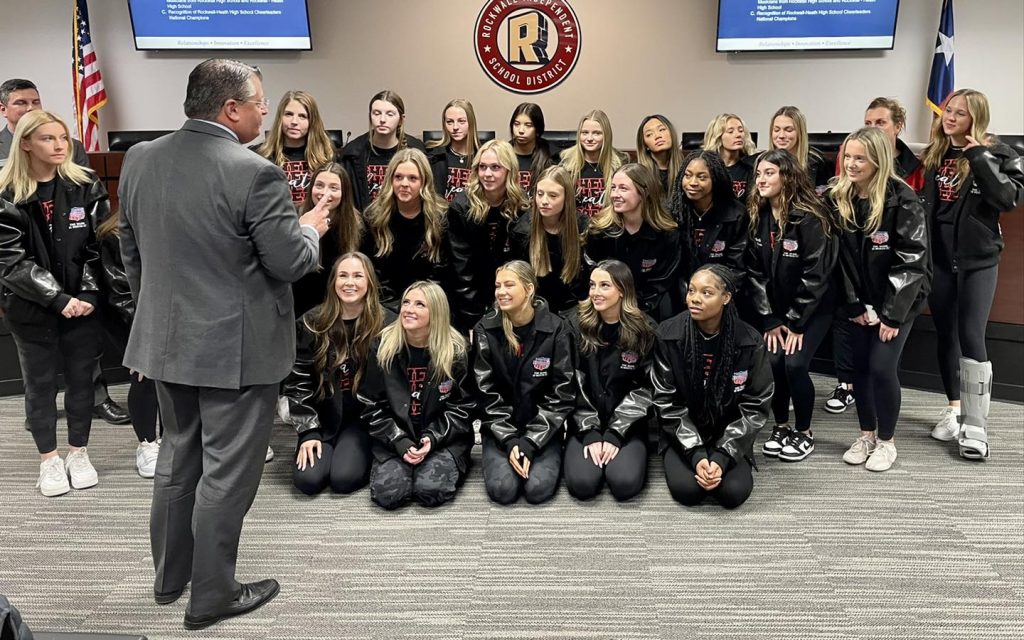 Rockwall-Heath Cheerleaders National Champions – The national spotlight is on the Rockwall-Heath High School Varsity Cheerleaders team, who competed in the National Cheerleader Association National High School Competition. Rockwall-Heath High School won the National Championship in the Intermediate Varsity Crowd Performance Large Division. Congratulations!
Public Hearing for the 2021-2022 Annual Texas Accountability Performance Report
District leadership presented the 2021-2022 Texas Accountability Performance Report information as required by the state.
Course Registration Update for 2022-2023 School Year
Rockwall ISD continues to experience significant enrollment growth. This year's updated course registration process will focus on improving and providing enhanced opportunities for more students to receive their requested courses. The updated registration process also considers our District's fast growth in student enrollment as we move towards opening two additional ninth-grade centers. Opening two ninth-grade centers in the fall of 2024 will require five campus master schedules to work together effectively for all students. Student course schedules impact transportation and staffing coordination with shared campuses.
To address these challenges, district staff engaged in the following:
● Met with counselors and administrators to analyze the current registration process.
● Examined how the number of students getting preferred courses could increase.
● Developed a survey to seek input about the registration experience for parents of students in grades 9-11.
● Explored available tools to help with the registration process.
The 2023-24 Course Registration process includes streamlining our high school master scheduling process to allow the five high school master schedules to work together: RHS, RHHS, GBCCA, and two future ninth-grade centers.
Approval of Project Completion for the Rockwall High School and Rockwall-Heath High School Batting Cages Project
The Board of Trustees approved the Rockwall High School and Rockwall-Heath High School batting cages project completion. The general operating fund paid the construction costs.
Approval for Competitive Sealed Proposal (CSP) Contract Award for the Dorris Jones Elementary School & Quest Academy Cafeteria Serving Line Replacement Projects
The Board of Trustees approved a contract award of $252,538.02 to Ace Mart for the Jones Elementary School and Quest Academy cafeteria serving line replacement projects.
Approval for Competitive Sealed Proposal (CSP) Contract Award for the Classroom Technology Panels, Digital Signage & Projectors Project
The Board of Trustees approved a contract award of $1,103,832.32 to ProComputing Corporation for the classroom technology panels, digital signage and projectors project. The 2021 bond program will pay the costs.
Approval of Employee Pay During Emergency Closure Due to Winter Weather
Rockwall ISD, acting in the best interest of the health and safety of students and staff, ordered the emergency closures of all district facilities on January 31, 2023, through February 3, 2023. Per Board policy DEA (LOCAL), the Board of Trustees approved a resolution continuing wage payments to all regular employees for those workdays affected by the closure.
Submitted press release. 
---
---