TICKETS ON SALE NOW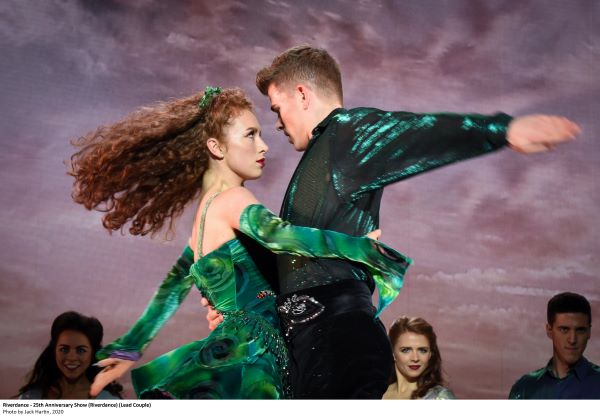 Dallas, TX (March 3, 2023) – Broadway Dallas and Broadway Across America (BAA) announced today that tickets for Riverdance 25th Anniversary Show are on sale now. The international Irish dance phenomenon will play Dallas' Music Hall at Fair Park from June 6-8 as part of the Germania Insurance Broadway Series presented by Broadway Dallas.
Single tickets for Riverdance are on sale now and available at BroadwayDallas.org or by calling 800-982-2787. Group orders of 10 or more may be placed by calling 214-426-4768 or emailing Groups@BroadwayDallas.org.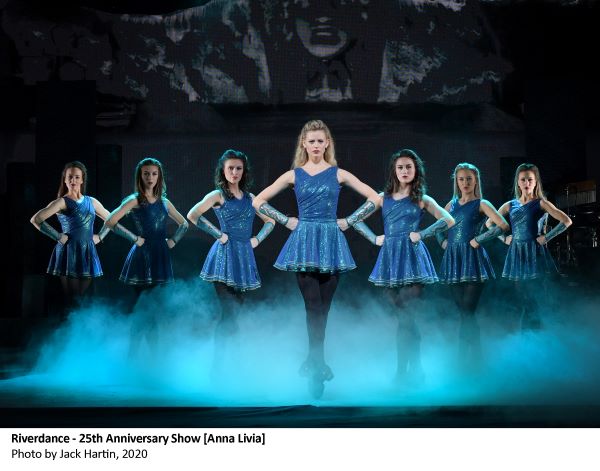 Abhann Productions is thrilled to announce that the 25th anniversary production of Riverdance will continue its critically acclaimed tour in over 50 cities across North America in 2023. Riverdance completed a successful 40-city North American Tour which marked the dance phenomenon's long-awaited return to stages after the COVID-19 pandemic shutdown. The 2022 tour included a sold-out, two-week inaugural run at Washington DC's historic Kennedy Center, a special performance for President Joe Biden and Speaker of the House Nancy Pelosi and national television appearances on The Tonight Show starring Jimmy Fallon, Good Morning America, GMA3 and Watch What Happens Live. The 2023 Tour recently kicked off with a special performance on America's Got Talent, seen by over 7 million people across the country.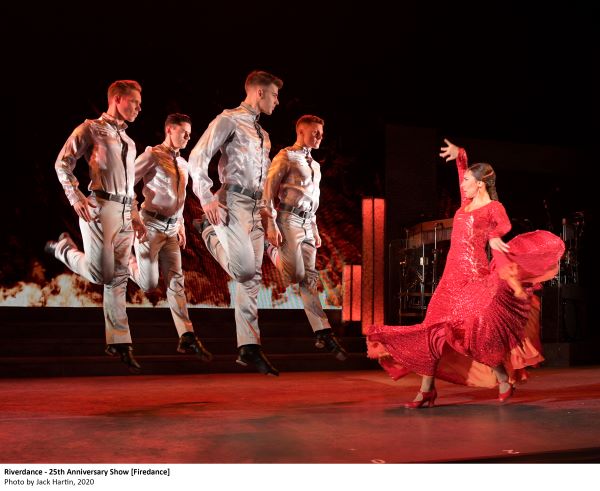 For the complete Riverdance 25th Anniversary Show 2023 North American Tour schedule and updates please visit www.riverdance.com. The complete tour schedule will be announced soon.
Riverdance 25th Anniversary Show is Riverdance, as you've never seen it before! A powerful and stirring reinvention of this beloved favorite, celebrated the world over for its Grammy Award-winning score and the thrilling energy and passion of its Irish and international dance. Composer Bill Whelan has rerecorded his mesmerizing soundtrack while producer Moya Doherty and director John McColgan have completely reimagined the ground-breaking show with innovative and spectacular lighting, video, stage and costume designs.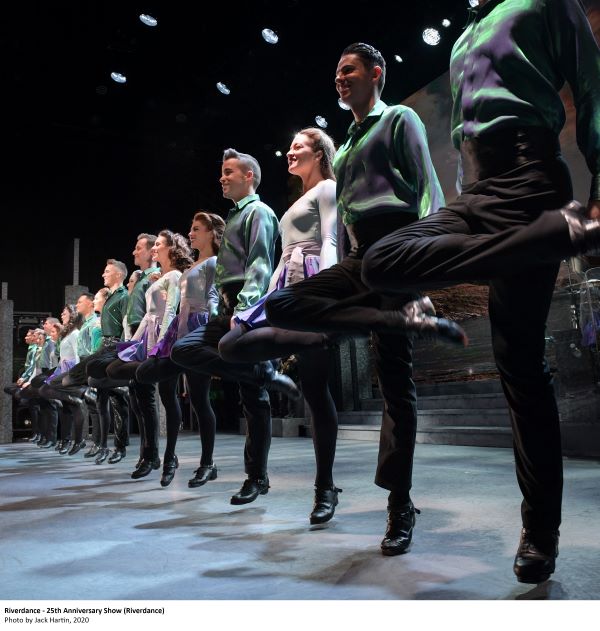 Immerse yourself in the extraordinary power and grace of its music and dance–beloved by fans of all ages. Fall in love with the magic of Riverdance all over again.
The critically acclaimed 25th Anniversary North American Tour was shut down in March 2020 during a sold-out return engagement to New York City's Radio City Music Hall due to the COVID-19 pandemic. In 2021, Riverdance celebrated a return to the stage in the United Kingdom, where the iconic show played to sold out audiences in 27 cities across the country. Then followed its debut at Expo 2020 Dubai with a special production of Riverdance presenting a multi-cultural experience including artists from the Middle East region. A highlight of the four-week run was the Riverdance performance at the USA Pavilion at Expo 2020 Dubai for their Thanksgiving Day celebrations. In 2022, Riverdance returned home to Dublin, Ireland for the summer season with an incredible 88 sold out shows.
Riverdance The Animated Adventure was released on Netflix in the United States on January 14, 2022, where it swiftly landed a spot on the streamer's Global Top 10 list. With an original score by Grammy Award-winning composer Bill Whelan, the animated musical comedy features the incredible craft and skill of the Riverdance troupe by utilizing motion capture of their performances to create the animated dancing in the film. Tour lead dancers Maggie Darlington and Anna Mai Fitzpatrick and Executive Producer/Director Padraic Moyles were involved with the dance production for the film, while tour musicians Mark Alfred and Tara Howley play on the film score.
Riverdance began its journey as the interval act in the 1994 Eurovision Song Contest, produced for television by Moya Doherty. This electrifying and innovative seven-minute dance piece was then developed into a full-length stage show by Producer Moya Doherty, Composer Bill Whelan and Director John McColgan. With its fusion of Irish and International music and dance, the show broke all box office records during its world première run in Dublin in early 1995. When the show transferred to London the reaction was unprecedented. There followed a hugely successful tour starting in New York in March 1996, where 8 sold-out shows at Radio City Music Hall heralded the start of more than two decades of touring by Riverdance companies throughout North America. Since its inception, Riverdance has packed theatres throughout North America, Oceania, Asia, Europe, South Africa and South America.
Riverdance 25th Anniversary Show has been designed by lead designer Peter Canning, featuring Set by Alan Farquharson, Lighting by Andrew Voller and Video by Cosmo AV along with Costumes by Joan Bergin and Sound by Michael O'Gorman.
Since Riverdance began performances in Dublin in 1995, the show has…
• Played more than 15,000 performances
• Been seen live by over 28.5 million people worldwide
• Played throughout 48 countries across 6 continents
• Played to a global television audience of more than 3.5 billion people
• Sold over 3 million copies of the Grammy Award-winning CD
• Sold 10 million Riverdance videos & DVDs
• Riverdance holds the Guinness World Record for the 'Longest Riverdance Line'
• 2500 of the next generation of dancers have attended Riverdance Summer School and learned the iconic Riverdance steps
About Broadway Dallas
In 2022, Dallas Summer Musicals changed its name to Broadway Dallas. Since 1941, the non-profit Broadway Dallas has presented the Best of Broadway to North Texas audiences. Located in the historic Music Hall at Fair Park, Broadway Dallas promotes excellence in live musical theatre with year-round performances for diverse audiences of all ages, impacting the lives of children and families through education and community outreach programs, while enriching the cultural landscape of North Texas and the Southwest Region.
As a 501(c)(3) non-profit organization, Broadway Dallas relies on a variety of funding sources to offer affordable ticket prices, preserve the beautiful historic theatre, educate young audiences and develop impactful community programs.
Broadway Dallas gratefully acknowledges the support of our season sponsors, annual fund donors and corporate partners Germania Insurance, American Airlines, Texas Instruments, The Dallas Morning News, and WFAA TV Channel 8. For more information about Broadway Dallas, visit our website at BroadwayDallas.org.
About Broadway Across America
Broadway Across America (BAA) is part of the John Gore Organization family of companies, which includes Broadway.com, The Broadway Channel, BroadwayBox.com, Group Sales Box Office and Broadway Brands. Led by 18-time Tony-winning theater producer John Gore (Owner & CEO), BAA is the foremost presenter of first-class touring productions in North America, operating in 48 markets with over 400,000 subscribers. Presentations include Disney's The Lion King, Wicked, The Book of Mormon and Hamilton. Current and past productions include Ain't Too Proud, Beautiful, Cats, Chicago, Dear Evan Hansen, Mean Girls, Moulin Rouge! The Musical and To Kill A Mockingbird.
About Germania Insurance
Founded in 1896, Germania Insurance provides auto, property, and life insurance for thousands of Texans. It is the largest farm mutual insurance company in Texas and one of the top companies for independent agents. Germania has earned spot on Forbes' 2021 America's Best Insurance Companies in Each State list, securing a top-five ranking for both its auto and home insurance products. Germania is a proud Texas company, exclusively providing protection and insurance services for Texans for 125 years.
Submitted press release and photos.