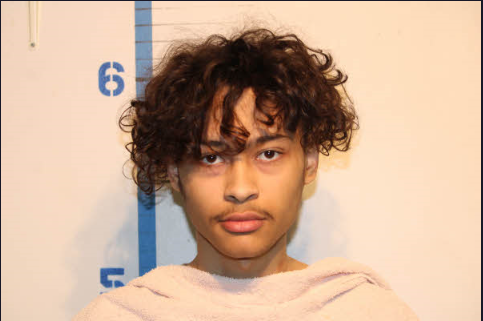 ROCKWALL, TX (May 15, 2023) On Thursday, May 4, 2023, a Rockwall County jury convicted Rowlett resident, Nevan Lydens, 19, of the offense of Murder after deliberating for less than two hours.  Last week, that same jury rejected defendant's claim of sudden passion and returned a sentence of thirty (30) years in the penitentiary.
Jurors heard testimony presented by Assistant District Attorney Kim Judin that on the afternoon of March 30, 2022, defendant Lydens met the victim at the Valero gas station at the corner of Lakeview Parkway and Dalrock Road in Rowlett to sell the victim three pounds of marijuana and 50 THC cartridges. Surveillance video was presented during trial which showed that the victim and defendant were at the gas pumps for almost 45 minutes before the victim can be seen taking the drugs from the backseat of defendant Lydens' vehicle.  As the victim was running back to his own vehicle, the defendant exited his vehicle and shot the victim five times at close range, including once in the head.  The defendant then sped away from the scene while the victim lay dying.  Officers at Rowlett PD and Wylie PD quickly collaborated and found the defendant an hour and a half later at a McDonalds in Garland. At the time of that arrest, officers found another fully loaded AR-15 assault rifle between the defendant's driver's seat and console.  Defendant Lydens later admitted to detectives that he threw the pistol he used to shoot the victim into the lake as he was driving down Highway 66.
While the victim did have a gun in his jeans pocket at the time of the offense, the jury rejected the defendant's claim of self-defense after viewing the video and hearing from witnesses who testified that there was no evidence that the victim had displayed or used the weapon at the time of the shooting.  While multiple civilians and first responders attempted to render aid to the victim, he remained unresponsive at the scene and was declared brain-dead at Parkland Hospital by the next day.
The jury heard a jail call between defendant Lydens and his girlfriend where he discussed that he knew he had shot the victim five times and bragged that he "didn't miss."  He also stated that, during the execution-style shooting, he was close enough to the victim that he could "smell his breath."
In punishment, the jury heard about numerous extraneous offenses committed by the defendant, including drug dealing, debit card fraud, and threats to law enforcement officers.  The Wylie Police Department had other pending investigations open on the defendant at the time of the offense.  The jury was also able to see pictures that had been legally extracted from his cell phone showing guns, drugs and piles of cash.  A search warrant at Lydens' house revealed another AR-15 pistol and Taurus handgun with an extended magazine along with drugs, money, and an electronic money counter.
"The Rowlett Police Department and the Wylie Police Department should be commended for the team effort that led to the killer being arrested within an hour and a half of the shooting.  The evidence that was collected by the officers led to a very tight case for prosecutors," said ADA Kim Judin.  "Thankfully, our county does not have the violent crime that is seen in other nearby areas, but hopefully the jury's sentence will send a message that, here, even younger murderers will go to prison for a long time."
"This case should emphasize the dangers of the drug trade," said Rockwall County District Attorney Kenda Culpepper.  "The victim in this case took a marijuana drug transaction too far and lost his life as a result.  Drug dealers, even the young ones, are often dangerous and violent individuals with little regard for life.  This defendant executed someone in broad daylight at a public gas station in our community.  Take notice."