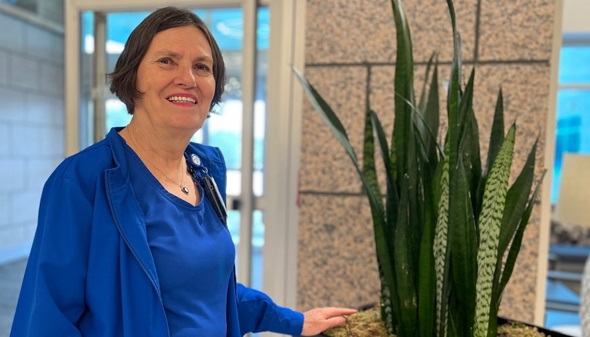 Rockwall, TX (July 26, 2023) – When Margie Ybarra, B.S.N., R.N., graduated from nursing school, she had to twirl a piece of hair and fasten on a white nurse's hat with a bobby pin to get ready for work every day.
"That hat had to go to the cleaners to be starched. We couldn't clean it every day," Ybarra remembers, adding that it would be considered unsanitary by today's standards.
Her career started in Canada and included traveling throughout the U.S. before she landed in Texas to stay. After eight years at Texas Health Hospital Rockwall she's ready to retire her scrubs in August. She's seen nursing change a lot in the past 50 years.
"When I started, we cleaned dressings using instruments and disinfectant, without gloves," said Ybarra, whose early nursing years were in a surgery unit in Saskatoon, Canada.
"Patients stayed almost a week," she said, adding that many were orthopedic patients who today would be standing quickly after surgery and frequently are discharged the same day, unless they can't walk or have other issues, such as cardiac or pulmonary problems.
Back then, she said, "We got them up and changed their dressings every day." Patients would then often spend a month at a rehabilitation facility.
After a few years working in the surgical unit, Ybarra gravitated to intensive care nursing, where she stayed for most of her career. She has spent the past 15 years or so in post-anesthesia units (PACUs), and that's where she will end her career at Texas Health Rockwall.
"Margie is the epitome of a nurse's nurse," said Tami Hlus, D.N.P., R.N., NEA-BC, FACHE, chief nursing officer at Texas Health Rockwall. "She's that person who can make everything OK with her beautiful smile. She's a patient advocate, takes her professional responsibilities seriously, and seems to never decline an offer to help her department or a colleague in need. I pray that I can be half the nurse Margie is when I reach the prestigious pedestal of achieving 50 years of nursing practice."
Ybarra remembers counting drops of medication before IV pumps.
"We counted drops very closely so that medications would not infuse too quickly. We were very diligent. I was to the point where I could watch drops and know how fast it was going by the hour, just by watching for five seconds."
She also remembers the time before oxygen sensors. "You used your assessment tools – your eyes – to see that they had good coloring and that they were not in distress with regards to tachycardia and/or respiratory difficulty."
At first, ventilators were just a small hose and a dial, Ybarra said, unlike the large machines used today.
"There were no alarms," Ybarra said. "We had to listen to make sure they were breathing in and out." Ybarra said she was relieved when ventilators with alarms came along. She remembers having a nightmare that she was on a vent herself, couldn't catch her breath and needed to somehow find someone to turn up the dial.
Ybarra said she's sure patients are safer than ever today.
"We're still using our assessment skills, but we also have a backup. I don't think I could go back to the floor nursing where I don't have a monitor and equipment telling you how the patient is doing at all times."
Submitted press release