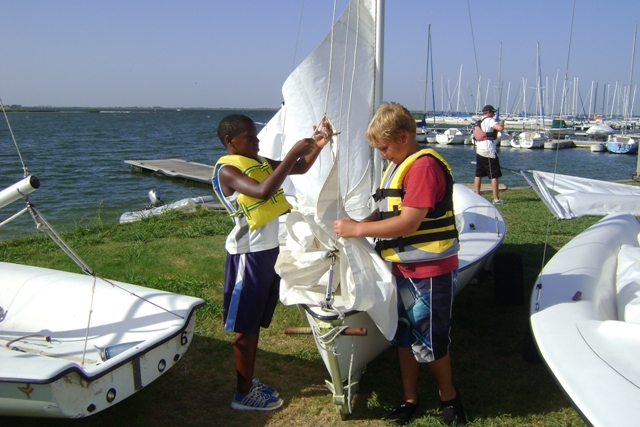 September 7, 2012 – "Sailing is like heaven on earth," said one of the 18 sailing students – all children of Helping Hands' clients that received sailing scholarships from Rush Creek Junior Sailing Program.
Since 2006, the yacht club have generously provided tuition-free sailing lessons for kids that normally would not have the opportunity to participate in sailing. The students were selected by Helping Hands. This year, the lessons were the week of July 30-Aug. 3 from 8:30 a.m. to 4:30 p.m.
To Helping Hands, one of the student's moms wrote: "Your kindness and generosity will forever be remembered as my son learned a lifetime sport of sailing." And a second student, in a note to Helping Hands, stated: "Thank you for sailing camp. Thank you for teaching me how to sail."
Sherry Hamm, Helping Hands Director of Assistance and Referral, said the students' excitement made everyone's efforts worthwhile.
"Their families couldn't afford these lessons so to be able to provide the students with this special week was really something to be thankful for this summer," Hamm noted. "We are so grateful to Rush Creek and its continued support of Helping Hands."
Rush Creek Yacht Club will partner again with Helping Hands for the annual George Griffith September 29th and 30th. Proceeds will benefit the agency. Please go to rcyc.org for more information about the club.
"Thanks to Regatta Chairman Jeff Progelhof, the sailing instructors and Rush Creek members for their support of our agency," said Margo Nielsen, Helping Hands Executive Director. "Their generosity and kindness allowed kids that might never have had the opportunity to learn how to sail, an experience they will take with them the rest of their lives. Now, we are looking forward, as we do each year, to the fun of the regatta!"
An added bonus for the students was the newly remodeled Rush Creek Yacht Club's Doolin Education Center (DEC). The 1200 sq. ft. DEC includes restrooms, a kitchen, lockers, an outdoor patio and ping pong table along with an open area for classes.
For more than 35 years, Helping Hands has provided a safety net for Rockwall residents in need with shelter and utility payments, clothing and furniture from our Centsible Thrift Stores and food from our Food Pantry. The agency's HealthCenteroffers low cost quality health care for the uninsured and underinsured. To make a donation or to learn more about Helping Hands, go to rockwallhelpinghands.com.
Submitted by Judy Evans.
To submit your good news and events, email editor@BlueRibbonNews.com.