ROCKWALL, TX (July 9, 2020) – During the Monday, July 6 meeting of the Rockwall City Council, Dwight Dabney, son of the late Ruby Jewel Dabney, along with surviving family members and friends, brought forth a petition comprising more than 1,300 signatures requesting a name change for Rockwall's pool at Gloria Williams Park (known as the 'Southside Pool', located just south of the Rockwall Post Office.)
Several supporters addressed the Council during the open forum, wearing ruby red ribbons and speaking in favor of naming the pool in honor of Ruby Jewel Dabney.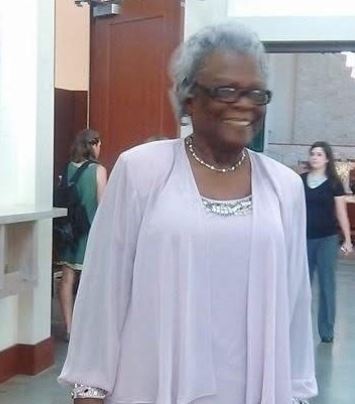 Dwight Dabney, a lifetime resident of Rockwall, spoke passionately about his mother, Ruby Jewel Dabney, who was born in 1936. He explained that Ruby worked with the park's namesake, Gloria Williams, and helped integrate and diversify the pool, supplying summer jobs for young men in the neighborhood and creating an environment where children learned to swim and stay out of trouble.
"She loved being with that community of kids; that was her neighborhood," he said. "My mom passed away in February. She really loved that community; she loved Rockwall."
Rockwall Mayor Jim Pruitt explained that when there's a matter of naming within one of the parks within the City of Rockwall, the issue must go before the Rockwall Parks Board, which then makes a recommendation to the City Council. "So let's get that on the Park Board agenda, and we'll get it through the process," Mayor Pruitt said.
Fred Dabney of Heath also addressed the Council. He said he was born and raised here, and was in third grade when the schools were integrated. "I've seen the changes in Rockwall. There was a Sonic and a Dairy Queen when I finished high school in '77.  My grandparents owned that spot at The Harbor where Signal Ridge is. Where The Harbor is was known as 'The Settlement.'  When black people first came to Rockwall in the early 1900s, that's where they settled," he said. "We have been a vital part of this community."
Fred added, "We feel that by naming this pool after her [Ruby Jewel Dabney], it's going to show that Rockwall is willing to make that turn – to show the world, the country, and especially Texas, that in Rockwall, we consider everybody to be on the same playing field. It would be good to have something in this town named after a person of color other than Gloria Williams Park and Dorris Jones Elementary," Fred said. "If we deny those problems, we don't solve them. We have to acknowledge them…We need to be willing to ask the question why, why is that the City Council meetings until nights like tonight is all white and not black. And that's what I'm talking with my community about, because we have to get out here and participate….and it's time for the white people to extend a hand."
Fred concluded by saying, "The racism will stop or be reduced when white people have had enough, because my 13 percent can't stop it. When white people have had enough and speak up, then it will start to diminish."
At that point Mayor Pruitt recognized former Councilman Sam Buffington and his contributions on behalf of the black community. Buffington served on the Rockwall City Council from 1995 through 2001. He passed away in 2013.
Randall Bryant, a 2005 Rockwall High School graduate, addressed the Council and said, "There's an old but familiar saying that states, 'Give someone their flowers while they can still smell them'.  It stems from the principle that it's more prudent to publicly thank people while they are still living rather than posthumously. Amid our country's battle of balancing the scales of national icons, we stand on the shoulders of our very own hometown heroes that are indeed due their respect of flowers. This is why those of us displaying red ribbons have assembled here today to ask you to rename the Southside pool after the late Rockwall native, Mrs. Ruby Jewel Dabney," he said.
He added, "Unfortunately, Mrs. Dabney's recent passing will not permit her to witness this request become a reality, but her life, legacy and spirit undoubtedly continues on as evident by the over 1,300 petition signatures we submit to you from black, white, brown, young and old current and former Rockwall residents she impacted throughout her 20-plus years of faithful, civilian service to this city and its citizens."
"When we stop and think about it, Ruby cannot be a more appropriate name for this pool. Like many of you, I can remember a time when Rockwall was only a third of its current population – a time before The Harbor, or Shenaniganz, or Urban Air, a time before the spray grounds at Harry Myers, Fox Chase or Hickory Ridge. During that time, one of the few summer outlets for the youth of this community, and in particular, the African American youth, was the aquatic gemstone known as the Southside pool and ran by a most fittingly named gemstone, Mrs. Ruby Dabney. Mr Mayor, it is our prayer that you along with your fellow councilmembers and staff and the Parks and Rec board, recommend an approval for this request and give Mrs. Dabney her due flowers."
All of the comments from those who addressed the Council regarding this matter, as well as the entire Council meeting, can be heard here.
BLM Rockwall Team Addresses Council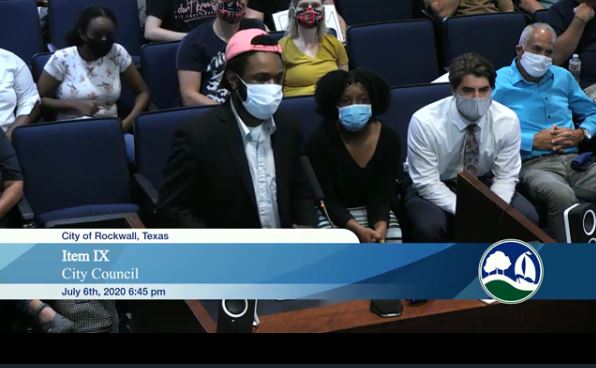 Following the open forum portion of the Council meeting, there was a slide presentation and call-to-action by Christian Giadolor on behalf of BLM Rockwall, a student-led and student-directed movement.
Christian is a Rockwall-Heath graduate, Presidential Scholar and Student Representative to the Stanford Board of Trustees. Other members of the BLM Rockwall team include Saron Regassa, President of Rockwall-Heath High School Youth & Government; Rachel Giadolor, COO BLK Capital Management; Ryan Figert, 2018 Rockwall High School graduate and National Merit Scholar; Avery Dalfrey, Magna Cum Laude Graduate of Texas A&M University and President of F.R.E.E.; and Rhonda Giadolor, Vice President of Business Professionals of America and NASA Aerospace Scholar.
Christian began by thanking supporters and held a moment of silence for victims of police brutality and racial injustice. He noted that the BLM Rockwall team's Diversity Advisory Council is working with Rockwall ISD in hopes of forming a district-wide committee focused on diversity, equity and justice; and that the BLM Rockwall team is seeking support from the City Council for a memorial – a "humble but intentional marker" that will "give space to the alternative narrative, to the truth, to be brought downtown to the site of the lynching" of Anderson Ellis, a black man who was lynched in Rockwall in 1909.
The BLM Rockwall slide presentation can be viewed in its entirety here.
The team also referenced a 2006 article by John Browning that ran in the Herald Banner, which can be viewed here.
John Browning's article states, "In all fairness, in the years leading up to this incident [the 1909 lynching of Anderson Ellis] contemporary newspaper accounts portray Rockwall as a fairly tolerant place as far as race relations go. In August of 1898, after Ku Klux Klan attacks that blew up the home of a local black family, a large town meeting was held in which the 'whitecaps' were condemned. Prominent citizens spoke up and a resolution was passed calling for the attackers to be brought to justice, since 'Rockwall must maintain her character hitherto known for morality and obedience to the law.' On March 7, 1909, however, that character was conspicuously missing."
On that day, Anderson Ellis was working on a plantation, and the wife of the plantation owner accused him of rape. Anderson fled to Caddo Mills, but a lynch mob killed the son of the homeowner and seized Anderson Ellis. The article states that Anderson Ellis "fought back and was shot twice. Ellis was brought back to Rockwall and placed in the county jail. On March 7, 1909, before he could be tried in a court of law, Anderson Ellis was forcibly removed from the jail by a mob." Anderson Ellis was dragged to the town square, where he was chained to an iron stake and burned, while over 1,000 community members cheered. Within nine minutes, he was dead.
"This story has been systematically erased from our history," Christian said, adding that, "Stories like these need to be remembered if we want to move towards a society of racial reconciliation."
Rachel Giadolor shared with the Council the results of a survey that the BLM Rockwall team conducted among RISD students; she reported that the majority of respondents were not aware that there was a lynching in Rockwall, or that there was a black cemetery buried under Lake Ray Hubbard, or that a former Rockwall sheriff tried to force a black man into sharecropping, or who the namesake of Dorris A. Jones Elementary was.
"…Our community is not putting the effort and intentionality, the purposeful commitment towards addressing racial reconciliation – and that must end today," Christian said.
Christian clarified that by the next Council meeting on July 20, he hoped to have signal of support from the Council for a memorial, in the form of a plaque, at the site of Rockwall's historic courthouse where the lynching occurred. Although the Mayor pointed out that the City Council does not control the property downtown, Christian said he "hoped to demonstrate that our stakeholders are in support, so when I meet with [Rockwall County Judge] David Sweet, we have your support." Mayor Pruitt asked for this item to be put on the agenda for the July 20 Council meeting. Christian said he wanted to come to Rockwall County Judge David Sweet with support from both the City Council and the Rockwall ISD.
Listen to all of BLM Rockwall's comments here and view the presentation in its entirety here. The 2006 article by John Browning can be viewed here.
Many additional items were addressed during the City Council meeting, including Governor Abbott's recent Executive Order and the status of upcoming public events (baseball tournaments, Concerts by the Lake, spray grounds, youth summer camps, and San Jacinto Plaza Music Series), all of which can be heard in entirety here.
The Mayor has issued a declaration following the City Council meeting. He declared that all outdoor areas within the City of Rockwall are not covered under Executive Order GA-29 (which mandates the wearing of a face mask to cover the nose and mouth when in an outdoor space whenever it is not feasible to maintain 6 feet of social distancing) because it is feasible to maintain 6-feet of social distancing from each other; and that as authorized, and in compliance with Governor Greg Abbott's Proclamation dated July 2, 2020, the areas listed in Section 1 are permitted to have outdoor gatherings in excess of 10 people.
Rockwall Mayor declares outdoor areas within city not covered under Governor's Order GA-29
View the Governor's Executive Order.
View the Governor's Proclamation.
By Dawn Redig, Blue Ribbon News. 
---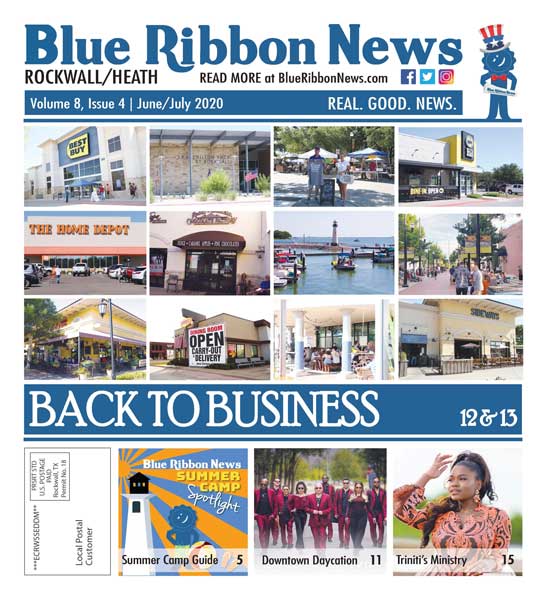 Our print edition is delivered free to ~15,500 homes in Rockwall and Heath, TX.
To share your good news and events, email editor@BlueRibbonNews.com.
Subscribe to our email newsletter here.
Advertising: 214-342-8000 or advertising@BlueRibbonNews.com.