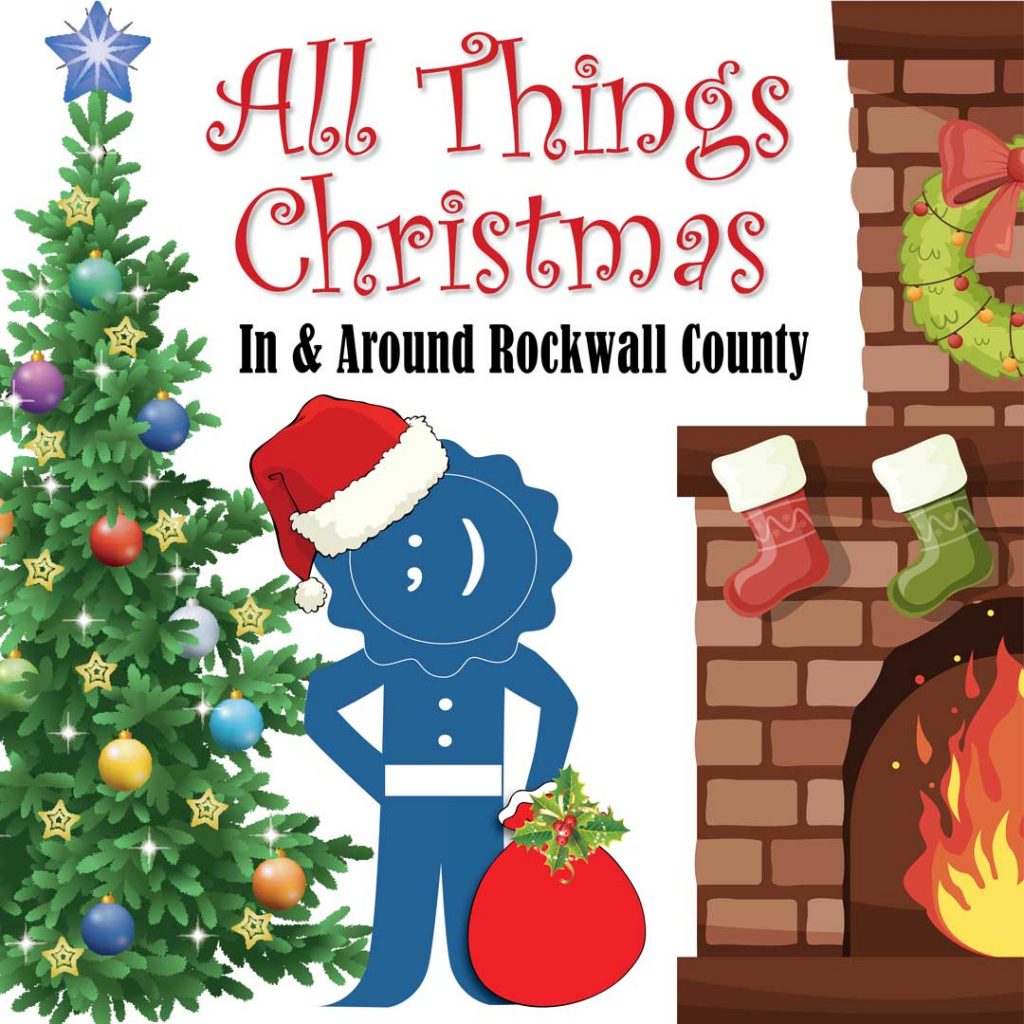 ROCKWALL COUNTY, TX – Nov. 27, 2020 – With COVID-19 concerns top of mind, many families are foregoing travel plans, limiting group gatherings, and seeking new and creative ways to celebrate the season in an effort to stay safe. From virtual tree lightings and Reindeer Runs to live nativity scenes, our local calendar is full of options for festive, family fun.
Blue Ribbon News has compiled this list of holiday events happening in and around Rockwall County in hopes of helping you determine what is right for you and your family. We encourage everyone to please follow safety protocols and social distancing when choosing to participate.
If you know of a local holiday event that should be included on our list, please email us at editor@blueribbonnews.com. Check back often as we will be adding to this list as we learn about new events!
If you have questions or concerns about a specific event, please check with the event organizers for more information. Although we are constantly updating these events, organizers may make last minute changes – or in some cases events may be cancelled – so before heading out, please double-check Facebook event pages or contact event hosts, especially as the situation with the pandemic changes. 
HEATH EVENTS

Heath Christmas in the Park – Horse Drawn Carriage Rides
Anticipating continued COVID-19 issues, the City of Heath invested in new Christmas lights for Towne Center Park to help bring joy and light to Hometown Heath this holiday season. The lights are a lasting investment that invite a crisp winter's walk through the park beginning December 1. You can also enjoy the lights from a horse-drawn carriage. Book your ride here: https://fourwindscarriage.com/heath
---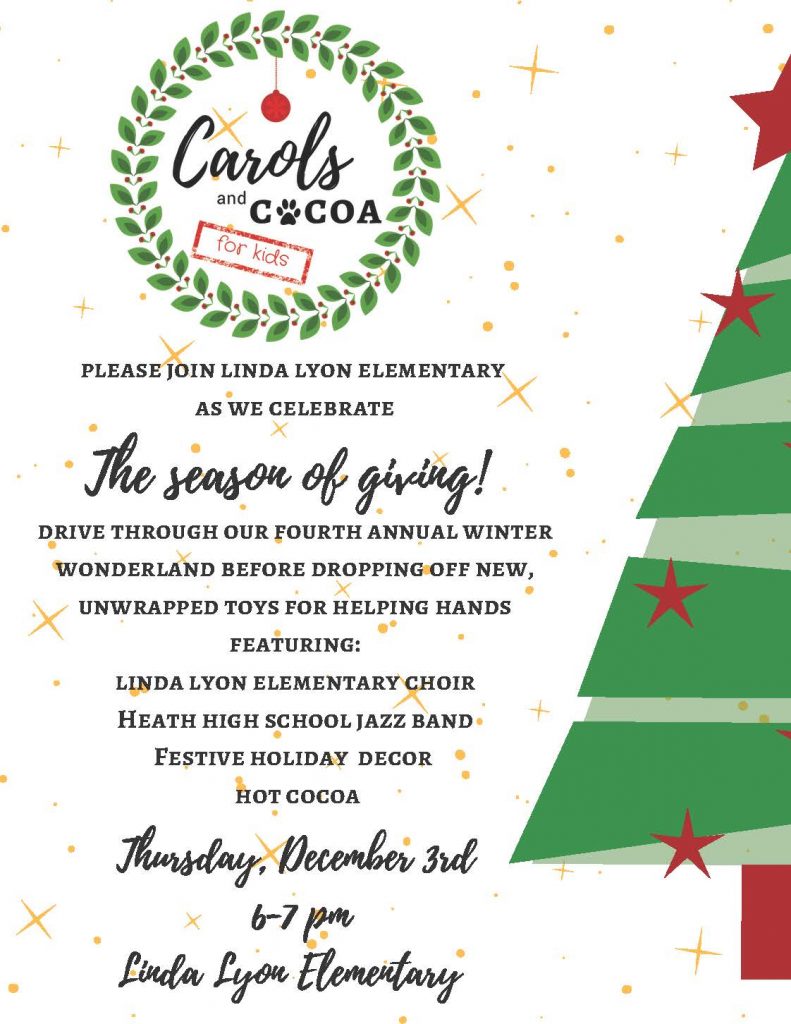 Carols and Cocoa for Kids at Linda Lyon Elementary
Please join Linda Lyon Elementary as they celebrate the Season of Giving! Mark your calendars for the 4th Annual Carols and Cocoa for Kids. The event takes place at Linda Lyon Elementary, 2186 Trophy Drive in Heath from 6 to 7 p.m. Thursday, December 3.
Drive through the winter wonderland and enjoy the melodies of the Linda Lyon 6th Grade Choir, the Heath High School Jazz Band, and the wonderful Linda Lyon faculty.  As you leave, you can drop off new unwrapped toys to benefit local Rockwall children in need!  Bring the entire family and don't forget to tell your friends about this wonderful social distanced event that supports Helping Hands of Rockwall County.
---

Finding Peace in Christ – A Live Nativity 
9 p.m. Friday, December 11
6819 South FM 549, Heath
Protective Covid measures taken to ensure a safe viewing experience for everyone. Come feel the Spirit of Christmas and enjoy a live nativity presented by The Church of Jesus Christ of Latter-Day Saints.
---
ROCKWALL EVENTS 

La Tee Da – Hello 2021
Ladies Night Out from 4:30 to 8:30 p.m. Wednesday, December 2 at Hidden Creek Events Center.
Presented by the Rockwall Area Chamber of Commerce.
Each ticket to La Tee Da – Hello 2021 includes one of the Chamber's 2021 Spirit of Rockwall Ladies Giveaway Planner (that's 24 chances to win fabulous prizes, including one of four Louis Vuitton purses) and the opportunity to hang out for a little while enjoying wine, light appetizers and local vendors.
Attendees will have the opportunity to pick the perfect time for them to pick up their calendar. Tickets are $100 which covers the cost of one Spirit of Rockwall Ladies Giveaway Planner. Everything else, aside from what you purchase from vendors, is on the Chamber!
Info and registration: www.rockwallchamber.org/events
---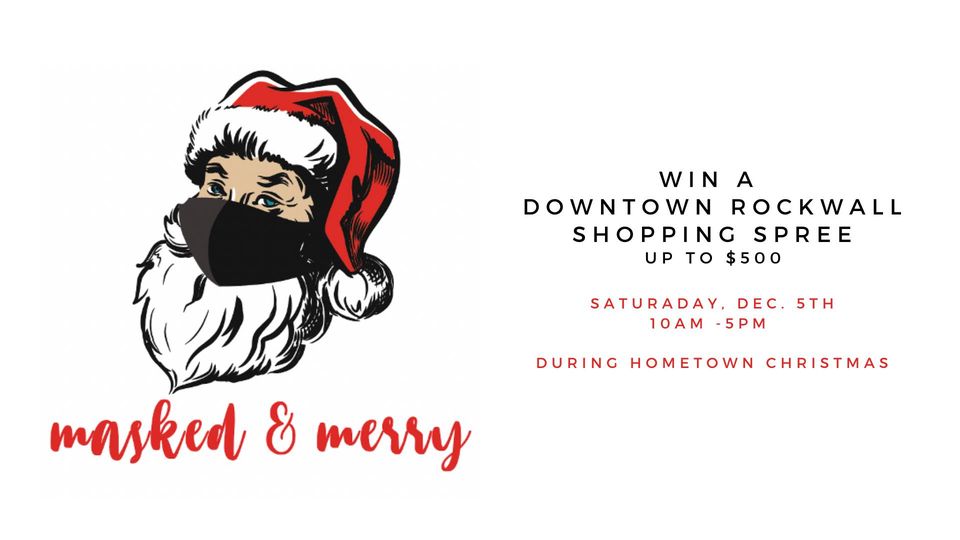 Masked and Merry Shopping
Three Downtown Rockwall Shopping Sprees valued up to $500 are going to be given away!
Shop to win during Downtown Rockwall's annual Hometown Christmas event! You can earn a raffle entries just by shopping at your favorite downtown businesses.
For every $25 you spend at any of the participating businesses you'll receive a raffle ticket. The more you spend the more chances you have to win up to $500 in Downtown Dollars!
How it works:
1. Make a stop by the information booth located in the San Jacinto Plaza and get your FREE Christmas mask and handout with details
2. Shop at participating businesses displaying the poster at entry.
3. Receive a raffle ticket for every $25 spent, before tax, at checkout.
4. Stop by the information booth to turn in your entries and receive your FREE gift, one per household
Raffle entries will be handed out until 5:00pm.
Winners will be selected at 5:15pm.
Do not have to be present to claim prizes.
Winners will be contacted by phone Tuesday, December 8.
Must be 18 to enter.
Look for the Masked & Merry Participant poster at the entrance of these Downtown Rockwall businesses. Any minimum purchase of $25 made on Saturday, Dec. 5 in these businesses earns you entries into the raffle!
Happy shopping and good luck!
AvaRey
Bella's House
Groovy's
Hansel & Her
Hello Gorgeous
Kitschy Cupboard
Lakeside Florist
Rockwall Drug
Simply Kate
Southern Roots
Texas Traditions
The Downing
The Shoppe on Goliad
Wild Daisy Dessert Bar
---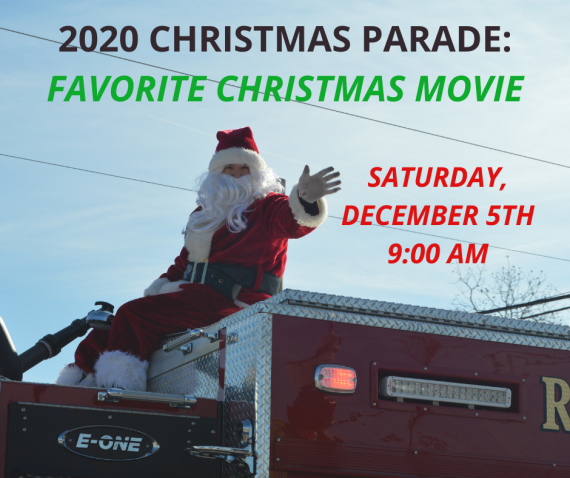 Rockwall Kiwanis 51st Annual Christmas Parade
9 a.m. Saturday, Dec. 5, Downtown Rockwall
Theme: Favorite Christmas Movie
Starts at the Rockwall County Courthouse, 1111 E. Yellowjacket Lane, and winds through historic downtown Rockwall.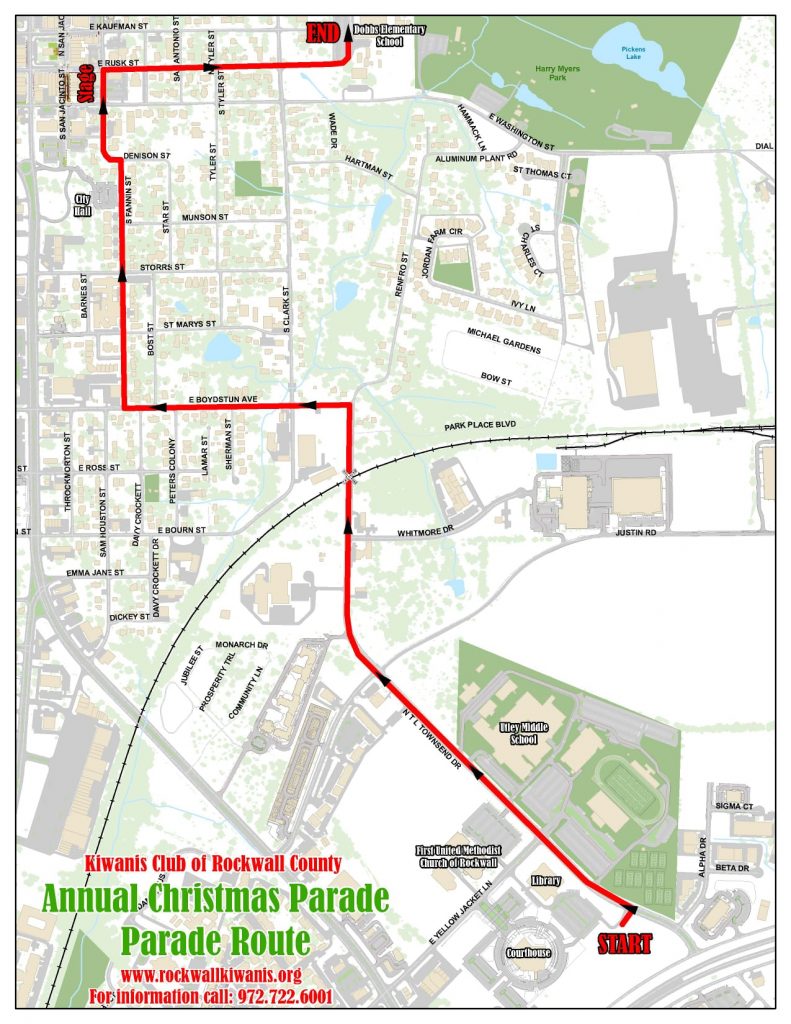 Info & registration:  rockwallkiwanis.org/christmas-parade-2020/
Prefer to watch from home? Blue Ribbon News will be broadcasting the parade live from Downtown Rockwall. Follow us on Facebook to see all the floats! #RockwallLIVE
---

Downtown Rockwall's Hometown Christmas Celebration
Begins at 10 a.m. Saturday, December 5 in Downtown Rockwall
*UPDATE Nov. 30, 2020 – Please note that since this article was originally published, some event activities have been modified to promote health and safety. These are the updated activities:
* Masked & Merry Shopping 10 a.m. to 5 p.m. – Win 1 of 3 Downtown Rockwall Shopping Sprees valued at $500, $250 and $100! Receive a free gift for participating, while supplies last. Information booth located in the San Jacinto Plaza
* Find Frosty Scavenger Hunt 10 a.m. to 5 p.m. – Complete the scavenger hunt to be entered to win some amazing prizes from JungleTrek, Racquet and Jog and Popcorn Papa. Received a free light up Santa hat for participating, while supplies last. Do not need to be present to win.
* Balloon artist
* Festive Christmas music all day with a DJ in San Jacinto Plaza
* Drive-thru Toy Drive benefitting Rockwall County Helping Hands 1 p.m. to 5 p.m. at Cain Park located on the north west corner of Kaufman St and San Jacinto St. Look for the giant Elf!
* Christmas Market in the San Jacinto Plaza
Stay for the Tree Lighting at City Hall! And look for Blue Ribbon News to be out and about capturing photos which may be featured at BlueRibbonNews.com! For full details and updates, stay tuned to Downtown Rockwall's Hometown Christmas Facebook event page and playrockwall.com.
---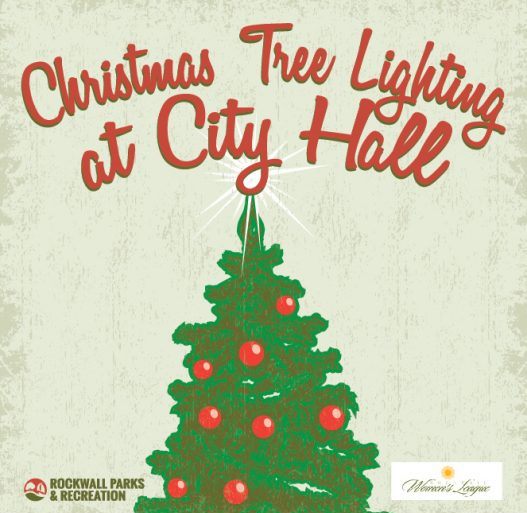 Rockwall's 37th Annual Christmas Tree Lighting
6 to 8 p.m. Saturday, December 5 on the lawn of City Hall, 385 S. Goliad St.
Music by the Steve Story Band.
Bring your camera for photos with Santa.
Free hot cocoa.
Free cookies compliments of Rockwall Women's League
Individually pre-packaged crafts for kids
Create ornaments and holiday decorations for your home
---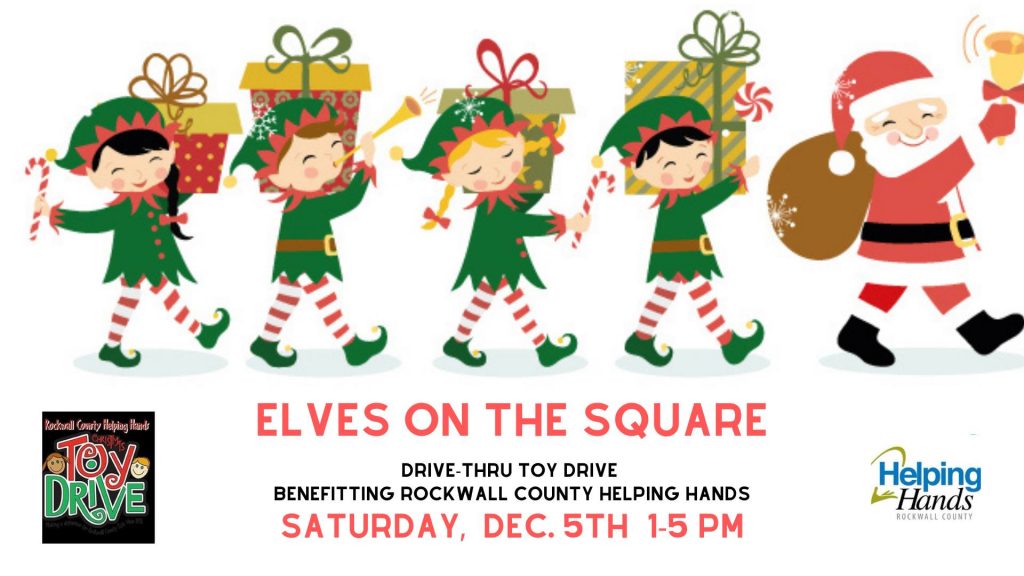 Elves on the Square – Toy Drive for Rockwall County Helping Hands
1 to 5 p.m. Saturday, December 5
111 E. Kaufman St., Rockwall
Hosted by Downtown Rockwall
Drop off a new, unwrapped toy during our Drive-Thru Toy Drive benefitting Rockwall County Helping Hands. Look for the elves receiving toys and handing out holiday treats at Cain Park on the northwest corner of Kaufman and San Jacinto Street. To help with traffic flow, please look for the white and red directional signage.
Rockwall County Helping Hands provides over 1,000 LOCAL children toys and stocking stuffers for Christmas each year.
---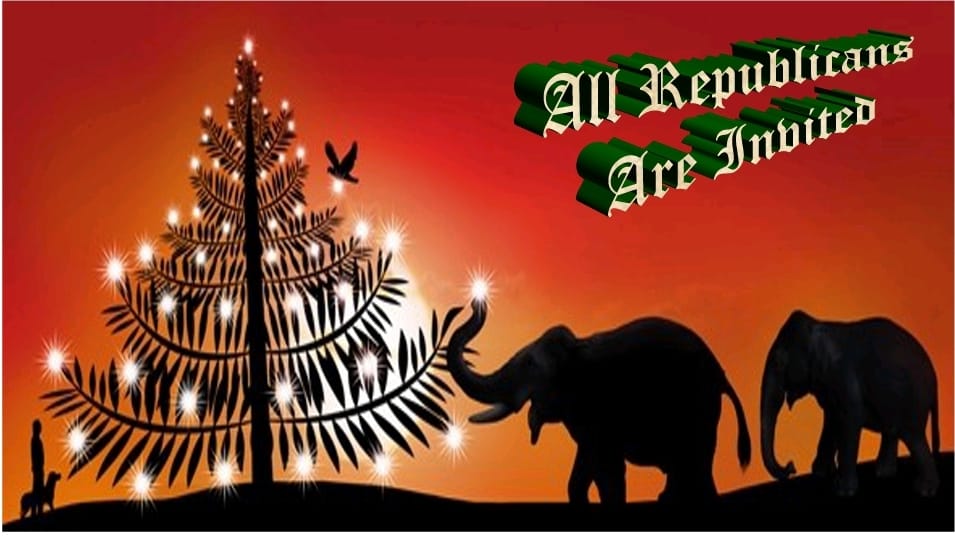 Rockwall County Republican Christmas Party
7 to 10 p.m. Saturday, December 5
Rockwall Golf & Athletic Club, 2600 Champions Drive, Rockwall
$35/person includes meal and dessert. $280 for table eight. Cash Bar.
Event includes installation of Club Officers.
---

Flower Box Holiday Open House
Noon to 4 p.m. at The Flower Box, 2760 State Highway 66, Rockwall
Come join The Flower Box for their Annual Open House Event. There will be gifts, flowers, fun and more! This is a come and go event and masks will be required. Get you Christmas shopping done early and enjoy yourself while you do.
---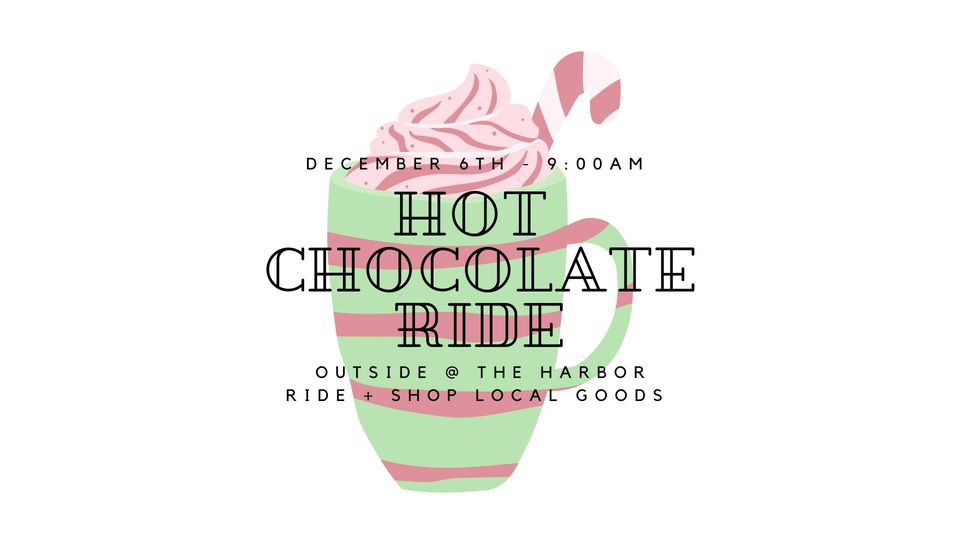 Hot Chocolate Ride at CycleBar
9 a.m. to 11 a.m. Sunday, December 6
Cyclebar at The Harbor, Outside Event
2017 Summer Lee Drive, Suite R103, Rockwall
Join Cyclebar for an outdoor ride and hot chocolate. There will be local vendors to shop with special, locally made gifts. Booking available November 29. See their Facebook page or website for the link.
---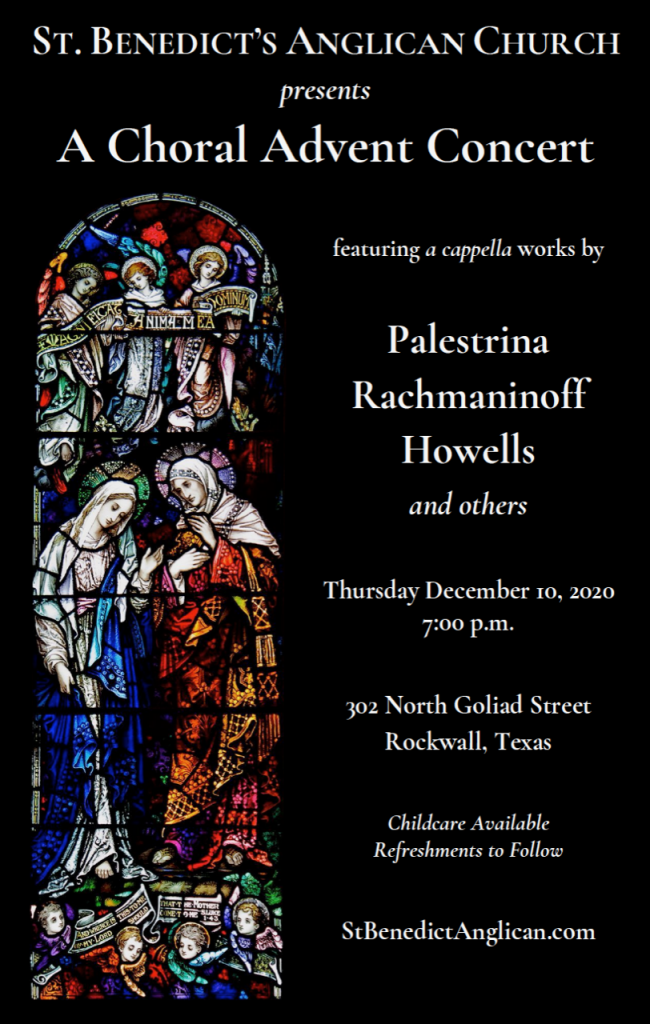 Advent Choral Concert
7 p.m. Thursday, Dec. 10
ST BENEDICT'S Anglican Church- 302 N. Goliad St., Rockwall 75087
In a culture quick to leap into the frenetic frenzy of Christmas as soon as the Halloween decorations are relegated to the clearance section, we often miss out on the wondrous season of Advent.  During this time, Christians reflect on the many years of expectant waiting for the Messiah, and also await his glorious return at the final judgment, the "second Advent."  Join St. Benedict's Anglican Church for an a cappella concert of Advent music, featuring the St. Benedict's Quartet and guests. All are welcome, reception to follow.
FOR INFORMATION: MICHAEL@STBENEDICTANGLICAN.COM
---

'Evening in Bethlehem' Drive-Thru Nativity
5:30 to 9 p.m. Friday and Saturday, December 11 & 12
Ridgeview Church, 1362 E. FM 552, Rockwall, 75087
Bring the family for a free, fun-filled live nativity event.  Guests will enjoy a drive-through tour of scenes that depict the birth, life, death and resurrection of Jesus! There will be live music, live animals, and lights to see. This is a completely FREE event, perfect for all people of all ages; drive through anytime between 5:30 and 9.
---

8 a.m. to 11 a.m. Saturday, December 12 at San Jacinto Plaza, Downtown Rockwall
Santa will be making a special stop in Rockwall for photos. Registration will be by family (only one member of each family needs to register). Each family will be allowed one picture per child and one family picture. Click here to register. 
---

Christmas Light Boat Parade on Lake Ray Hubbard
6:30 to 10 p.m. Saturday, December 12
Calling all boaters that want to join! Boats will leave Sapphire Bay Marina (at Dalrock and I-30) at approximately 6:30 p.m., head down the I-30 bridge to the Rockwall Harbor arriving at approximately 7:00pm. From there they will head to Chandler's Landing and turn around and make another pass in front of the Rockwall Harbor and then head back down I-30 to Sapphire Bay Marina. All boat owners are welcome to decorate their boats and join the parade. (Tune VHF radios to channel 71). Viewing available from Rockwall Harbor Docks at 7 p.m. and Chandlers about 7:30 p.m. on Saturday, Dec. 12.
---

Santa Cops 4 Kids 5K, Santa Chase and 1 Mile Fun Run
Join the Rockwall Police Officer Association for the 5th Annual Santa Cops 4 Kids 5K & 1 Mile Fun Run plus Santa Dash and Virtual Race on Saturday, Dec. 19, at Wilkerson-Sanders Memorial Stadium. The event – hosted by PlayTri DFW – supports the Children's Advocacy Center for Rockwall County and features a fun Santa Chase for the kiddos to try and catch ole Saint Nick!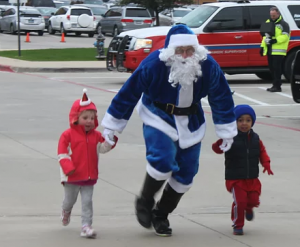 The Santa Cops 4 Kids benefit is an annual event that was formed in 2016 by members of the Rockwall Police Department and Rockwall Police Officers Association.  The goal of Santa Cops 4 Kids is to further the efforts of the Children's Advocacy Center of Rockwall County by raising awareness about child abuse as well as raise funds for the Rockwall County Children's Advocacy Center, through a 5K, 10K and 1 mile family fun run.
The Santa Cops 4 Kids benefit will raise much needed funding for services and advocacy efforts that will improve the lives of children affected by physical and sexual abuse within Rockwall County and also to whom may ever receive services offered the the Children's Advocacy Center of Rockwall County. Since 2016, Santa Cops 4 Kids raised over $70,000 to further the efforts of the Children's Advocacy Center of Rockwall County.
For more information on sponsorship opportunities or general race information, contact Farrah Brabson at 469-745-8202 or email fbrabson@rockwallcac.org.
Blue Ribbon News will be broadcasting live on the scene with Junior Correspondent James Martinez, hoping to catch a few words from Santa himself! #RockwallLIVE 
---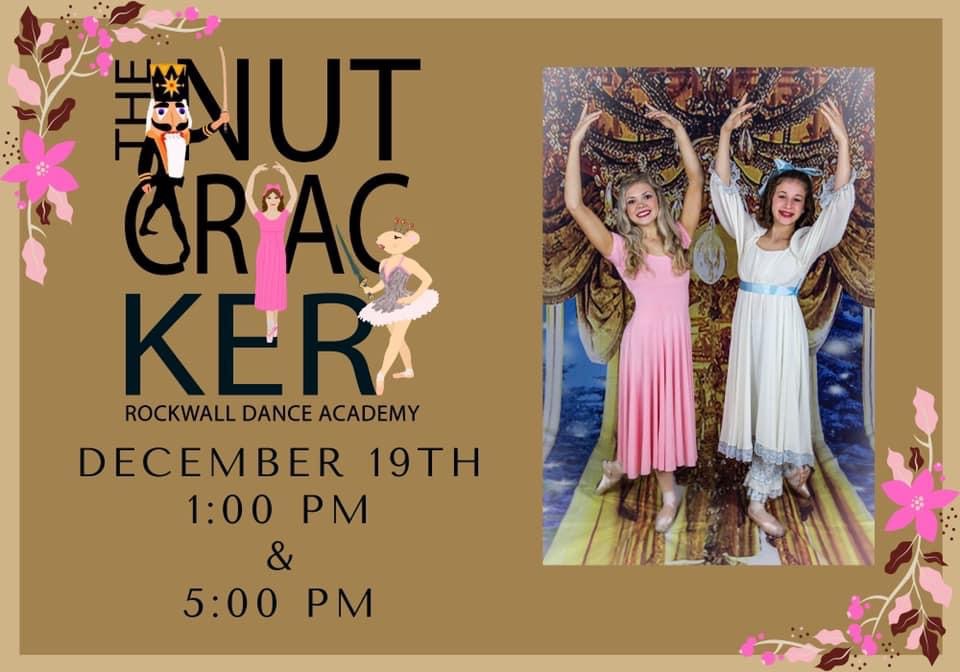 Nutcracker Ballet
Tickets are no on sale for Rockwall Dance Academy's performance of The Nutcracker Ballet at 1 p.m. and 5 p.m. Saturday, December 19 at Greenville Municipal Auditorium, 2821 Washington St. in Greenville, TX 75401. Live Streaming and In Person tickets available!
https://rockwalldanceacademy.com/the-nutcracker/

Tate Farms Holiday Market – CANCELLED
UPDATE November 30, 2020 – This event has been cancelled. We will provide an update as soon as it becomes available or if the event is rescheduled.
10 a.m. to 3 p.m. Saturday, December 5
Tate Farms, 12992 S. FM 548 Rockwall, 75032
Gift Market, Food Vendors, Kids Craft Area, Holiday Photos and more. Socially safe event. $10/per car (pre-purchased or at gate).
Toy Drive for charity (please bring a new, unwrapped toy if donating)
---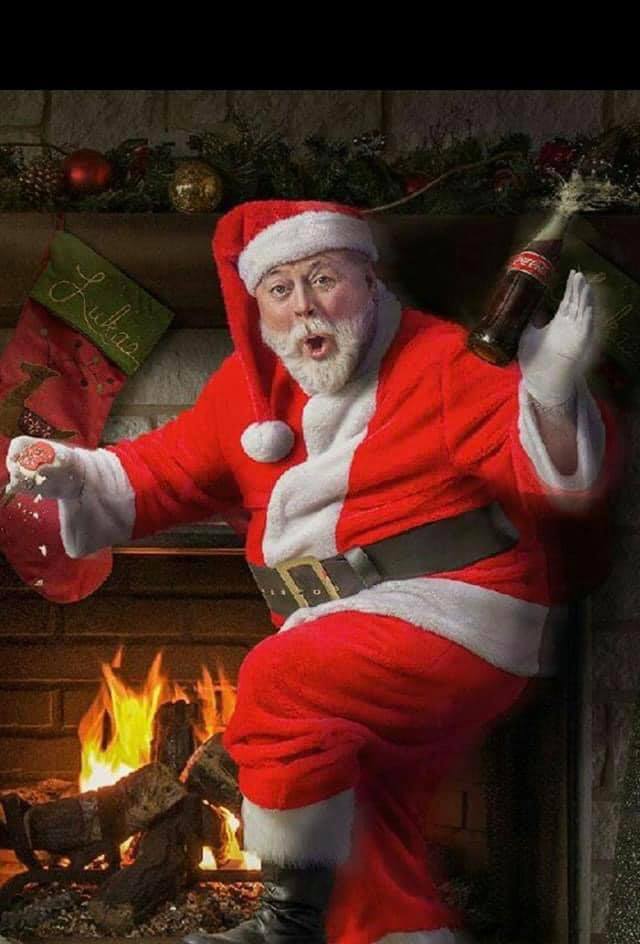 Santa and Movie at Tate Farms
3:30 p.m. to 9:30 p.m. Saturday, December 12
Tate Farms, Rockwall
Santa is coming!! Santa will be at Tate Farms from 3:30-5 for you and your family to take pictures and share your Christmas list (social distancing can be achieved).
Movie will begin at 5:30. We'll be showing "Its A Wonderful Life".
Local vendors will be available for food and snacks.
Proceeds will benefit Rockwall-Heath High School Senior Class.
Tickets have been broken into three options:
$20/car for time with Santa only (no movie)
$15/car for movie only (no time with Santa)
$25/car for everything
---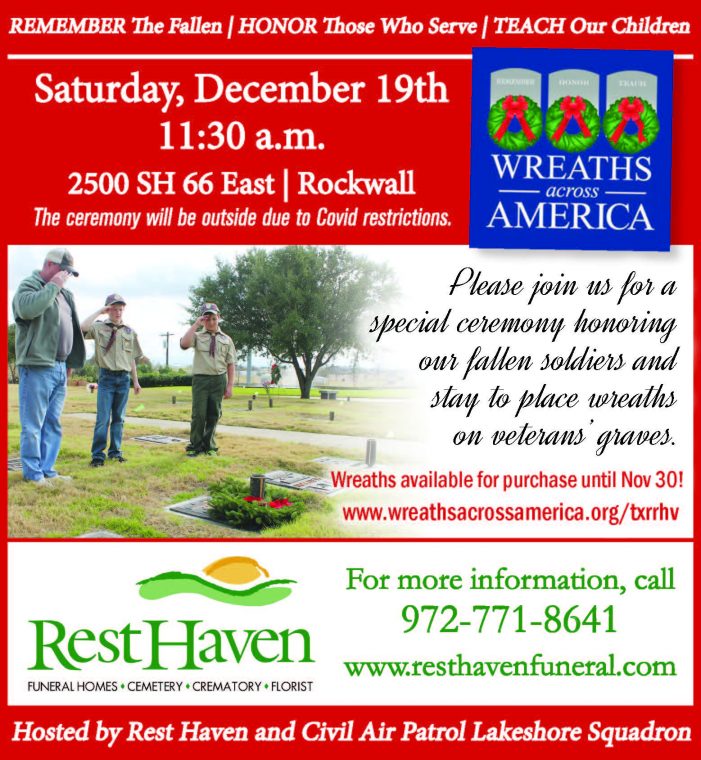 Wreaths Across America at Rest Haven
Wreaths Across America will be at Rest Haven Funeral Home and Memorial Park in Rockwall on Saturday, December 19 to remember and honor our veterans through the laying of remembrance wreaths on the graves of our country's fallen heroes and the act of saying the name of each and every veteran aloud. Due to Covid restrictions, this year's ceremony will be outside beginning at 11:30 a.m. with public wreath laying beginning at noon. The event is hosted by Rest Haven and Civil Air Patrol Lakeshore Squadron.
Feel free to bring your change to honor our veterans as well. This is especially important for any of the veterans who do not receive wreaths this year. Placing a penny means you visited; placing a nickel indicates you and the deceased trained at boot camp/basic together; placing a dime means you served together; placing a quarter indicates you were with them when they were killed.
Please practice social distancing and mask protocol.
Rest Haven's thanks everyone for helping to lay wreaths at as many graves as possible by sponsoring a wreath. Wreaths are available for purchase until November 30 >>https://www.wreathsacrossamerica.org/pages/17195
---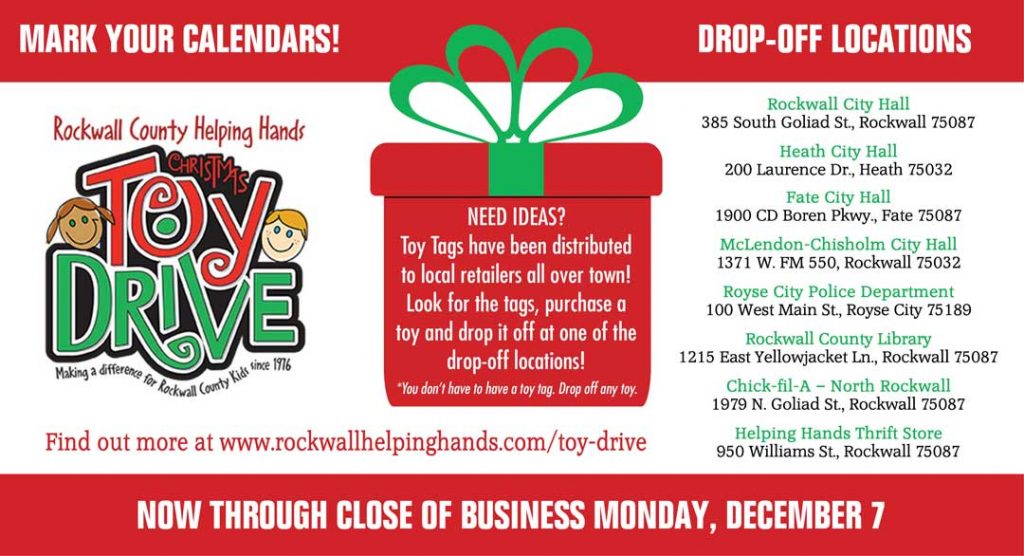 Rockwall County Helping Hands Toy Drive
Toy tags have been distributed to local retailers all over town. Look for the tags, purchase a toy and drop it off at one of the drop-off locations shown in the image above. You have until close of business on Monday, December 7. Learn more at www.rockwallhelpinghands.com/toy-drive.
---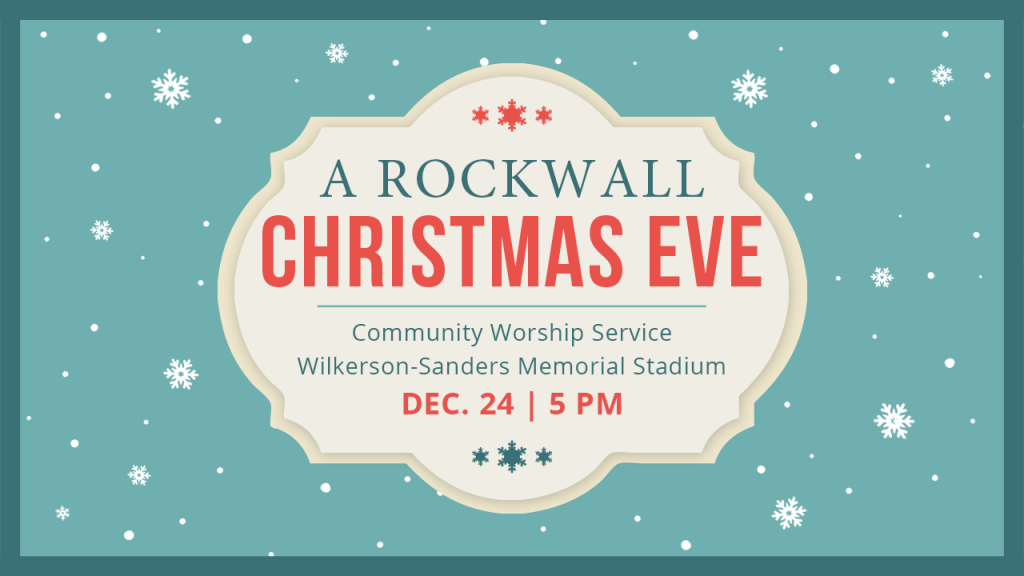 A Rockwall Christmas Eve | Community Worship Service
Thursday, Dec. 24 | 5 PM | Wilkerson-Sanders Memorial Stadium | In-Person and Live Stream
Outdoor Christmas Eve Service!
Presented by First United Methodist Church Rockwall
The community is encouraged to celebrate Christmas, with plenty of room to spread out and invite  friends and family to join in. Wonderful music will be performed, children and youth will be a part of the service. Phones and glow sticks will serve as candlelight during "Silent Night…" and so much more!
Registration Opens Dec. 14. 
---
ROYSE CITY EVENTS

Royse City Christmas Tree Lighting
6 to 7 p.m. Tuesday, December 1
Cookston Court, 111 E. Main Street, Royse City 75189
Tree Lighting Ceremony
Entertainment by Royse City High School Choir
---

Royse City Reindeer Run 5K
8 a.m. Saturday, December 12 (Rudolph Run)
8:30 a.m. Saturday, December 12 (5K)
---

Royse City Parade of Lights
6:30 p.m. Saturday, December 12
Downtown Royse City
Theme: Past, Present & Future. Entries are encouraged to use a lot of lighting. The parade will leave from Ruth Cherry Intermediate School at 6:30 p.m. and head west on Highway 66 toward Downtown. Main Street parking will be shut down at 3:30 p.m. All spectators are encouraged to wear proper face covers and practice safe social distancing,. Info: www.roysecity.com.
---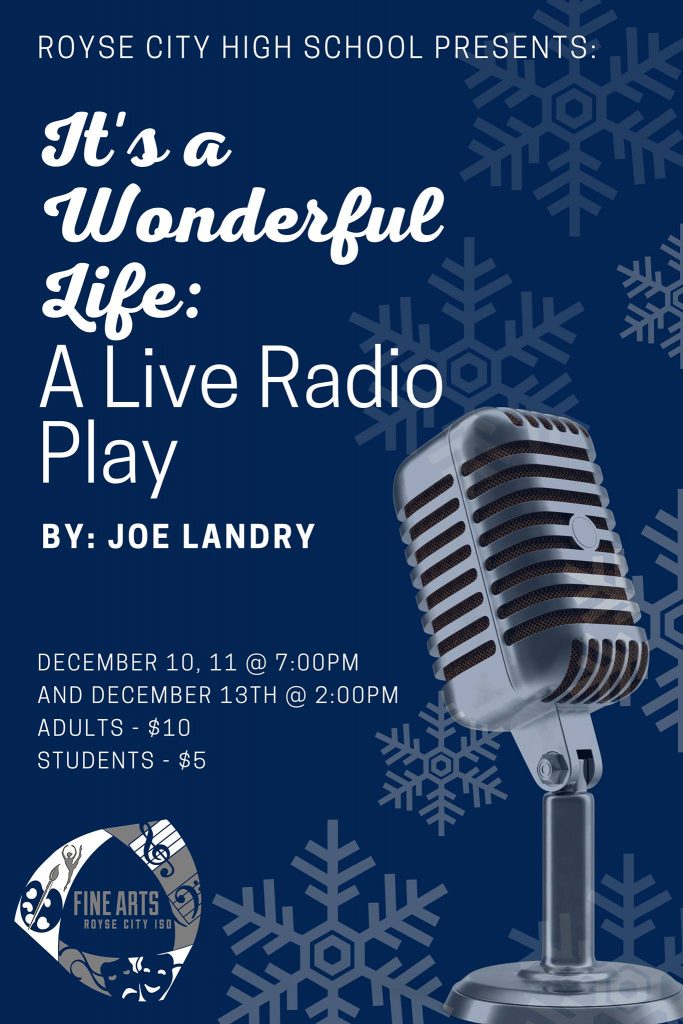 It's a Wonderful Live, A Live Radio Play
This week, the Royse City High School Theatre program will be presenting "It's a Wonderful Life: A Live Radio Play" at the RCISD Performing Arts Center. There are three performances on three different dates.
They are implementing different safety protocols for this show, as it will be live and in person. While the capacity of the Performing Arts Center is 750 seats, tickets per performance will be limited to 210 seats. This will allow for appropriate distancing in an effort to ensure the safety of the audience, performers, and crew. The mask mandate will be in effect for audience members. Due to the limited seating capacity, there is a limit of 8 tickets (4 adult and 4 student) per show, per transaction. All tickets will be sold online and in advance. Students in grades 9-12 must show their school ID at the door to verify their student status. Students younger than grade 9 will not need an ID. All seats will be assigned by the Fine Arts Department in the order of purchase.
TICKETS WILL NOT BE AVAILABLE AT THE DOOR
To purchase tickets please go to: https://www.locallevelevents.com/events/details/12573
---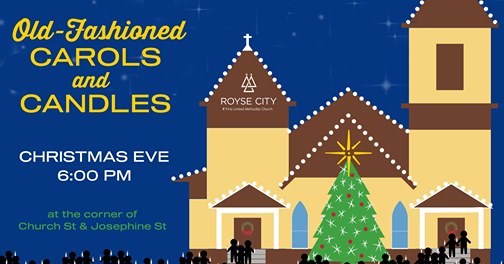 Royse City First United Methodist Church Old Fashioned Carols & Candles Video on Facebook
6 p.m. Thursday, December 24
Tune in to watch LIVE. Click here for Facebook page.
---

Main Street Emporium Photos with Santa
5:30 p.m. to 8 p.m. Friday, December 11
Main Street Emporium, 101 E. Main Street, Royse City, 75189
$10 for 2 photos with printed and digital copies!
Line will begin at 5:30!
Santa photos will begin at 6:00PM – 7:30PM
Photos by AAA MIRROR ME PHOTO BOOTH
---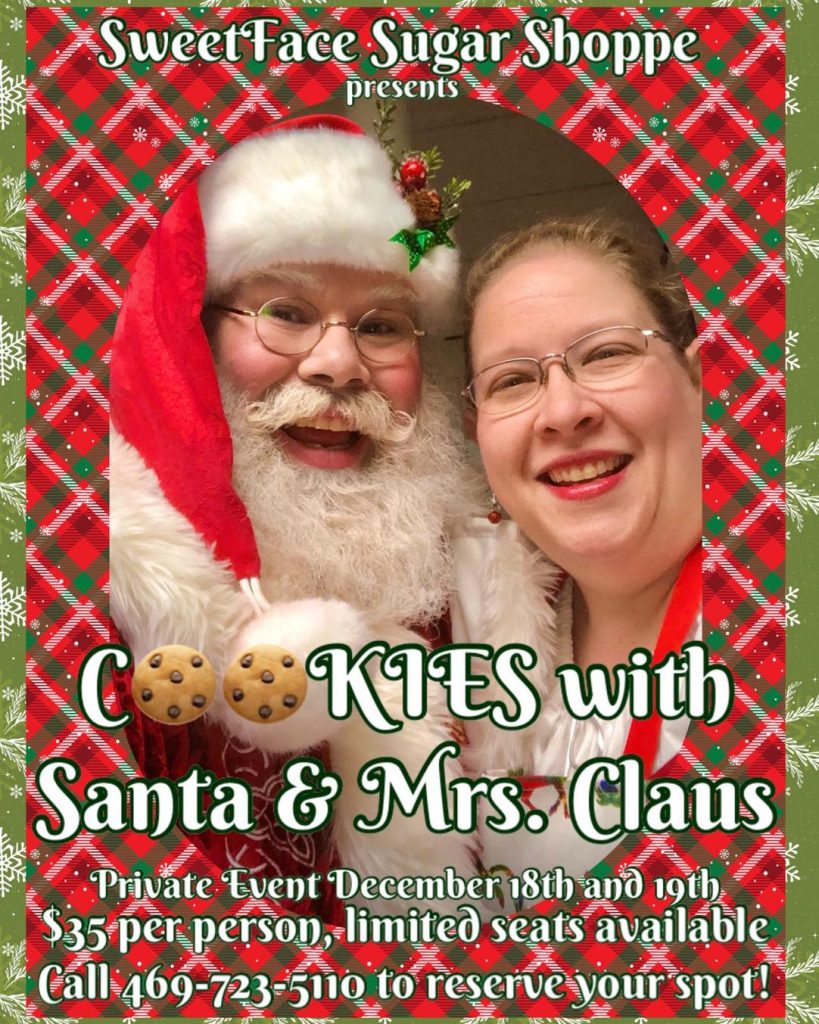 Cookies with Santa & Mrs. Claus
SweetFace Sugar Shoppe & Bakery, located at 134 E. Main St. in Royse City, is booking spots for its annual Cookies with Santa & Mrs. Claus event.
Booking starts Tuesday, December 1 at 11am!
Cookies & Milk
Story Time
Christmas Singing
Craft Activity
Mini Cookie Kit to take home and decorate for Santa!
……………….$35 per person…………………
Call 469-723-5110 to reserve a spot.
Payment due at booking.
•Private Event with limited spots available to allow for social distancing.
•Individual items for each ticket holder, tickets/activities cannot be split.
•Choose from 2 nights & 2 sessions:
Friday, December 18th
Session RED 1: 6:00pm-6:45pm
Session RED 2: 7:15pm-8:00pm
Saturday, December 19th
Session GREEN 1: 6:00pm-6:45pm
Session GREEN 2: 7:15pm-8:00pm
---
FATE EVENTS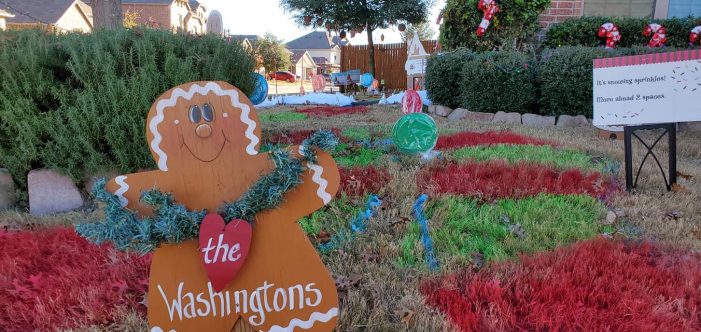 Interactive Christmas Candy Land Game
The Washington family of Woodcreek Fate welcomes the community – young and old – to their front yard (571 Louder Way) this season to enjoy an interactive game of Christmas Candy Land.
"This is something my family and I love doing every year, and we feel like it's needed now more than ever before," said Casey Washington, former teacher and mother of three very active boys. (Some of you may also know Casey from her time with us as Media Manager at Blue Ribbon News!)
Casey's boundless energy and creativity never ceases to amaze – and this year, she's included some extra special touches to the hand-crafted, outdoor game board, including a lighted path.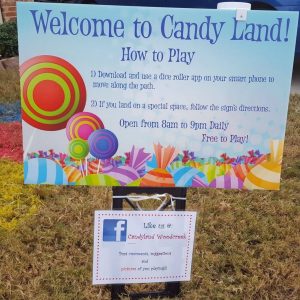 Casey welcomes neighboring families to enjoy a wholesome, fun, safe, socially-distanced Christmas experience. There's even a Facebook page dedicated to Candy Land at Woodcreek: facebook.com/candylandwoodcreek.
---

Fate Christmas Tree Lighting – Drive-Thru Festival
6 to 8 p.m. Friday, December 4
Fate City Hall, 1900 CD Boren Parkway, Fate 75087
The drive-thru festival will feature traditional Christmas lights, an animated light show, and fireworks! Participants will receive free to-go items such as crafts, a letter to send to Santa, hot cocoa mix, and a cookie! Additionally, the first 1,600 will receive a free meal from In-N-Out Burger.
Santa will be  waving to all the kids and kids-at-heart as they drive by to make their way to a parking place to wait for the firework show. The event will conclude with a 12-15-minute firework show starting at 8 p.m.
'Tis the season of giving, the event will be a drop-off location for a new toy and children's coat drive benefiting Helping Hands of Rockwall County. These donations will be given to families in need right here in our community.
Virtual Events:
To kick off the event, there will be a Virtual Tree Lighting on Facebook Live.
Mrs. Claus will record a virtual story time, sponsored by Rockwall County Library.
And, a virtual marketplace, where residents can shop local from small businesses: Visit www.CityofFate.com/VirtualMarketplace
---
ROWLETT EVENTS

Rowlett's Reverse Holiday Parade – CANCELLED – SEE UPDATE
Update Dec. 2, 2020: 
City of Rowlett Parks and Recreation invites you to join us as we safely celebrate the holidays! The COVID-19 pandemic means we won't be gathering as a community the way we normally do – but that doesn't mean we still can't have some virtual fun
• 12 days of Christmas – Every day, for 12 consecutive days, we will host a festive, at-home/virtual activity! Registration fee(s) may apply – please call 972-412-6170 for additional information!
• On Saturday, December 5th, starting at 5pm, you will have an opportunity to drive by the Village of Rowlett Downtown (4000 Main St) and view our dancing light show! Tune-in to FM radio station 89.1 to listen a holiday arrangement of songs – the songs will match the dancing lights on our tree/decorations! You may drive by and view the dancing lights for the entire month, until the new year!
The health and safety of our citizens is our top priority. Therefore, the previously announced Reverse Holiday Parade and 12 Days of Christmas events have been canceled due to the recent increase in COVID-19 cases, both in Rockwall and Dallas County.
We look forward to "seeing" you at one of our virtual events – Happy Holidays from all of us here at the City of Rowlett!
---

Rowlett's Seventh Annual Sunset Santa 5K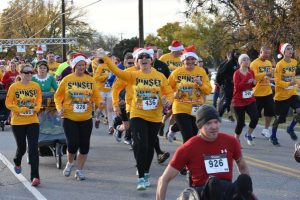 5 p.m. Saturday, December 5
---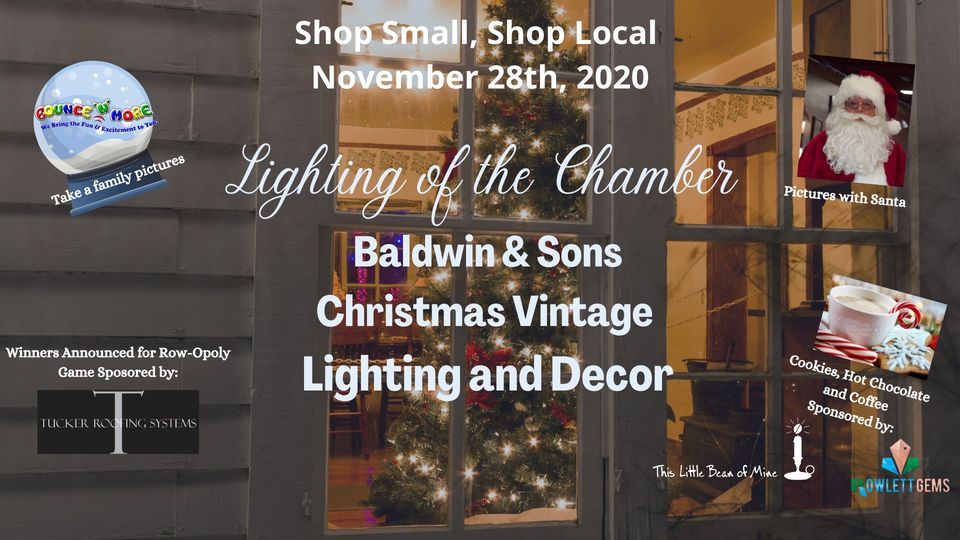 Ribbon Cutting & Lighting of the Chamber
5 p.m. Saturday, November 28
At the Rowlett Chamber of Commerce, 4418 Main St., Rowlett
Join the Rowlett Chamber of Commerce as they welcome Baldwin & Sons Christmas Vintage Lighting and Decor
to the Chamber. Then stay for the Lighting of the Chamber!
They will have socially distanced pictures with Santa and a Giant Snow Globe for selfies.
---
Storywalk on Main
You've heard of window shopping, now it's time for window reading!
Throughout December, the Rowlett Public Library will have The Polar Express story and activities on display in the windows.
Stop by the front desk for a checklist of activities that you can return for a prize. If you don't feel comfortable coming in, give them a call at 972-412-6161 and they can hand-deliver the checklist and prize once completed.
---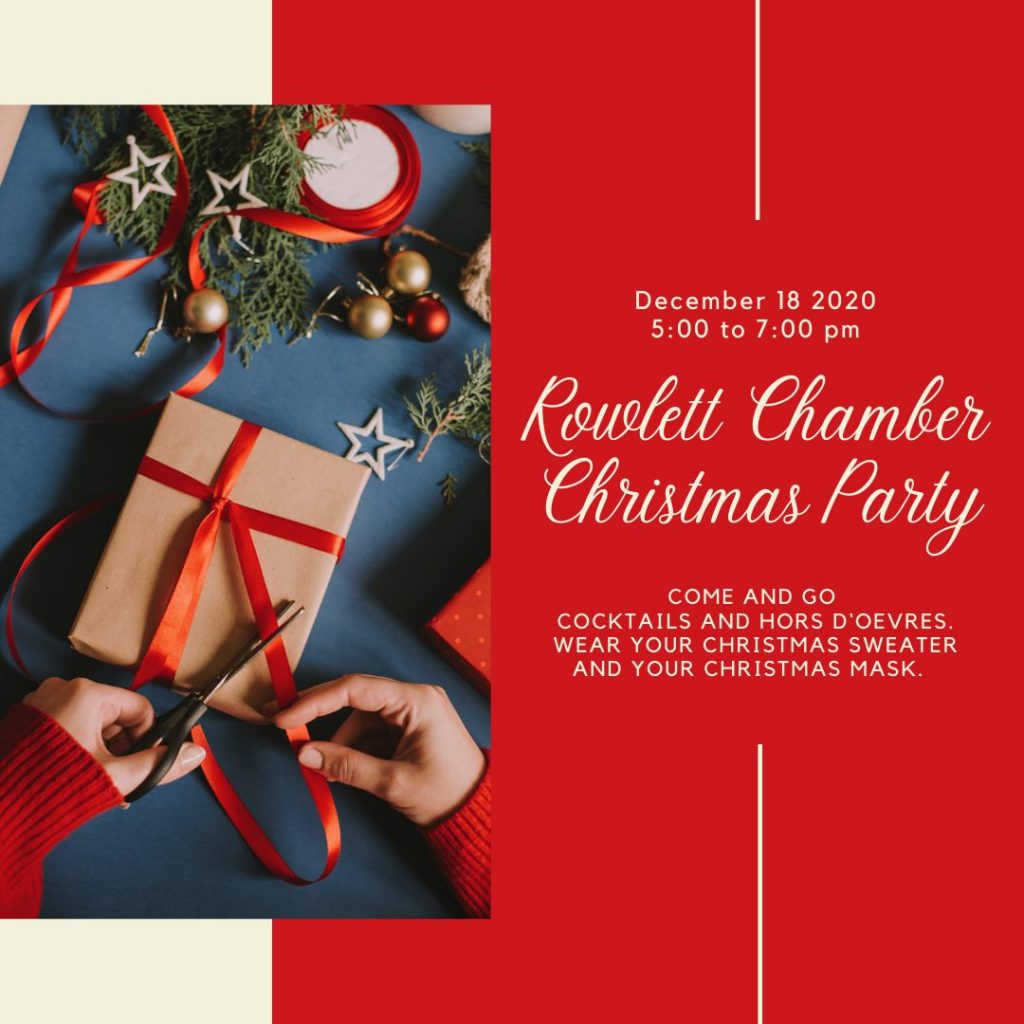 Rowlett Chamber Christmas Party 
5-7 p.m. Friday, December 18
Rowlett Chamber of Commerce, 4418 Main St., Rowlett, TX
The Christmas party will be a safe, socially distanced, come-and-go, type event to share some Christmas cheer.
---
MCLENDON-CHISHOLM EVENTS

MC5K and Fun Run
McLendon-Chisholm Fire Rescue Run, hosted by Home and Heart. oin us for the MC5K and 1M! Both events will start and finish at City Hall in McLendon-Chisholm where there will be local vendors, food available a bounce house, and music. All participants will receive a T-Shirt and swag bag with their registration. Proceeds are to help establish a Community Emergency Response Team (CERT) for the city.
Masks are encouraged to be worn when you are within 6 ft of others.
The MC 5K and 1M will be done in a safe, socially-distanced wave start fashion. (10 runners per wave.) The 1M will start at 8 a.m. and the 5K will start at 8:30 a.m. (The Starter will let you know when you can start. They will get everyone's individual start time and base the results on the Chip elapse time.)
Packet pickup will be on Race Day December 12, from 7-7:45 a.m. The results/awards will be ready at 9:30 a.m. Awards will be given to the top 3 Males/Females in the following Age Group Categories: 19 and under, 20-29, 30-39, 40-49, 50-59, 60 and over.
Info & registration: run2wintimingservices.com/mclendon-chisholm-5k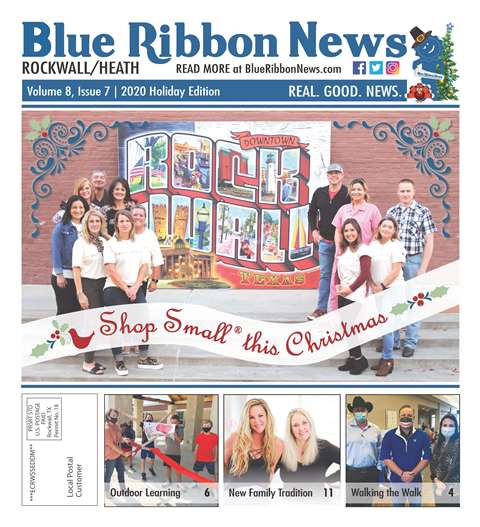 Our print edition is delivered free to ~15,500 homes in Rockwall and Heath, TX.
To share your good news and events, email editor@BlueRibbonNews.com.
Subscribe to our email newsletter here.
Advertising: 214-342-8000 or advertising@BlueRibbonNews.com.