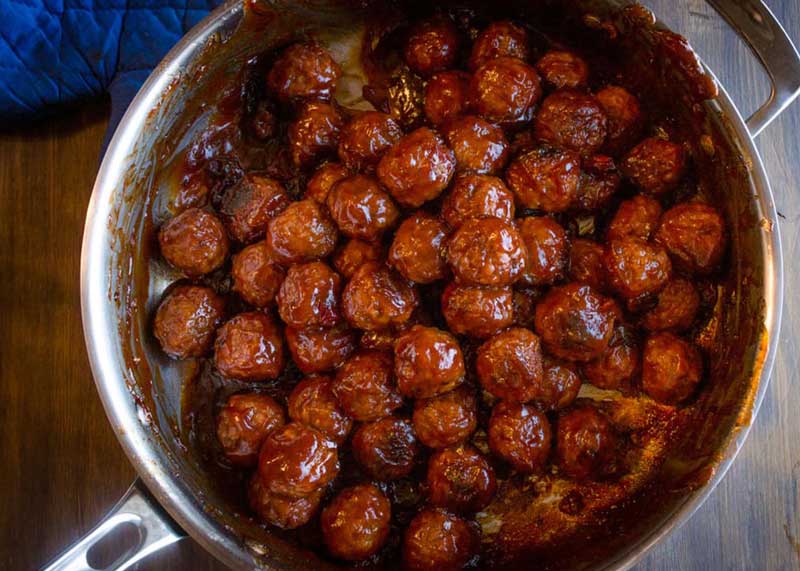 ROCKWALL, TX – Nov. 8, 2021 — A few weeks ago, I had the pleasure of stepping into someone else's kitchen and watching them cook alongside friends. My husband, Evan, is on the Board of the Rockwall County Historical Foundation. Every year the foundation hosts a Brunch with Minerals tour and fundraiser with board member, Gail Spann. Gail and her husband open their home to the public for a brunch and tour of their over 14,000 piece mineral collection.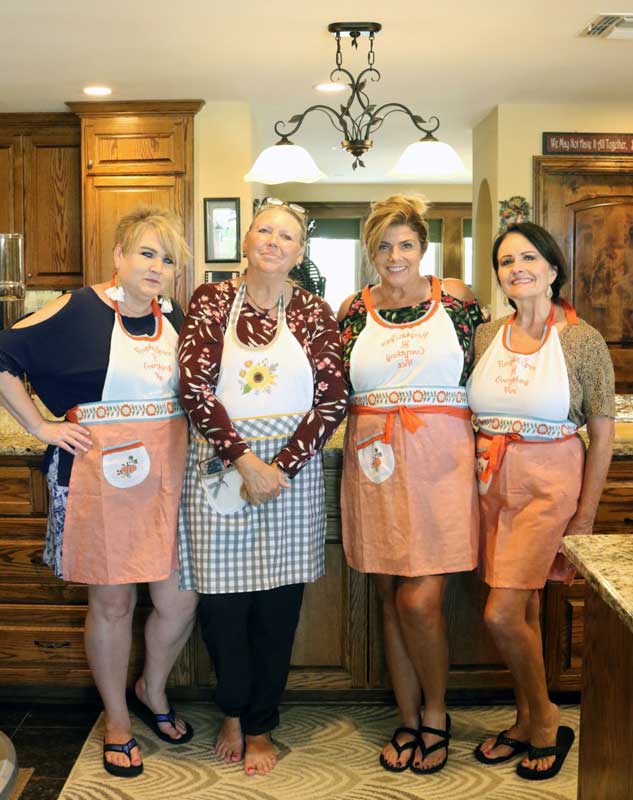 Gail had sent out an email asking if any board members would like to come to her home and help prepare the food for the brunch. Now, I am not a board member but I do, in fact, want to go to Gail's home and help her prepare food for the fundraiser. I had only met Gail a few times at the Rockwall Farmers Market, but cooking with someone in their kitchen with their recipes is a dream come true for me. We donated some Tate Farms beef for the brunch so I pretty much already had an "in" but I had Evan ask her if I could come by — and she said yes!
The day was just perfect. I was able to hang out with Gail and three of her friends while she taught them how to make recipes she's been preparing for years. When I told her I was going to be writing down her recipe she let out a pretty good laugh. Turns out, she doesn't follow recipes. It's all in her head with a little of this and a little of that. Myself and the other girls giggled as we all tried to estimate how much we thought she poured in. "That was a cup, right?"— "Oh, wait, she just added a little more. Maybe a cup and half?"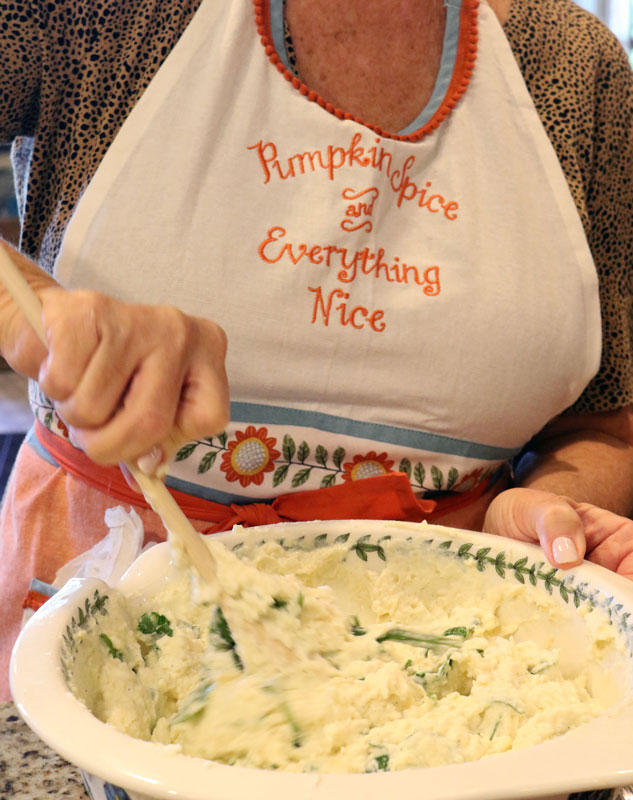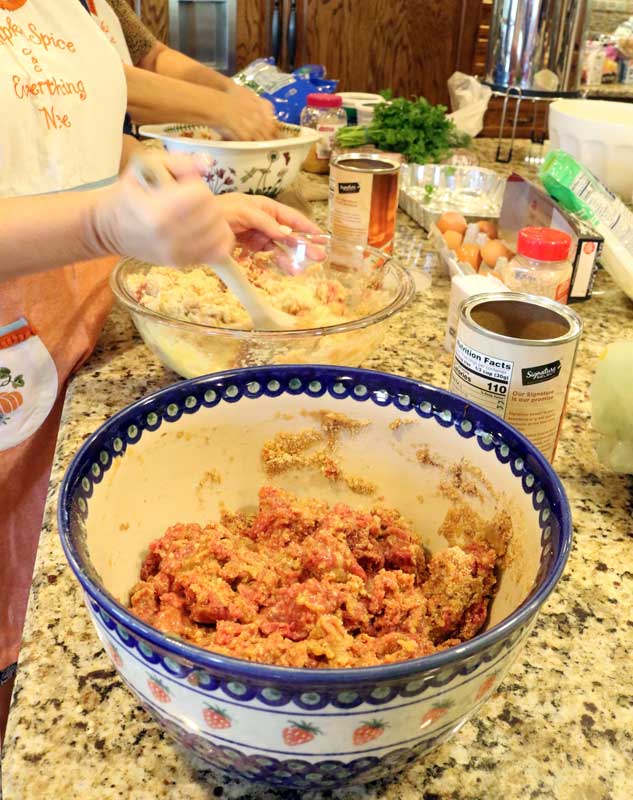 I love how cooking brings people together. All skill levels, all walks of life. It is one of the great equalizers. We were all the same as we stood in that kitchen waiting for Gail to give us the next step. We laughed and talked about memories of cooking and of our families cooking.
That day we made rigatoni with a ricotta and spinach filling, sausage and peppers and ginger meatballs. The ginger meatballs were what I was most excited about. Meatballs are hit or miss and to have the opportunity to learn from someone else is always helpful. I promise you, this is the recipe. Now, if Gail makes it for you, it might change a bit. But on that particular day, in her kitchen, this was the recipe. And it was fantastic. I hope you'll try it.
Love,
Melissa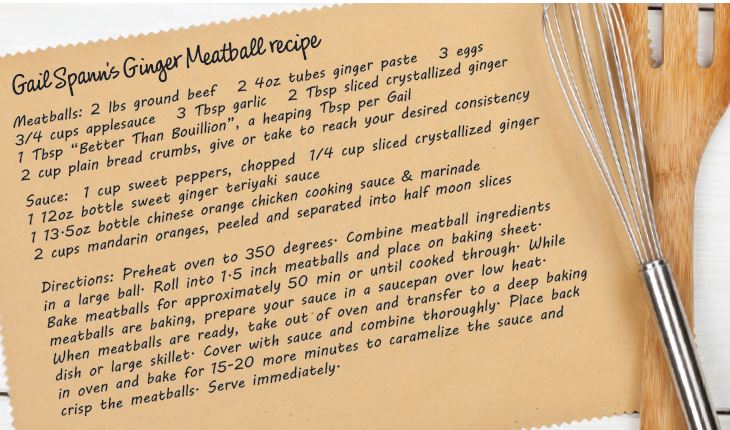 Ingredients
Meatballs
2 lbs ground beef
2 4oz tubes ginger paste
3/4 cups applesauce
3 eggs
3 Tbsp garlic
1 Tbsp "Better Than Bouillion", a heaping Tbsp per Gail
2 Tbsp sliced crystallized ginger
2 cup plain bread crumbs, give or take to reach your desired consistency
Directions
Preheat oven to 350 degrees.
Combine meatball ingredients in a large ball. Roll into 1.5 inch meatballs and place on baking sheet.
Bake meatballs for approximately 50 min or until cooked through. While meatballs are baking, prepare your sauce in a saucepan over low heat.
When meatballs are ready, take out of oven and transfer to a deep baking dish or large skillet. Cover with sauce and combine thoroughly.
Place back in oven and bake for 15-20 more minutes to caramelize the sauce and crisp the meatballs.
Serve immediately.
By Melissa Tate of Rockwall, as published in the Blue Ribbon News November 2021 print edition.

RELATED STORIES
Cooking with Ease by Melissa Tate: Homemade Hamburger Helper
---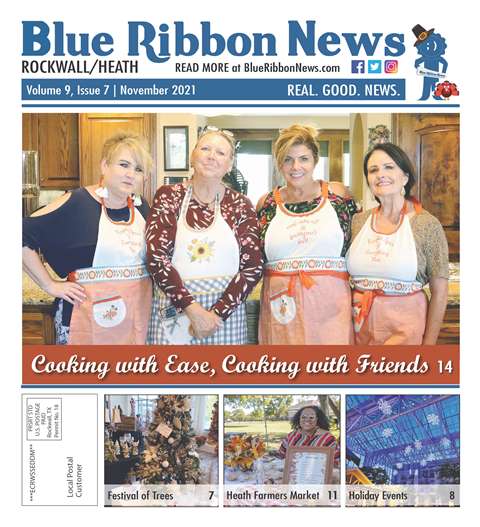 Our print edition is delivered free to ~15,500 homes in Rockwall and Heath, TX.
To share your good news and events, email editor@BlueRibbonNews.com.
Subscribe to our email newsletter here.
Advertising: 214-342-8000 or advertising@BlueRibbonNews.com.