Patriot PAWS Service Dog in Training making great strides
ROCKWALL, TX (Aug. 24, 2022) If you recall from previous PUP-dates, Millie, the two-year-old white Labrador Retriever with Patriot PAWS Service Dogs, has been in training for the last 12 months to become a Service Dog to disabled American Veterans at no cost. (See links to her previous PUP-dates iat the end of this article).
Milestone Home Service Co. committed to sponsoring her entire journey since day 1 of training and checked in with Millie and the Patriot PAWS team to report with Blue Ribbon News about her performance!
Where is Millie now?
Patriot PAWS training program includes a variety of stages to ensure their dogs are set up for success. Millie started her training in Rockwall, then rotated through the Texas A&M Aggieland program, DFW Puppy Raisers and the Prison Program, through the Inmate Trainer partnership Patriot PAWS has with the Texas Department of Criminal Justice, training to be the paw-fect service dog!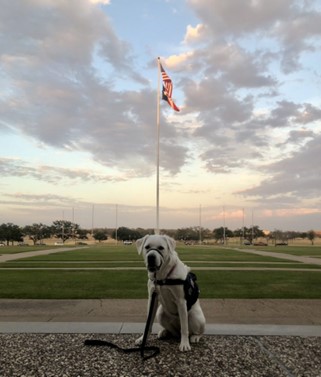 How does someone become a Puppy Raiser and what does it require?
It is completely volunteer based! For the Dallas-Fort Worth Raisers, many of them found Patriot PAWS as volunteers and chose to become more involved with the raising process, and some found Patriot PAWS when the organization came out for a demonstration [of the dogs' skills] and people wanted to learn more.
Some DFW Puppy Raisers are retired, and can go out to demonstrations, some are working and going into the office every day, and some are what Patriot PAWS calls weekend raisers, where they help by sitting the pups over the weekend if kennels are a little full, or another Puppy Raiser say is going out of town.
The Texas A&M Raisers sign up for the program through their school. Since the Aggieland Program is a school sanctioned organization, Patriot PAWS can attend the events held by the school where students are able to learn and join any of the clubs/organizations on campus.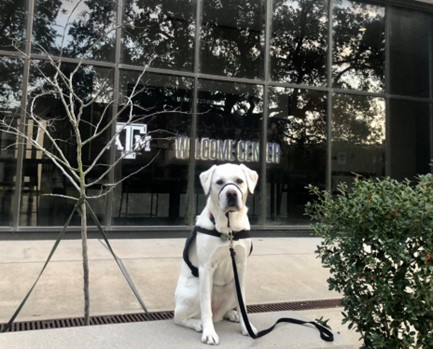 ---
---
What is the Patriot Paws Prison Program?
Millie has resided with both a Student Puppy Raiser at Texas A&M, and a DFW Puppy Raiser where she built her social awareness and skills. Following a successful time there, she was moved to a prison, for more focused and routine training. Here, Millie continued to prepare to serve U.S. Veterans and is learning to be reliable with polished cues. She was paired with an inmate that furthered her training with the behaviors needed for graduation. Millie and her inmate attended weekly training classes assisted by certified dog trainers to ensure they both get the most out of their time together.
What recent cues has Millie mastered?
Millie is doing amazing! Her most recent success in cues was working with her inmate trainer to get an individual up completely out of bed. Millie will pull them up from laying down into a sitting position, then once they get their feet in front of them, pull them up to where they can either stand, or get in a wheelchair easier. Millie has been working very well in public and is learning how to work with different adaptive equipment that her future Veteran may use.
We are excited to announce that Millie is a graduate candidate for the upcoming Patriot PAWS graduation in October. While she may not choose her Veteran this time around, this means that all her hard work is close to changing the life of a deserving Veteran.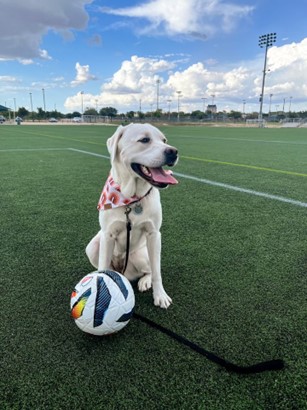 Milestone Home Service Co. is extremely proud to support the mission of Patriot PAWS. As she nears graduation, stay tuned for more PUP-dates.
About Patriot PAWS | Patriot PAWS is a national nonprofit based in Rockwall, TX, that trains and provides service dogs of the highest quality at no cost to disabled American Veterans and others with mobile disabilities. Through first-class training, these dogs are able to help restore physical and emotional independence. With over 235 top-trained dogs already placed, this nonprofit is making a national impact and achieves its mission with excellence.
About Milestone Home Service Co. | Milestone is the #1 Home Service provider in the DFW Metroplex. We have more service trucks, more trained Electricians, Heating and Cooling Technicians, Plumbers, Drain Cleaners, and more satisfied customers than any other home service company in the Dallas/Fort Worth area. We offer a 100% Satisfaction Guarantee to show our customers that we'll stop at nothing to give each of them a superb customer care experience! We love being called the "favorite Dallas Technician" and "favorite Fort Worth Technician!"
Pup-date submitted by Britton with Milestone, in partnership with Patriot PAWS and Blue Ribbon News. Stay tuned to Blue Ribbon News for more Milestone pup-dates as Millie progresses through training with Patriot PAWS.
RELATED STORIES
Milestone Millie PUP-Date: Patriot PAWS service dog in training moves to next training phase in prison unit
PUP-date: Milestone Millie, Patriot PAWS service dog in training, learns new cues
Milestone Millie Pup-Date: Patriot PAWS service dog in training learns cues, explores stores
MILESTONE PUP-DATE: Introducing Millie, Patriot PAWS service dog
---
---
Our

print edition

delivers free to ~17,500 homes and businesses throughout Rockwall County, TX. Click image to view. To share your good news and events, email editor@BlueRibbonNews.com.
Subscribe to our email newsletter here.
---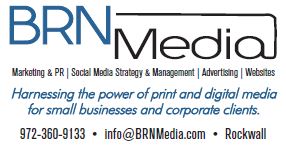 BRN Media is a multi-platform, full-service creative agency offering advertising and marketing services, social media management, and website development throughout Rockwall County and the Dallas area.