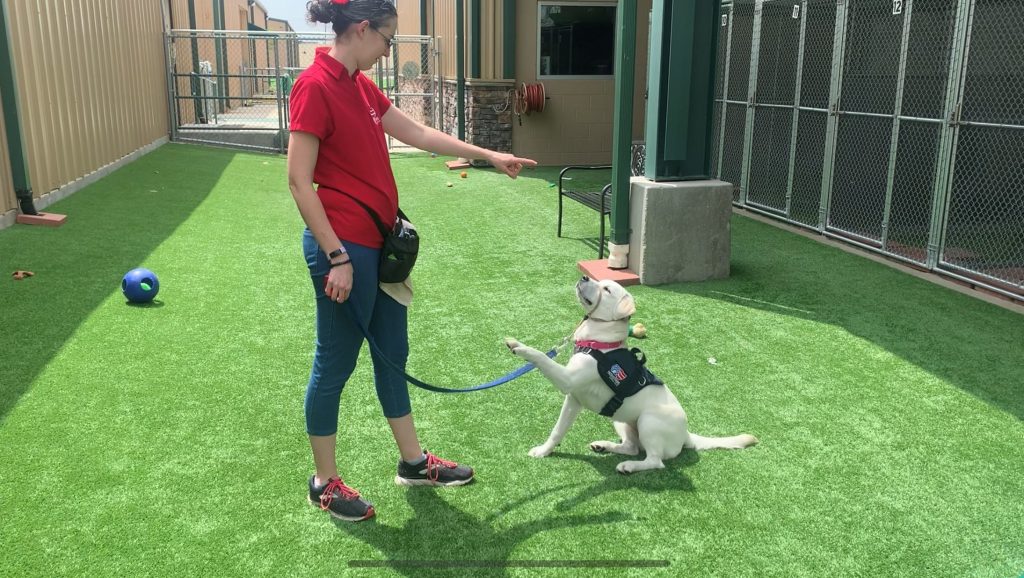 ROCKWALL, TX (April 8, 2021) – It has been three and a half months since the last Milestone PUP-date and although that might not seem like much time in the world of service dog training, the professional trainers at Patriot PAWS Service Dogs in Rockwall say Millie has learned a lot that will help her along in her journey to assist a Veteran one day!
Millie's sponsor, Milestone Home Services, recently spoke with Elizabeth, one of Millie's trainers at Patriot PAWS, to get a first-hand update on how Millie has been doing in 2021. Here is a PUP-date on her training to become a Patriot PAWS Service Dog for a U.S. Veteran in need, and how Milestone supports her along the way.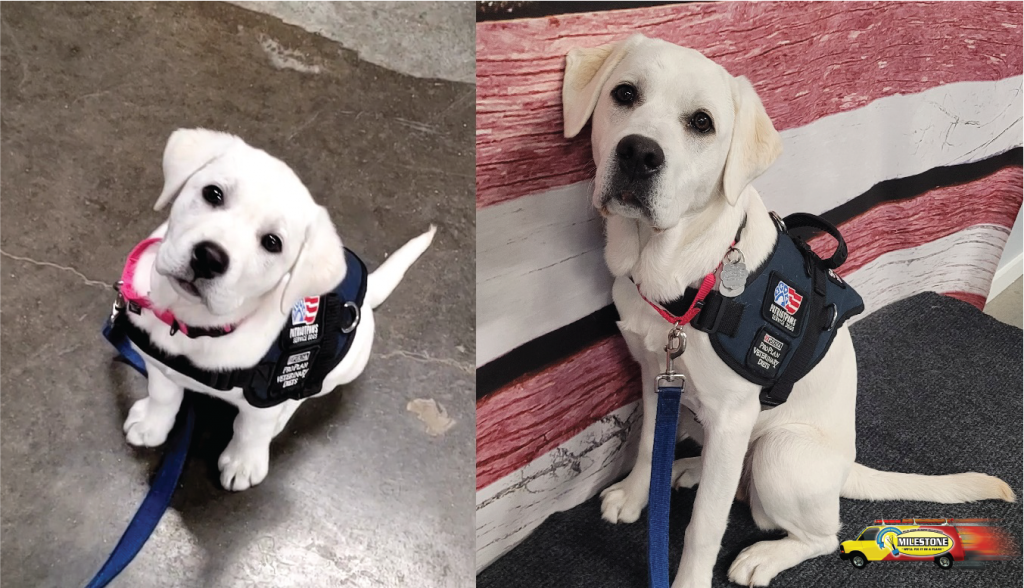 What has Millie most improved on since January?
"She is more aware of exactly what we are asking her to do when we give her different cues. She's also been doing well with performing those cues in places and environments that have more distractions. For example, when Millie is given the cue "Sit" she knows that means "put my tush down" and is improving in her ability to stay focused on performing that cue whether she is in a familiar environment like our Training Center; or in a place with lots of distractions like Target.  We have also been working on generalizing her retrieval cues "Uh-oh" and "Get it" to more and different objects.  We don't know all the things her future Veteran may ask her to pick up or retrieve, so she needs to have experience using those cues on a variety of different items.  Since January, she's learned that a new cue called "Place" means she should stay on her "Place" – a dog bed or blanket – until she is given another cue.  This is useful for times when a Veteran is at an appointment, for instance, and needs Millie to be close by but out of the way.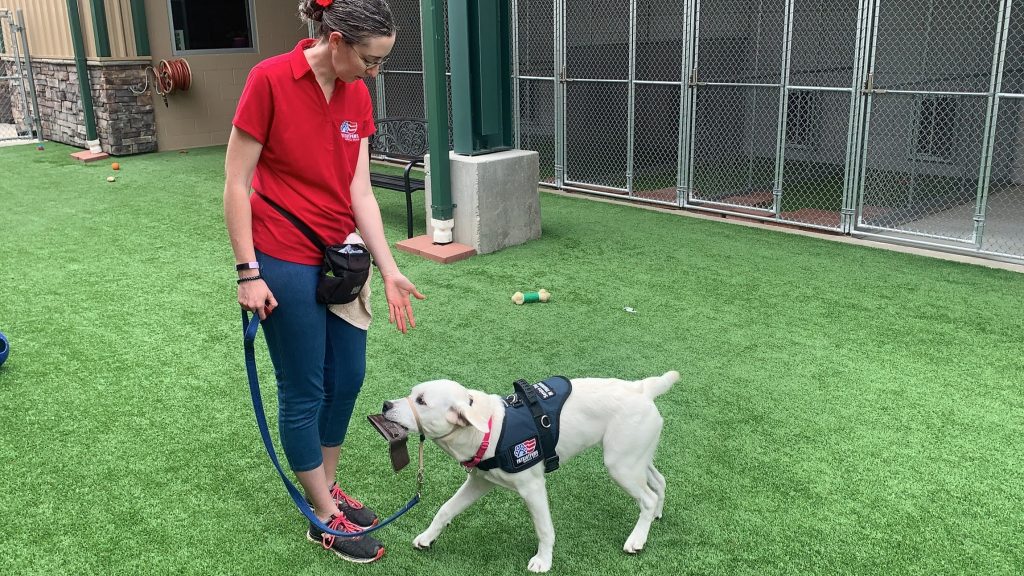 Does Millie learn to listen to cues even when her Veteran steps into another room?
Yes! Millie is learning to stay focused on her cues even when her person is not standing right next to her. We call these the 3D's: Duration, Distance, and Distraction. Right now, she does this best with the "Place" cue that we just discussed.
---
---
What makes Millie's tail wag?
"Millie loves to meet new people! Her favorite cue is "Wave" to say hello to people she meets. We do practice calmly meeting people and getting a few pets but, when she is working, it will be easier for her future Veteran if she knows how to just "Wave" hello and keep working."
"Millie's favorite outing is going to Target. There are so many things to see and good smells to smell! Her favorite thing to do there is walk down the toy aisle. She is working hard on listening to her trainer over the distraction of all the different sounds the toys can make."
While working with the Staff Trainers at the Patriot PAWS Rockwall Training Center, Millie also gets a lot of playtime. She enjoys playing with fellow service dogs-in-training, Dancer and Juan. Millie's favorite toy is called a "Teaser Ball" – it's a ball within a ball, and she loves to carry it around with her.
Now that the weather is warmer, Millie enjoys playing in the kiddie pools the kennel team sets up in the play yards.  She especially loves pond day, when all the dogs get to run and swim around the pond on the Patriot PAWS campus!
---
---
When will Millie get to meet her Veteran?
"Millie began her training in October of 2020, and it takes about 18-24 months to fully train a Patriot PAWS Service Dog.  So, she still has a lot of training ahead of her.  With the support from friends like Milestone Home Services, Patriot PAWS can train Millie, along with about 80 other dogs at the same time, program wide.  The dogs at Patriot PAWS train in four distinct training programs, which include our Main Training Center in Rockwall; our volunteer Puppy Raiser Program in the DFW area, our volunteer student Puppy Raiser Patriot PAWS of Aggieland Program at Texas A&M University in College Station; and, in prison at our Texas Department of Criminal Justice Inmate Trainer Program. I'm happy to catch up with Milestone anytime to keep Blue Ribbon News readers updated on Millie's training and progress toward that final goal of Graduation Day!"
Way to go, Millie! Three months and multiple "cues" closer to providing emotional and physical independence for a United States Veteran! Milestone is grateful for the chance to collaborate with Patriot PAWS in financially supporting Millie's training goal of one day being placed with a Veteran at no cost to them.  For more information about Patriot PAWS Service Dogs, please visit their website at patriotpaws.org.  For more information about Milestone Home Services, or Millie, please contact britton.swanson@callmilestone.com.
About Patriot PAWS | Patriot PAWS is a national nonprofit based in Rockwall, TX, that trains and provides service dogs of the highest quality at no cost to disabled American Veterans and others with mobile disabilities. Through first-class training, these dogs are able to help restore physical and emotional independence. With over 235 top-trained dogs already placed, this nonprofit is making a national impact and achieves its mission with excellence.
About Milestone | Milestone is the #1 Home Service provider in the DFW Metroplex. We have more service trucks, more trained Electricians, Heating and Cooling Technicians, Plumbers, Drain Cleaners, and more satisfied customers than any other home service company in the Dallas/Fort Worth area. We offer a 100% Satisfaction Guarantee to show our customers that we'll stop at nothing to give each of them a superb customer care experience! We love being called the "favorite Dallas Technician" and "favorite Fort Worth Technician!"
PUP-date submitted by Britton Swanson with Milestone, in partnership with Patriot PAWS and Blue Ribbon News. Stay tuned to Blue Ribbon News for more Milestone pup-dates as Millie progresses through training with Patriot PAWS. 
RELATED STORIES
Milestone Millie Pup-Date: Patriot PAWS service dog in training learns cues, explores stores
MILESTONE PUP-DATE: Introducing Millie, Patriot PAWS service dog
---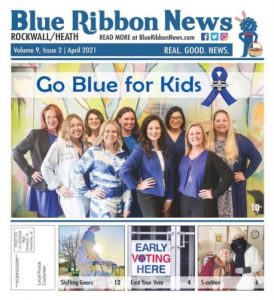 Our print edition is delivered free to ~15,500 homes in Rockwall and Heath, TX.
To share your good news and events, email editor@BlueRibbonNews.com.
Subscribe to our email newsletter here.
Advertising: 214-342-8000 or advertising@BlueRibbonNews.com.