ROCKWALL, TX (Feb. 20, 2023) Rockwall Lions Club will host a BBQ 101 class beginning at 8:30 a.m. Saturday, April 22 at The Center at Rockwall City Place.
BBQ 101 Class is for backyard BBQ enthusiasts who want to learn the basic techniques for prepping, seasoning, smoking, and cutting various BBQ meats. The Pit Master will answer questions about different smokers, woods, good smoke vs. bad, wrapping meat, and how to select your meaat, etc. Each attendee will receive written recipes with cooking instructions. The class will last about two hours and will including free saqmples and soft drinks.
Registration fee is a $50 donation to the Rockwall Lions Club collected at event. All proceeds go to the Ron Harper Memorial Scholarship Fund.
To sign up, send an email to sgentzler342@gmail.com.
About the Pit Master
Stephen Gentzler (Neat BBQ Rockwall, TX)
A a member of Twisted Pair BBQ, NC Team he cooked over 30 KCBS competitions including the American Royal and KCBS World Invitational. His team won numerous awards including Grand Champion in Jefferson, NC, first place in the Jack Daniels Challenge at the the KCBS Invitational and received 4 calls at the American Royal including a second overall in Pork Ribs and scored a perfect 180 in the turkey challenge.
KCBS Judge and Table Captain since 2015 with over 25 competitions judged.
Steak Cook-Off Association – Prime Judge with over 30 competitions judged.
IBCA – cook under team name Neat BBQ and event judge. Grand Champion at the Balfour Beatty Cook-Off.
Developed and taught classes at GrillBillies BBQ Store in Wendell, NC.
Have deployed three times with Operation BBQ Relief.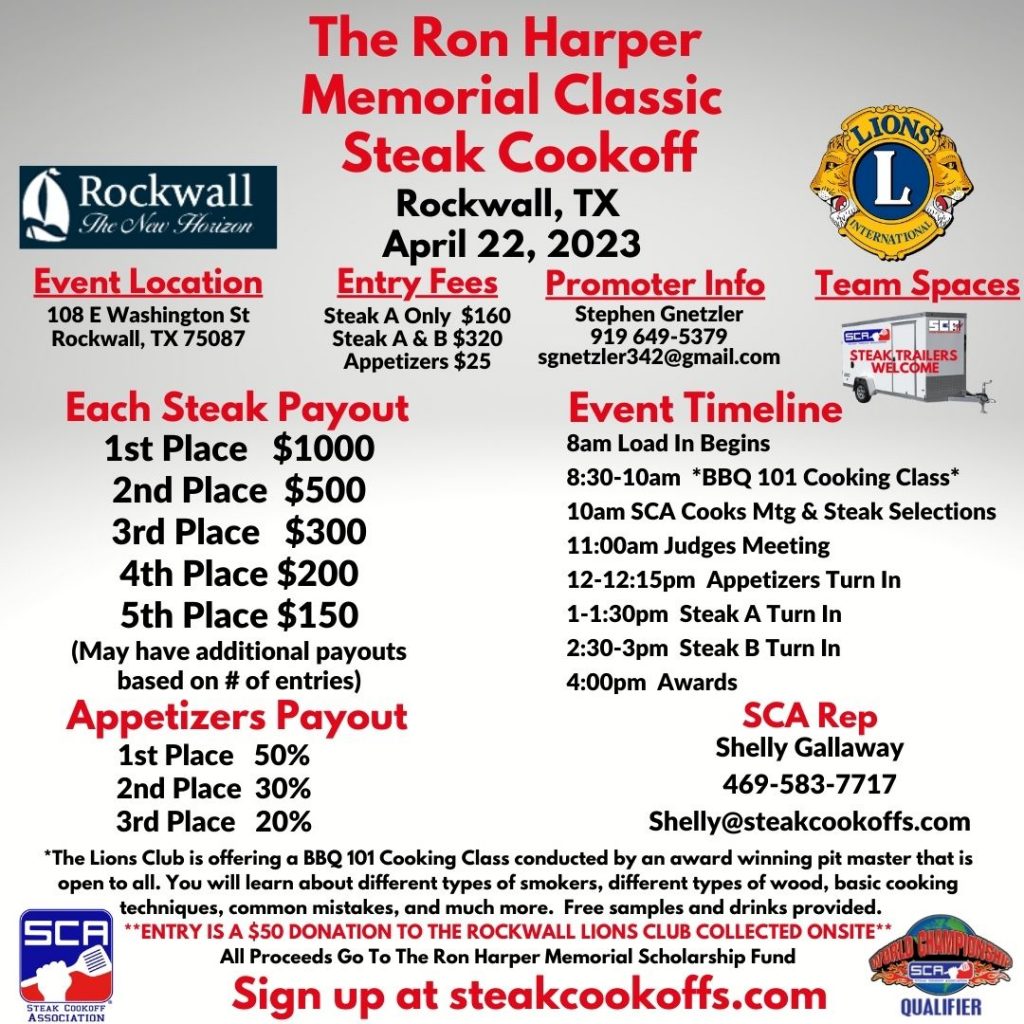 Submitted press release by Stephen Kearney, Rockwall Lions Club.
---
---