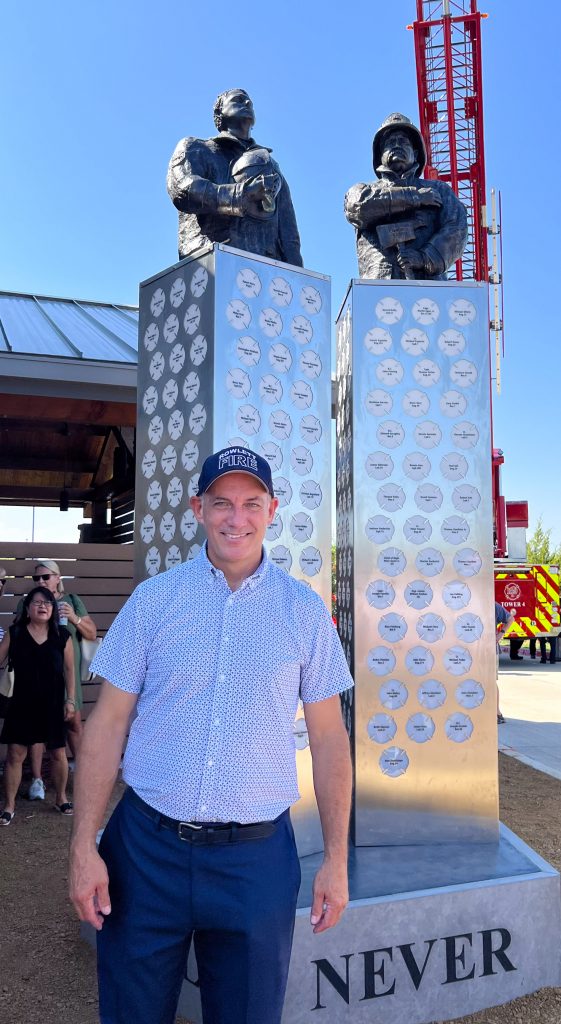 ROWLETT, TX (Sept. 11, 2023) Jon Millet, a Rowlett resident and teacher at Trinity Christian Academy (TCA) in Addison, unveiled his sculpture honoring first responders who served on September 11, 2001. In partnership with the Rowlett Arts & Humanities Commission, Millet was selected to design and build a one-of-a-kind sculpture commemorating the bravery of first responders on 9/11. The sculpture was unveiled at Rowlett Fire Station 2 in a ceremony on September 9. Approximately 100 people were there to memorialize the day with the special sculpture unveiling including firefighters, city officials as well as some of Millet's current and former students and colleagues at TCA where he teaches art and serves as head of visual arts.
The sculpture features twin towers on a pentagon-shaped pedestal base, with two firemen in contrasting positions sitting atop of each tower that symbolize the solidarity of Rowlett firefighters with New York City first responders – one is geared up and ready to serve, while the other holds his hat to his chest in deep contemplation. The sculpture contains 343 cutout Maltese crosses with a name etched into plexiglass of each of the 343 firefighters who gave their lives on that fateful day. The crosses will be illuminated at night by interior lights, ensuring the sculpture can be seen at all hours, paying tribute day and night to these brave men and women.
"Today we remembered one of the darkest days in American history where we lost more firefighters than any other tragedy," said Rowlett Fire Chief Neil Howard. "This sculpture honors those fallen firefighters and helps us to remember the sacrifice they made for our fellow man."
Millet used his son Max, an airline pilot, and Chief Howard as models for casting each of the firemen. Millet's other son, Marshall, served as inspiration for the project through his love of firefighters. He wanted to do something to give his son a voice while honoring the lives of the very firefighters he admires.
"I signed on as a tribute to my own son Marshall who loves all things related to this honorable profession," said Millet. "Although he has special needs, he is like-minded in both spirit and in character. When these tragedies happen, it's ok to meditate on them and find a way to move forward and remember. This sculpture was a small way in which I could memorialize all the heroes, whom in their own way, fight for the dignity and sanctity of life."
"Despite being a small city thousands of miles from Ground Zero, our city deeply supports and loves our own first responders," said Deborah Crosby, chair of the Rowlett Arts & Humanities Commission. "On September 11, 2001, we were all one thing: Americans. This sculpture serves as a reminder to all who view it, the bravery of that day must never be forgotten, and the service of every first responder during every shift should never be taken for granted."
The project took approximately a year and a half to complete, with the unveiling lining up with the anniversary of the attacks. The sculpture will remain on display outside Fire Station 2.
Submitted press release and photos.